One cannot possibly imagine how many non-profit organizations exist in the city of London and how many Londoners actively participate year-round in fundraising events of all sorts: from carolling in the streets around Christmas time to competing in a race for a common good cause.
In the British capital, the city council has to give you a certificate that enables you to create a fundraiser, private or public as it may be, and with that anyone can organise an event.
All very civilized, very much British-style.
One would think that once the Christmas spirit begins to decline, the charities will end until the following year. But, to my surprise, in England there is a constant contribution to organizations without solution of continuity!
That is great, because they are all for good causes.
It's nice to see that at least once a year everyone makes some kind of effort to raise money for some charity of their choice.
And when I talk about effort I mean all kinds of it: superhuman efforts (such as marathons), regular effort (like cooking cakes and muffins to take to the office), and sometimes funky efforts risking to make a fool of yourself (such as the gorilla run for fun!).
Often people choose their cause in honour of some person they know who has suffered an illness or simply because they are committed to a particular association.
And this is not something that happens only with office workers, although, in the major corporations yearly events are organized to have employees actively volunteer or participate in activities aimed to help the community.
Believe me if I say that charity events are an INSTITUTION in the United Kingdom!
Campaigns to attract volunteers and benefactors compete in creativity and originality and billboards hold posters to advertise such events month after month.
Some popular yearly events include:
Go Sober in October: not drinking a drop of alcohol in October (this is considered a titanic effort here) to raise funds for cancer patients.
The Great Gorilla Run: a race in which competitors runs disguised as gorillas to help save endangered species (not limited to the giant apes).
Movember: leave your moustache grow wild to raise funds for prostate cancer research.
The Morning Coffee: this campaign has already raised over 10 million pounds thanks to the home-breakfasts organized in private houses or in the offices.
The idea is that those who organize these breakfasts prepare cakes, muffins, and other sweet goodies for breakfast and everyone who eats something puts a donation in a jar for a particular cause.
When it comes to volunteering or raising money for a cause, voices from different backgrounds speak only one language, transmitting the same message.
A recent event united the wishes of those who do not want to keep silence on certain realities and it was called Out of the Ghetto: the idea was to stand against modern days slavery.
The intent was to fight against injustices that are done behind closed doors but which have an echo as big as the world such as underpaid labour and the exploitation of immigrants.
The 42k marathon of London is traditionally one of the most charitable races in Europe.
It develops and promotes not only running, but all sport, in addition to other humanitarian and community-related causes.
The London marathon is one of the events with the most media impact in the world of running. Every year, against over 200.000 requests for participation, only 20% of the applicants manage to win the lottery to run in the English capital.
The London Marathon is also much more, it is the event in which more funds are allocated to charity in the world.
There are obviously dozens of charitable foundations involved in fundraising the marathon, founded in 1981.
That year the London Marathon Charitable Trust was set up, a charitable foundation that would have the perpetuity of the funds raised by the Marathon with the aim of investing them in infrastructures and sports projects.
Since its inception, the institution has raised more than 60 million pounds with which about 1100 projects have been launched in the City.
From the improvement of tennis courts to the renovation of indoor and outdoor gyms, including cricket and rowing; structural improvements that seek to involve young people and people who are not physically active.
In the end, it is just as the saying goes: "United we stand, divided we fall."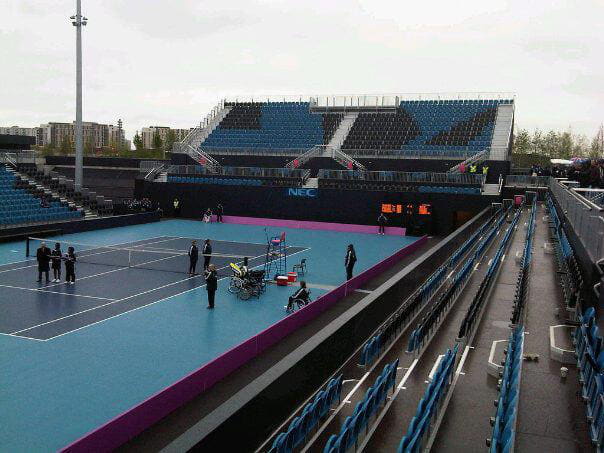 The tennis on wheelchair is one of the many projects made possible by the London Marathon fundraising event