This year, unfortunately, I will not be in town for one of the most fun events in London: St. Patrick's Day.
But St. Patrick's day is approaching and he's a "celebrity" over here because this Saint is the patron of Ireland and although this celebration is the most traditional of Irish holidays, it is very much felt in the United Kingdom too, maybe because 'we are neighbours' and we share borders (think of Northern Ireland and Ireland).
This day for the Irish means one thing only:
craic
. This strange word that sounds like the sound of a frog in ancient Anglo-Scottish dialect identified a prominent chatter, typical of a festive atmosphere and today, by definition, it is associated with St. Patrick's Day.
St. Patrick's Day is celebrated worldwide every March 17th and the main event scheduled in London is the traditional St Patrick's Day Parade, a parade that goes through the streets of the city centre.
Every year, on March 17th, the English capital turns green to celebrate this holiday and most pubs and restaurants offer special menus, green beer and themed parties.
Despite that, St. Paddy's Day (as it's called familiarly) has only been celebrated in the English capital since 2002.
The parade is always done on March 17th and departs at noon from Piccadilly Circus and Trafalgar Square is the arrival point.
It is a big parade of floats, bands, street artists, dance schools and representations of the 32 Irish counties with their traditional costumes.
Green is obviously the colour that always prevails in the parade, and the colour you must wear if you want to get into the spirit of the party.
A large number of Irish folk dance groups usually compete for the best performance and then folk musicians and allegorical floats follow along similarly to a carnival.
St. Patrick's Day is also celebrated in Trafalgar Square where one can find concerts, shows and gastronomic delights.
And after the parade, the party begins!
On stage in Trafalgar square there are concerts of Irish music as well as traditional and contemporary Irish dance shows and surrounding Trafalgar Square you will find many food and craft stands where to buy Irish made goods and Irish specialty foods.
An excellent opportunity to try delicious typical foods and drinks such as the Irish black pudding, Scotch eggs, Irish style fried chicken and specialty burgers!
The very many Irish pubs around London (careful: they differ from English pubs) celebrate St. Patrick every year for a whole week, welcoming their customers with themed events and decorations like green clovers and they serve Irish beers and green beer (beer with a hint of food colouring).
If you are lucky (and book in advance) you may also find special gastronomic menus on offer in such pubs.
Obviously, the most crowded days are those of March 16th to 18th.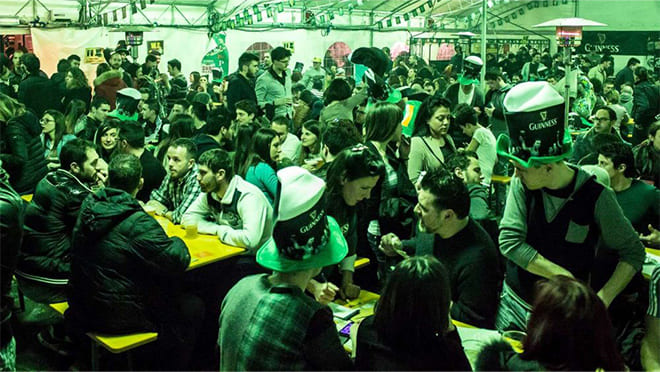 At the pub
At Camden Market, as part of the official celebrations of St Patrick's Day in London, a musical itinerary is generally hosted by musicians of Irish origin.
The performances take place inside the market, both outdoors and indoors, to end with a special guest at the Boot Room.
If you are in London by yourself and you are in the mood to make new acquaintances, St. Patrick's day can be the right opportunity to participate in one of the many group tours of the historic pubs and breweries and taste some of the best beers in the city while drinking with other people.
On this day the Irish say :
"Beannachtai na Feile Padraig!"
which translates to "St. Patrick's Day blessings upon you".
This year, London Mayor Sadiq Khan has announced that St. Patrick's Day in London will remain one of the largest event in the city to reassure the Irish of London that the city leaves its doors open to diversity and foreign cultures despite Brexit.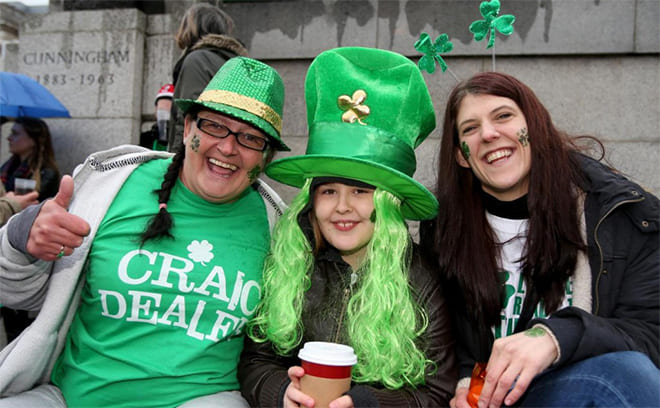 Craic with friends