London, for almost its half, is made up of green areas and trees (some century old trees) which make the city the largest urban forest in the world.
In the city there are so many parks and gardens where to have a picnic or a barbecue with friends and, post Covid, having celebrations and gatherings outdoors has become a trend which is growing in popularity.
For those who want to enjoy a picnic in the open air of a park here in London, outdoors on some field in the suburbs or even on the porch of their home among friends, avoiding crowds, delivery services are becoming a precious help.
They do not only deliver food nowadays but also drinks, cocktails, cutlery, plates and everything necessary for eating outdoors.
Many leading online food delivery platforms are making delivery available anywhere now and an ever-growing number of restaurants in England are offering Happy Hour boxes, hampers and ready-meals on-the-go like Japanese bento boxes so people can also enjoy a drink, perhaps in the backyard near your house or at the park.
Happy Hour boxes are suggested to those people who do not want to give up the feeling of having happy hour but who are not ready yet to go out there and be in a crowd.
I personally prefer to bring my wicker hamper from home full of goodies but ready-hampers are a great idea because many people in London are often too busy to make one or they live far from the park where they are meeting with friends and they perhaps think their food would get spoilt on the way there.
I have always done picnics and now I suggested such activity to some friends as many of my friends are indeed still 'scarred' by Covid-19 since a few of them lost a relative or a friend to it so they still don't feel safe to be out there in a pub even if they got vaccinated.
These services are a good idea also to get a fully ready hamper to go picnicking in a park and the Summer is an excellent time to enjoy the outdoors in England as it doesn't rain as often as in other seasons.
Some cocktail bars offer some of the most famous drinks and cocktails in disposable glasses or beakers so you can mix your drink by yourself on the spot.
In most places you can make your choice through an app and have it accompanied by appetizers.
For those who want to prepare the cocktail at the park feeling like a real barman, some places offer Happy Hour kits with bottles in ice packs and for those who prefer something non-alcoholic, there are also choices of soft drinks and appetizers.
A few breweries even offer some of the most famous craft beers for delivery together with their homemade food.
Among the most beautiful parks in London where to have an outdoor celebration we find Hyde Park and Richmond Park, the latter is in the southernmost part of London and here one can see hundreds of deer, fox, bats (at sunset/night) and birds and it is the perfect place to reconnect with nature and enjoy the day.
I also enjoy very much Brockwell Park because it is one of London's less touristy parks but is very popular among Londoners.
There are many green areas with picnic tables and a market just outside where they can prepare delicious hot sausage rolls and salads and where they have a wide selection of English cheeses.
I also often visit London Fields which is nothing special but if you manage to visit it on a sunny day it is truly magical! Located near the Regent's Canal, this London Park offers nearby food markets, cheap beers and live music until sunset and it is a perfect spot for a picnic with friends.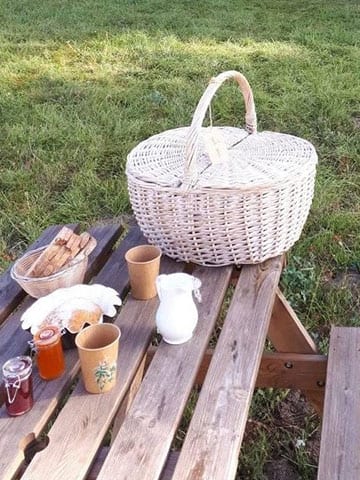 My personal hamper