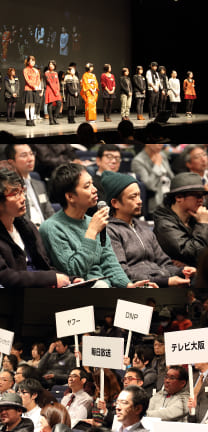 The International Students Creative Award is an international arts and information media competition for university, graduate school, and vocational school students in which entries are submitted by a teacher in charge. Last year there were 162 entries from 46 schools in Japan and 256 entries from 39 countries around the globe.

More than 20 companies, including local Osaka print and broadcast media, advertising agencies, well-known production companies, and related businesses participate in the entry screening event. This provides an excellent opportunity for interchange with creative professionals and a perfect venue for recruiting talent in the search for "tomorrow's stars." At last year's event, the creator of the winning entry in the mobile application division (Inside Japan Category) was scouted by a leading company and is now collaborating on product development.

As the core facility of Grand Front Osaka, which celebrated its second anniversary in April 2015 and has welcomed more than 100 million visitors, Knowledge Capital is a knowledge creation center generating new value through a fusion of the "senses" and "technology". Through the International Students Creative Award, which has attracted widespread interest in Japan and throughout the world, Knowledge Capital hopes to develop and nurture young talent, promote international interchange, and provide a stage on which the young people representing tomorrow's next generation of culture and art can display their creativity to a global audience.

*Unlike other competitions, the International Students Creative Award is a competition for students, and entries should be submitted via their school or supervising educator.