Salon Event Report
Thursday Salon Report
Theme:

ARS ELECTRONICA at KNOWLEDGE CAPITAL
CODE: The language of our era, Opening Event
Date of event: November 6th, 2014
Let's look back our world, constructed with art and "CODE", with members from Ars Electronica. We hope this creates an environment where you can interact with like-minded artists and discuss about creators' duties.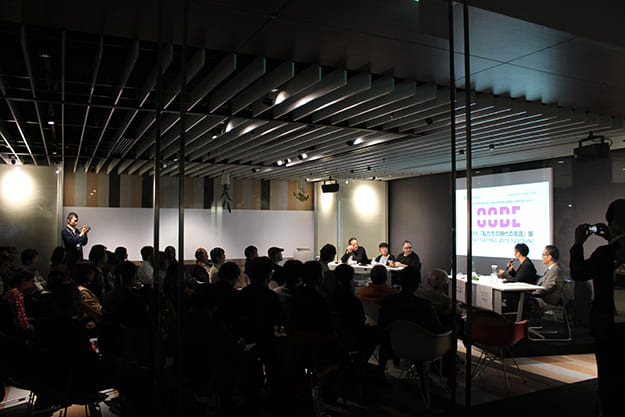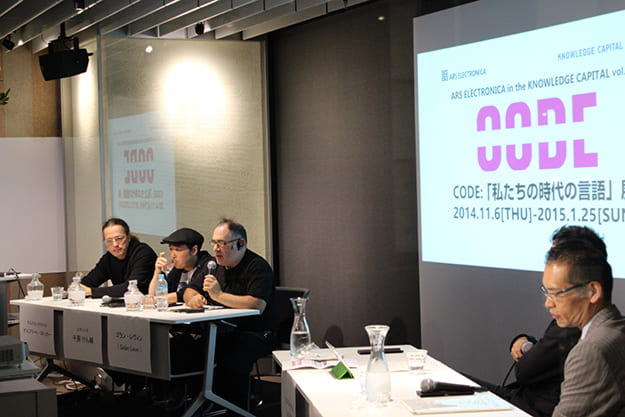 Profile of the Knowledge Donor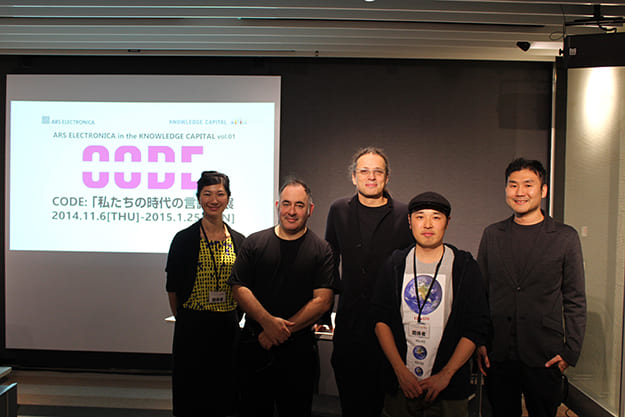 (Artists)
Golan Levin
Kensuke Kembo / Exonemo
(Ars Electronica members)
Gerfried Stocker, Artistic Director
Hideaki Ogawa, Futurelab Director
Knowledge Donor Interview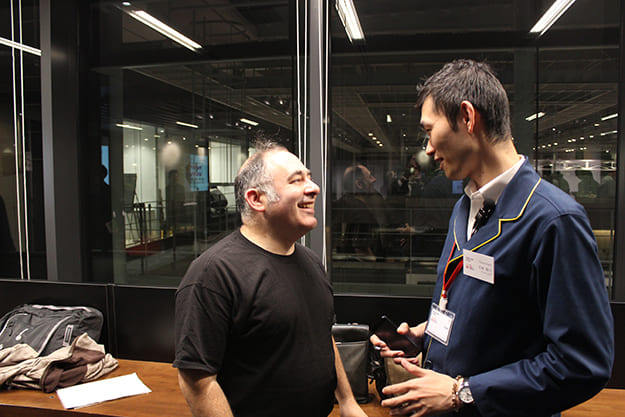 What did you think about Knowledge Salon?
Golan Levin
Knowledge Capital and what you are doing here is a good thing. You are creating situation whitin which people can work together, meet each other have the collaborative working space. In one of the answers to my questions, I expressed I think one of the best things here about Knowledge Capital is not so much the coporative lavoratories but so much as Salon where people can meet and work together.
Gerfried Stocker
It was very exciting because you could immediately see it was not the usual art community: people who are wearing business suit, working here and related to each other. So it was clear there were different expectations. You cannot just talk about art like a usual art exibition opening. But I also felt the need and the possibility to re the questions that are connecting a work of art with the consequence of business and technology. It was really exciting and also a little bit frightening.
Kensuke Sembo
I was surprised to see this many people, and that quite a few of them were wearing suits. For an artist like myself, I don't usually get to interact with those who are wearing suits, so this was very new to me.
Hideaki Ogawa
A year and a half has passed since Knowledge Capital opened in April 2013, and what I found most interesting was how the members feel about the Knowledge Salon. This space is quite popular, and I thought we should take better advantage of such a fantastic environment to rethink one's activities throughout Knowledge Capital. Aside from the other facilities downstairs, creativity and people gather here in one place, and such an environment creates a variety opportunities.
What are your expectations of the Salon in the future?
Golan Levin
You brought me here and others here, great expence to stimulate creativity. I'm going to teach a workshop on Saturday. People will become inspired and more creative. Great, this is fantastic. I'm honoured and I hope people are inspired. But supposedly inspired, where does the inspiration go? Is there an outlet provided by this structure to give them away doing it? That's the realist question.
Gerfried Stocker
I think it really has made a very good start, and it is definitely a meeting place for people who are active, who are engaged in development, who are innovators, who are entrepreneurs. I think now the important point is to add the creativity because I think this is really wonderful and important elements for the coming future to combine creativity and innovation, to combine art, also business and society. And I think knowledge Salon, not only the Salon but the whole situation here in Umekita, this is really one of the few places where the encouter can happen in the very productive and constructive way.
Kensuke Sembo
The concept of Knowledge Capital is very ambitious in the way that they are creating a creativity empire for people to gather and interact with each other. I find it very fascinating that the system is actually working. Even now that Ars Electronica is adding new elements of art into Knowledge Capital, it is often difficult to give certain answers to life or land certain results from art. However, as long as you pursue your work, I think this place will provide great ideas that you can't find anywhere else. I felt the importance of keeping working on it rather than giving it up due to a lack of results.
Hideaki Ogawa
I have been able to have discussions with many different people, such as home-care professionals, web-designers and virtual reality artists- just like an ordinary day in the Salon today. I think such an environment will create new values between members, and Ars Electronica's effort will energize the cloud even more to collaborate together.