CONFERENCE ROOMS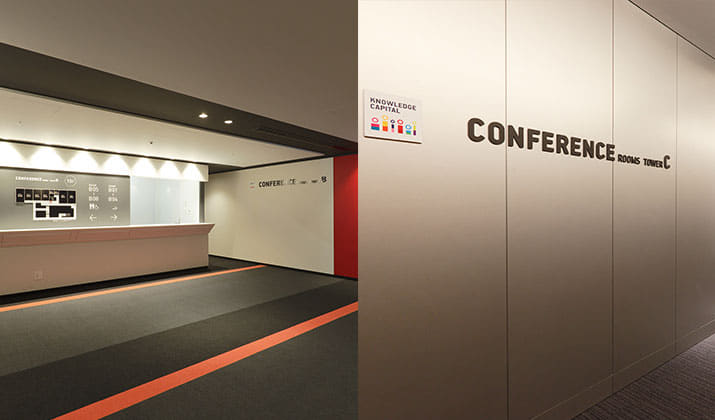 Rentable conference rooms suitable for hosting everything from seminars and presentation meetings to exhibitions. Use exceptionally located space only for as long as your needs dictate.
These conference rooms can be used for a variety of different uses, including seminars, training, briefing sessions, testing sites, exhibitions, presentations, and parties. (If rooms are linked together, up to 225 persons can be accommodated.) Conference rooms can be used on a stand-alone basis or by being coupled with the Knowledge Theater on the fourth floor, the Cafe Lab on the first floor, the Event Lab on the first underground floor, or the Convention Center on the second underground floor. By hooking up a conference room with other facilities in the same complex, the generation of a bustling atmosphere filled with novel appeal is made possible.
Usage examples
The advantages offered by a multi-faceted complex will be harnessed to accommodate a wide range of different events. The diversity of usage patterns will be a function of the ideas that are conceived and proposed.
Seminars
Training
Briefing sessions
Testing sites
Exhibitions
Presentations
Parties
Use of CONFERENCE ROOMS.
Information is provided to those who wish to know more regarding the method by which our CONFERENCE ROOMS can be used, the specifications thereof, and more. Contact us through our inquiry page if you would like to submit an application or if you have any questions or comments.