Asia Creative & Innovation Channel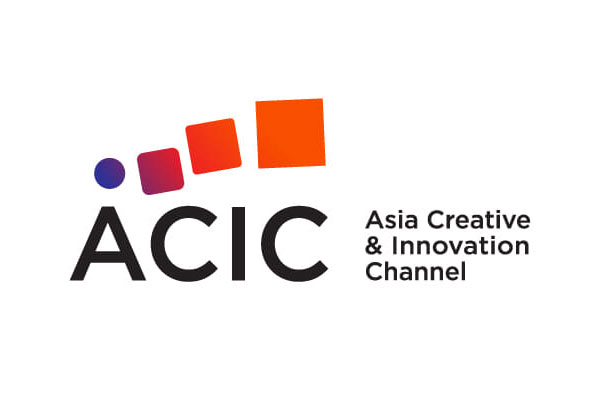 Asia Creative & Innovation Channel (ACIC) is an online live-streaming channel that Knowledge Capital's international partners in Asia jointly operate and deliver various contents, including arts, culture, and startup, etc.
Due to the outbreak of Covid-19, many of the international projects suffer from travel restrictions, and there has been an increasing necessity for creativity and innovation to go through such difficulties. Foreseeing the post-pandemic world, ACIC aims to broadcast new culture and civilization from Asia, featured by the creation of new industries through start-ups and transmission of culture with advanced works of art. It helps to develop innovative and creative ideas and find opportunities for collaboration to generate new values.
Streaming Schedule
Currently not scheduled to be delivered
Streaming Archives
Date & Time(GMT+9)
Theme
Host
2023/02/24
15:00
2022 Peace, Culture, Memory Network Special Exhibition 'Faith in Green'
Asia Culture Center Foundation(Korea)
Watch Here
2023/02/10
16:00
Cyber Kansai Project x Knowledge Capital: Experimentation at Sapporo Snow Festival with A High-speed Testbed Network
Knowledge Capital(Japan)
Watch Here
2023/01/27
18:00
ACIC x CEA: CEA Global OTOP: Genius Loci Goes Global
Creative Economy Agency(Thailand)
Watch Here
2023/01/13
16:00
Glimpse of Thailand's Innovative Ecosystem​
National Innovation Agency (Thailand)
Watch Here
2022/12/09
18:00
Traditional Craft Innovation in Taiwan-4
Taiwan Design Research Institute(Taiwan)
Watch Here
2022/11/25
15:00
[Exhibition] 2022 ACC FOCUS 《Aqua Paradiso》
Asia Culture Center Foundation(Korea)
Watch Here
2022/11/11
18:00
ACIC x CEA: TCDN - Deciphering the model of a desirable neighborhood through Thailand Creative District Network (TCDN) by Creative Economy Agency (CEA)
Creative Economy Agency(Thailand)
Watch Here
2022/10/28
19:00
SpringX Tairyu Pot
Knowledge Capital(Japan)
Watch Here
2022/10/14
18:00
Traditional Craft Innovation in Taiwan-3
Taiwan Design Research Institute(Taiwan)
Watch Here
2022/09/30
16:00
STEAM4INNOVATOR
National Innovation Agency (Thailand)
Watch Here
2022/09/16
18:00
Traditional Craft Innovation in Taiwan-2
Taiwan Design Research Institute(Taiwan)
Watch Here
2022/09/02
15:00
Performance <I Was Not in Gwangju> Production Documentary
Asia Culture Center Foundation(Korea)
Watch Here
2022/08/19
18:00
Braving the Epidemic
Cyberport(Hong Kong)
Watch Here
2022/08/05
18:00
Let the Music Heal
Creative Economy Agency(Thailand)
Watch Here
2022/07/22
16:00
NARIT and the Development of Thai Space Exploration
National Innovation Agency (Thailand)
Watch Here
2022/07/08
18:00
Life Design Innovation - A Future Society utilizing Personal Life Records
Knowledge Capital(Japan)
Watch Here
2022/06/24
18:00
Traditional Craft Innovation in Taiwan-1
Taiwan Design Research Institute(Taiwan)
Watch Here
2022/06/17
15:00
ACC_R Residency Exhibition
Asia Culture Center Foundation(Korea)
Watch Here
2022/06/10
18:00
Digital Transformation for Marketing Services in Future
Cyberport(Hong Kong)
Watch Here
2022/05/13
18:00
Isan Creative Festival 2022, the Festival Showcasing Isan's Creative Potential
Creative Economy Agency(Thailand)
Watch Here
2022/04/15
18:00
Singularity Salon @ACIC - Technological Singularity and the Future of Human
Knowledge Capital(Japan)
Watch Here
2022/04/01
16:00
Thai Space Consortium: GISTDA(Geo-Informatics and Space Technology Development Agency)
National Innovation Agency (Thailand)
Watch Here
2021/12/17
18:00
TCDC Commons Creative Food: Unveiling Bangkok's Latest Creative Food Community
Creative Economy Agency(Thailand)
Watch Here
2021/12/10
18:00
Knowledge Salon: the field for cross-disciplinary encounters
Knowledge Capital(Japan)
Watch Here
2021/12/03
16:00
Introduction of Entertainment Innovation Center (EIC)
National Innovation Agency (Thailand)
Watch Here
2021/11/26
18:00
Inspiration of Innovative Technology Applied to Arts and Cultural Industry Development
Cyberport(Hong Kong)
Watch Here
2021/11/19
15:00
Exhibition : Sensory Garden
Asia Culture Institute(Korea)
Watch Here
2021/11/12
17:00
Taiwan and Denmark Circular Design Forum --- Expanding the Nordic Market!
Taiwan Design Research Institute(Taiwan)
Watch Here
2021/10/29
15:00
2021 ACC Social Design Lab : Relay Opentalk "Alternative Practice"
Asia Culture Institute(Korea)
Watch Here
2021/10/22
18:00
How CEA Supports Music & Performing Arts Industry During the COVID-19 Pandemic
Creative Economy Agency(Thailand)
Watch Here
2021/10/15
18:00
TAIWAN DESIGN POWER
Taiwan Design Research Institute(Taiwan)
Watch Here
2021/10/08
18:00
Live Presentation & Demonstration of the Latest Projects at The Lab.
Knowledge Capital(Japan)
Watch Here
2021/10/01
16:00
Robotics for Realizing Japan and Thailand
National Innovation Agency (Thailand)
Watch Here
2021/09/24
18:00
Adapting Renewable Energy Technology to Build a Sustainable Life
Cyberport(Hong Kong)
Watch Here
2021/08/27
15:00
Online Exhibition : Refrigerator Illusion
Asia Culture Institute(Korea)
Watch Here
2021/08/20
18:00
"Kuroko Takara" the original virtual talent of Knowledge Capital
Knowledge Capital(Japan)
Watch Here
2021/08/13
18:00
Innovative Technology and Solution for Art Industry Development
Cyberport(Hong Kong)
Watch Here
2021/08/06
18:00
Explore Lunch and Learn Project
Creative Economy Agency(Thailand)
Watch Here
2021/07/30
18:00
Taiwan's Contemporary Design talent-episode2
Taiwan Design Research Institute(Taiwan)
Watch Here
2021/07/23
16:00
AR/VR Utilization in Business
National Innovation Agency (Thailand)
Watch Here
2021/07/16
18:00
Behind The Strategic Thinking When Planning of A Public Art and Culture Space
Knowledge City(China)
Watch Here
2021/06/25
18:00
Bangkok Design Week 2021
Creative Economy Agency(Thailand)
Watch Here
2021/06/18
18:00
EXPO 2025 OSAKA, KANSAI, JAPAN - Overview and Master Plan
Knowledge Capital(Japan)
Watch Here
2021/06/11
18:00
Digital Health Innovation to be closer to everyone
Cyberport(Hong Kong)
Watch Here
2021/06/04
15:00
Lecture Performance <Demilitarized Cultural Zone>
Asia Culture Institute(Korea)
Watch Here
2021/05/28
16:00
Inspiration of Graphic Designer turned Toy Designer
National Innovation Agency (Thailand)
Watch Here
2021/05/21
18:00
How Contemporary Commercial Architecture Integrates Culture and Technology Concepts
Knowledge City(China)
Watch Here
2021/05/14
17:30
Taiwan's Contemporary Design talent
Taiwan Design Research Institute(Taiwan)
Watch Here
2021/04/23
19:30
Design Talks: The Contemporary Design Trend of Taiwan and Thailand
Taiwan Design Research Institute (Taiwan)
Watch Here
2021/04/16
18:00
Inspiring innovation ideas for social good
Cyberport (Hong Kong)
Watch Here
2021/04/09
18:00
Presentation: International Students Creative Award 2020
Knowledge Capital (Japan)
Watch Here
2021/04/02
18:00
Thailand Creative District
Creative Economy Agency (Thailand)
Watch Here
2021/03/26
15:00
Trending eSports
National Innovation Agency (Thailand)
Watch Here
2021/03/19
15:00
Daedong Dance - The Movements Remembering That day
Asia Culture Institute (Korea)
Watch Here
2021/03/12
12:00
Super Supply Chain Centre of Construction Industry
Knowledge City (China)
Watch Here
2021/02/19
13:00
Pushing the boundaries of creative : case study of Thai MAR Tech industry development
National Innovation Agency(Thailand)
Watch Here
2021/02/12
18:00
X:Presence: Live Presentation of the Future Avatar Experience
Knowledge Capital(Japan)
Watch Here
2021/02/05
18:00
Solar Land Exhibition @ TCDC
Creative Economy Agency(Thailand)
Watch Here
2021/01/29
18:00
How Smart Entertainment Changes Our Leisure Living?
Cyberport(Hong Kong)
Watch Here
2021/01/22
15:00
[Online Concert] 2020 Asia Traditional Orchestra's New Works Release
Asia Culture Institute(Korea)
Watch Here
2021/01/15
18:00
How to build a Digital Industrial Park?
Knowledge City(China)
Watch Here
2021/01/08
18:00
An opportunity for change: 2020 Golden Pin Design Award Ceremony
Taiwan Design Research Institute (Taiwan)
Watch Here
2020/11/13
18:00
The urban renewal by Vanke Shanghai
Knowledge City(China)
2020/10/30
18:00
Fostering the ecosystem for Digital Entertainment / Esports in Hong Kong
Cyberport(Hong Kong)
Watch Here
2020/10/23
22:00
himuro: Live Presentation of the Ice Shaver of the Next Generation
Knowledge Capital(Japan)
Watch Here
2020/10/16
18:30
Asia Storytelling Performance "I am Koryoin"
Asia Culture Institute(Korea)
2020/10/09
18:00
2020 International Design Forum in Taiwan Design EXPO
Taiwan Design Research Institute (Taiwan)
Watch Here
2020/10/02
18:00
Navigating Thailand's Music Industry through Covid-19 with "CEA Live House" & "Sound of the City"
Creative Economy Agency(Thailand)
Watch Here
2020/09/25
16:00
How Mixed Reality Helps Us Stay Health, Cure Social Distancing, and Enable Remote Work
National Innovation Agency(Thailand)
Watch Here
2020/09/18
18:00
Everyone is a server in Knowledge City
Knowledge City(China)
2020/09/11
20:00
"Braving the Epidemic"– Innovative Solutions for Fighting the Epidemic and Responding to New Normal
Cyberport(Hong Kong)
Watch Here
2020/09/04
22:00
Fu-Yu-Sho: The New Calligraphy Performance merging Virtual Reality and Live Music
Knowledge Capital(Japan)
Watch Here
2020/08/28
15:00
ACC Traditional Art Performance "Daedong(Korean traditional music)"
Asia Culture Institute(Korea)
2020/08/21
18:00
Changing and Developing of Taiwan Design
Taiwan Design Research Institute (Taiwan)
Watch Here
2020/08/14
18:00
CEA - Department of Business Innovation & Development
Creative Economy Agency(Thailand)
Watch Here
2020/08/07
18:00
Impact of COVID-19 on Thailand's Healthcare Industry and the Development of HealthTech Ecosystem
National Innovation Agency(Thailand)
Watch Here
2020/07/31
20:00
The introduction of Asia Creative & Innovation Channel
Knowledge Capital(Japan)
Watch Here
Participating Organizations

Asia Culture Center Foundation

Korea


Creative Economy Agency

Thailand


Cyberport

Hong Kong


National Innovation Agency

Thailand


Knowledge City

China


Taiwan Design Research Institute

Taiwan


Knowledge Capital

Japan
International Partners