COLLABO OFFICE
Features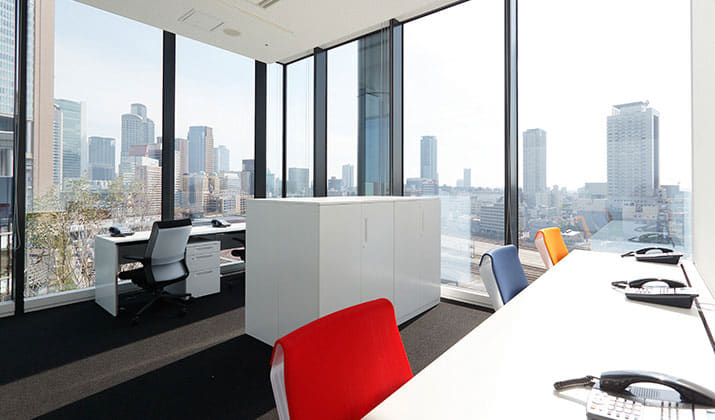 * The photo and furnishings are image and subject to differ from actual conditions. Furnishings may not be provided in some cases according to the means by which units are partitioned.

As knowledge interacts, the impossible is rendered possible. Experts who are eager to take on challenges beyond their fields of specialty can be found here.
The Collaboration Office is an activities base set up to facilitate not only day-to-day operations, but also to enable engagement in collaborative initiatives. Venture companies, educational and research institutes, media representatives, engineers, creators, overseas branch offices, and experts from every conceivable field can be found here. Tenants will be installed in a stimulating business setting where they can interact with people and companies representing a wide range of different fields through the adjacent KNOWLEDGE SALON.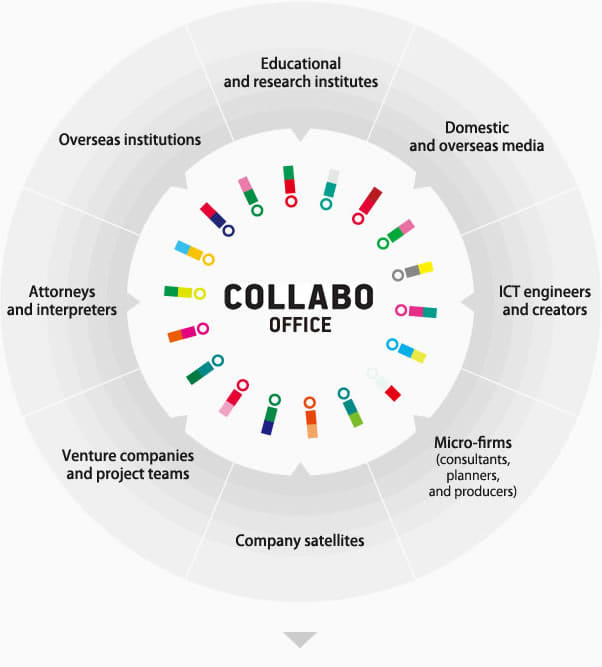 New discoveries are generated through lively communications.
Mergers with other fields promote the evolution and deepening of knowledge.
KNOWLEDGE INNOVATION
Encountering and interacting with other fields.
Kick-starting projects involving and promoting tie-ups with industry, government, and academia.
Obtaining new business opportunities.
Innovative approaches to developing and cultivating human resources.
Proposing inter-industry collaborations.
Resuming current projects and making breakthroughs.
This Office can be used as an activities base in line with the period and intended purpose of use.
The Collaboration Office consists of fifty-two short-term (3 months or more), small-scale (18 m² and larger) rental units. Educational and research institutes, media outlets, engineers, creators, designers, venture companies, the satellite branch offices of domestic and overseas companies, project teams, and more are invited to set up shop here.
Companies and teams engaged in the pursuit of innovation can be found here.
Encounters and interactions with companies outside your field of expertise with which you would rarely cross paths in the course of carrying out day-to-day operations represent opportunities for the emergence of new businesses. Such a setting allows new projects to be kicked off through inter-industry collaborations.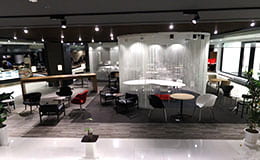 The adjacent KNOWLEDGE SALON can also be accessed.
Tenants belonging to the Collaboration Office can also access the adjacent Knowledge Salon. Step out from the Collaboration Office and further expand your human network.
Office Outline
7 advantages of using the Collabo Office
❶ You will be registered as a member of the KNOWLEDGE SALON*
❷ Can be used 24 hours a day
❸ Address registration can be accommodated
❹ Mailbox available
❺ Furnished (with desks, chairs, storage options, telephones, and wired LAN)
❻ Reception service available
❼ A project room in the Salon can be used free of charge for two hours a day
*A registration fee of 10,000 yen (tax excl.) will be separately charged.
Exclusive area
18.27m²~64.50m²; total of 52 units
Monthly rent
Approx. 270,000yen to 650,000 yen

(tax excl.)


*Include Salon membership dues of 9,000 yen(tax excl.)
*Covers common-area charge, heating and lighting expenses,
air-conditioning costs(excluding nighttime peripod), and cleaning costs
Type of contract
Fixed-term bioldong lease contract
Contract term
Between 3 months and 2 years
Deposit
2 months' rent

(1 month's rent is non-refundable)

Number of persons who can use the KNOWLEDGE SALON
Between 5 and 18 persons

(depending on exclusive area)
Floor Layout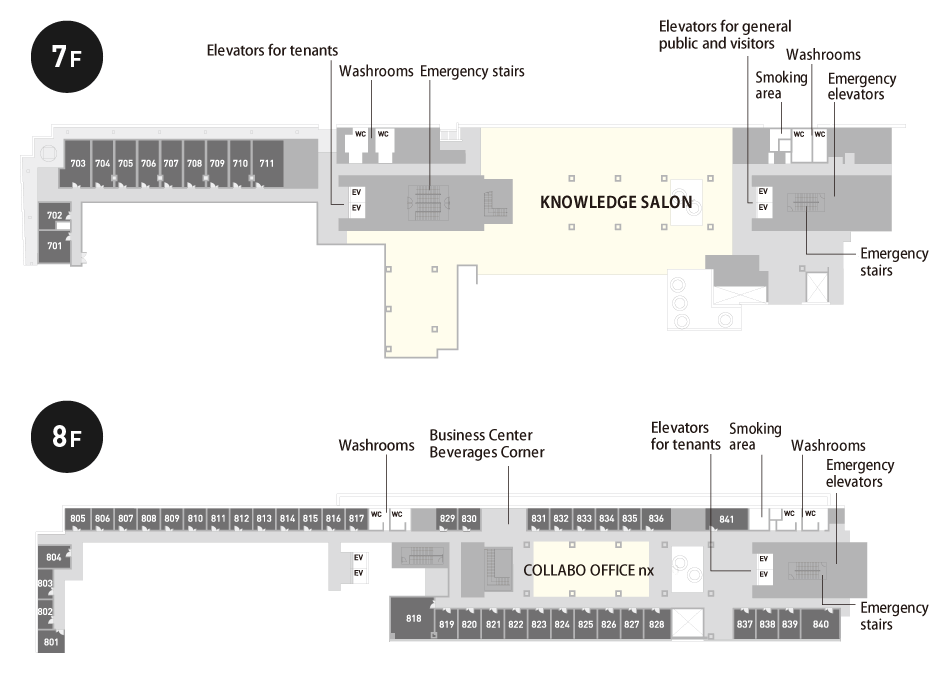 Usage Plans
Five plans according to size of unit and number of users are available.
Contact us for more information.
Plan
Area
Maximum number of users of the KNOWLEDGE SALON
Estimated montly rent
PLANA
Approx.18m²
5persons
Approx.
300,000yen
PLANB
Approx.25m²
7persons
Approx.
400,000yen
PLANC
Approx.35m²
10persons
Approx.
500,000yen
PLAND
Approx.55m²
16persons
Approx.
600,000yen
PLANE
Approx.65m²
18persons
Approx.
650,000yen
For more information on COLLABO OFFICE.
Information is provided to those who wish to know the details such as the way of usage, the specifications, and more. Contact us if you would like to submit an application or have any questions or comments.