EVENT Lab.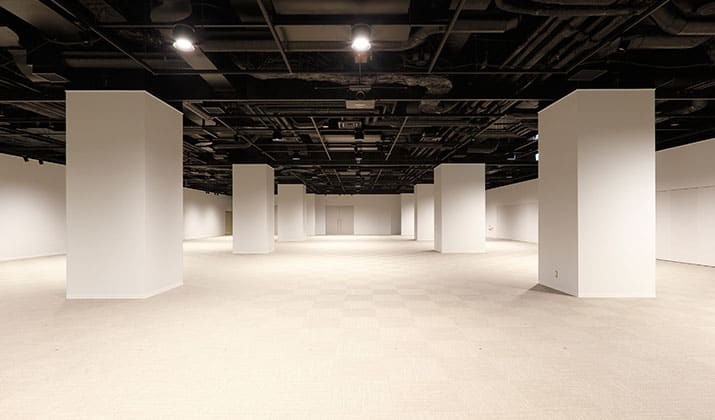 Conveying, by ever more impressive means to people and the world, new surprises and discoveries capable of opening doors to the future.
The event floor will deliver experiences that present visions of the future, such as by introducing leading-edge technologies and showcasing innovative designs and exceptional art work. It can be used to host independent events and expositions that transmit the concept of KNOWLEDGE CAPITAL to others and is also available for rent to companies and universities wishing to organize private exhibitions and functions. You are invited to articulate a vision of the future never before seen by others at a location that is directly connected to Osaka Station and that will draw the attention of people as one of the newest landmarks to be erected in this city.
Highly topical information can be transmitted to others by taking advantage of an excellent location.
Linked to the CAFE Lab. on the first floor, this facility can be used to host spectacular club- or party-style events. Expansive events made possible by coordinating with the Knowledge Theater on the fourth floor, conference rooms on the tenth floor of Tower B and the eighth floor of Tower C, and the Convention Center on the second basement floor can be held.
KNOWLEDGE CAPITAL
Independently
planned events
Private exhibitions
Symposiums
and seminars
Planned exhibitions
and expositions
Workshops
Parties
and club events
POINT1

By using this facility in conjunction with the fourth floor Knowledge Theater (capacity of approximately 380 persons), seminars, presentation events, opening ceremonies, and more can be held in proximity to an exhibition or a business meeting held on the first basement floor and services imbued with warm hospitality can be provided to visiting clients.

POINT2

By a link with the CAFE Lab. on the first floor (which can be reserved), it will be possible to hold a party-type event combined with the provision of food and drinks for guests. An expansion of business opportunities through negotiations and conversations carried out in a location directly coupled with the first basement floor can be expected.
Use of the EVENT Lab.
Information is provided to those who wish to know more details regarding the EVENT Lab. the specifications thereof, and more. Contact us through our inquiry page if you have any questions or comments.