Congrés Convention Center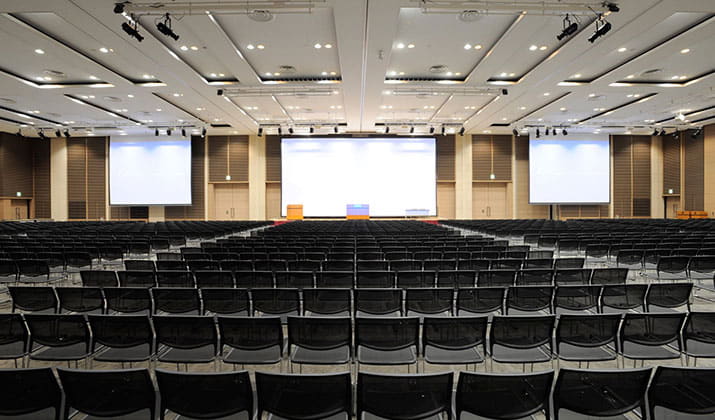 A hub for information-based and cultural interactions where people and information from around the world converge.
This is a full-scale urban hall capable of being used to host conventions for up to 3,000 participants and attendees(*). A partitionable Main Hall and nine conference rooms are available to meet any needs. A diverse array of events ranging from large exhibitions to international conferences can be held here.
Visitors will command an extensive view of a present and future world whose wonders extend beyond national borders.
The Knowledge Capital Congrés Convention Center is a hub for information-based and cultural interactions where Asia and the world will forge ties with visitors through the bonds of knowledge.
* When the Main Hall and conference rooms are used at the same time.
Advanced conventions linked to other KNOWLEDGE CAPITAL facilities.
Conventions that Knowledge Capital aims to host do not simply end with meetings. You are invited to experience original conventions exuding novel appeal. Examples can be seen in the rich expressions made possible by the use of video images through a link with the Knowledge Theater on the fourth floor (capacity of approximately 380 persons), the generation of encounters with people through the use of the Cafe Lab on the first floor, and the presentation of surprises in the Event Lab on the first underground floor.
A fully-developed acoustic system and high-quality sound are featured.

A control system that allows even individual speakers to be adjusted according to the situation has been adopted. Clear audio signals are delivered for lectures while pleasant music can be heard during concerts and other such events.

Fully equipped with simultaneous interpretation booths! Multiple languages can also be accommodated.

Simultaneous interpretation booths are available in the Hall. Up to six languages can be subject to simultaneous interpretation. Numerous highly experienced interpreters can be arranged according to need.

High-resolution live feeds can be transmitted.

High-resolution cameras that automatically make adjustments to dynamic range to ensure the capture of optimal images at all times have been permanently installed in the Hall. These cameras can be used to transmit live feeds to conference rooms and record video.

Wireless LAN can be used throughout the complex.

In addition to taking advantage of wired LAN connections at gigabit speeds, you can also use top-speed wireless LAN throughout the complex. Various network environments can be developed according to your needs.
Usage examples
International
conferences,
academic meetings, lectures, workshops,
and seminars
Large exhibitions,
sample fairs,
and trade shows
Various events
Ceremonies, receptions,
and press releases
Outline of facilities
Number of rooms
Area
Main Hall
1 hall
Approx. 1,700 m² (ceiling height of 7.4 meters)
* Can be partitioned into 2 or 3 sections
Conference rooms
9 rooms
Approx. 70 m² to approx. 230 m²
Use of the KNOWLEDGE CAPITAL Congrés Convention Center.
More detailed information is provided to those who wish to know more about the KNOWLEDGE CAPITAL Congrés Convention Center. Contact us through our inquiry page if you have any questions or comments.