COLLABO OFFICE nx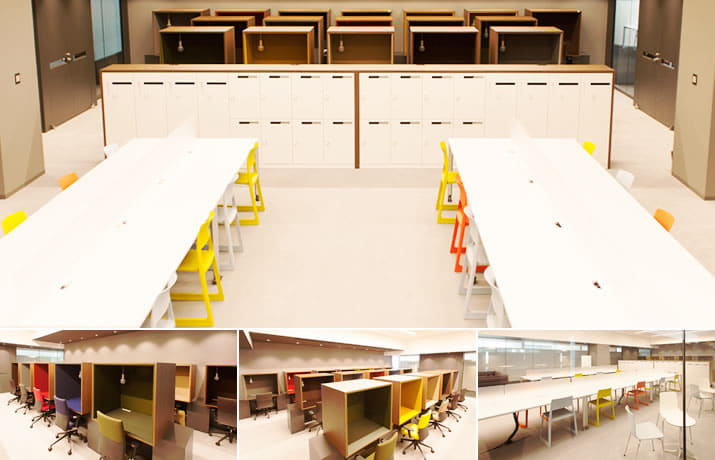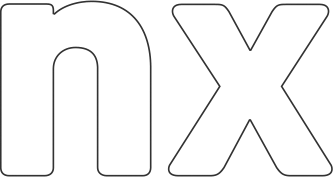 Collabo Office nx / Now recruiting prospective tenants.
Are you interested in securing prime work space at Knowledge Capital, a core facility situated in the cutting-edge area of Umekita?

Introducing a creative setting for collaborative work to be carried out by creative persons harnessing new abilities for the next generation. Interactions and collaborations with companies and human resources across a wide range of fields will be rendered possible. We invite you to participate as a core member engaged in efforts to cultivate knowledge-based innovations and activities.
Total number of seats: 42

Reserved seats: 14
* Exclusive use, adress registration possible, mailbox available

Non-reserved seats: 28
※* Shared use, adress registration not possible, mailbox not available,
56 persons recruited

User fee (pre-recruitment):

Reserved seats: 40,000 yen per month (tax excl.)

Non-reserved seats: 20,000 yen per month (tax excl.)

Payment method: Monthly bank transfer
Contract type: Facility usage contract
Contract term: One month (automatically renewed)
Initial service fee: One months' user fee
Equipment: Locker (fee charged)
Opening hours: 24 hours a day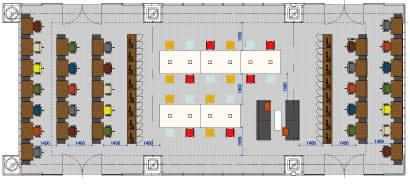 * The KNOWLEDGE SALON membership dues are included in the user fee (1 membership per regular member).
* The total number of seats and the ratio of reserved seats to non-reserved seats are subject to change due to a change in the layout.
* If a credit-card settlement function is introduced, the method of payment will be revised accordingly.
We invite participation by the following types of people.
Those who are activity engaged in a creative field and who have a proven track record.
Those who eagerly take on challenges in new fields.
Those who are highly motivated to collaborate and partake in projects with others.
Those who can hold study sessions and exchange meetings and carry out other information-transmission activities.
Those who are courteous, have common sense, and can work with others in harmony.
Example of job types are as follows:
Creators
Designers:construction,space,interior,graphic,web,product,and fashion
Producers and directors:video,event,art,digital,content,music,and art
Editors:publishing,advertising,journalism,writing,and web
Engineers:programming,system,and application
Artists
Business persons
Venture entrepreneurs(start-ups)
Consultants
Coordinators
Marketers
Translators and interpreters
Others
Venture entrepreneurs(start-ups)
NPO leaders
Social businesses
Overseas companies and organizations
Community leaders
Modes of use
Those who are activity engaged in a creative field and who have a proven track record.
Micro-firms, offices for freelancers
Satellite offices for overseas, Tokyo-based, and regional companies and organizations
Front-office space to facilitate participation in Knowledge Capital activities
Secondary setting for activities to be carried out in the heart of Osaka
Various advantages are offered:
Those who are activity engaged in a creative field and who have a proven track record.
You will be registered as a KNOWLEDGE SALON member(regular monthly dues of 9,000 yen(tax excl.) during the term of your tenancy).
Address registration can be accommodated(for reserved desks only).
A shared meeting space situated in Collabo Office ne can be used.
You can be among the first to obtain information on opportunities to participate in Knowledge Capital activities.
Prospective tenants will be subject to a screening process.
Application procedures
① Apply through our website → ② Interview → ③ Usage contract → ④ Commencement of usage
Applying to use Collabo Office nx
Information is provided to those who wish to know the details such as the way of usage, the specifications, and more. Contact us if you would like to submit an application or have any questions or comments.