The Lab.

A place where everyone plays a part in shaping the future and where the world's greatest inspirations emerge.
The Lab. constitutes a space that attracts global prototypes and world-leading technologies, and is a hub from which the latest strains of culture emanate. Visitors not only get to see and touch ingenious inventions, but are also given the chance to participate in the creative process as befits the description of this space as a laboratory. Take a step in any direction and you will no doubt cross paths with veritable lab assistants of all ages – from children to adults – who aspire to become global leaders. Your cooperation is eagerly awaited by Japanese companies, research institutes, and creators.
The Lab. is comprised of four floors.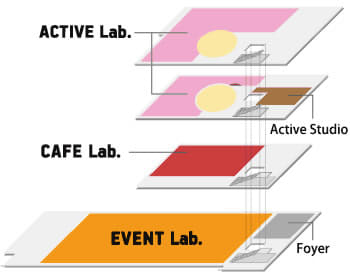 The Lab. is comprised of four floors on which the Active Lab., Cafe Lab., and Event Lab. can be found. Each floor has its respective role to play and is connected to the others through the contents and initiatives of the Lab., resulting in new values being generated.
Communicators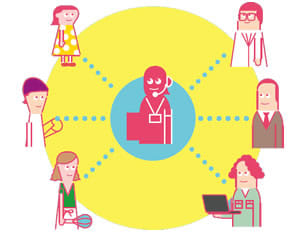 Communicators are the specialist staff who bring visitors to Knowledge Capital together with other people, things, and information. At The Lab. and the Knowledge Salon, they are the ones who approach visitors, stir-up interaction, and encourage the deepening of new encounters and experiences. They are the essential catalysts that accelerate chemical reactions. Communicators also play the role of gathering the comments and reactions of visiting members of the public, and feeding this information back to companies, researchers, and other event organizers.