Genoa is a very beautiful city, famous for its focaccia, its Aquarium, its port and its pesto sauce.
There are many amazing stretches of coast around this city which are worth visiting but unfortunately, it's not all sunshine and rainbows and this place is infamous in Italy for its inhabitants. Genoa indeed can't enjoy a positive fame in Italy because of some distinctive (although somewhat stereotyped) features of its inhabitants. The tone of this blog wishes to be self-deprecating since a part of my family is from Genoa and I'm living here at the moment.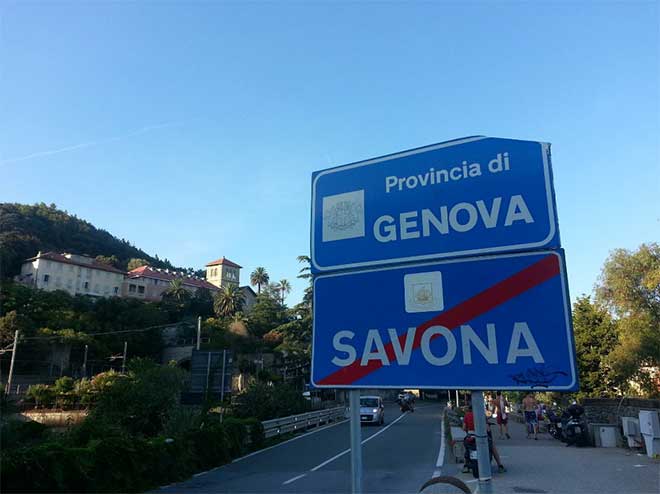 Genoa is the biggest province in Liguria
In general Italians consider Genoese and Ligurian people: pessimistic, bitter, nostalgic, shy, stingy, touchy, inhospitable, cautious and pride. Needless to say, most of these are not compliments.
The Italian tourist who comes to Liguria after leaving behind the fog, the cold weather and the stress of crowded northern cities, expects to find a sunny and happy place on the sea. Unfortunately, it is undoubtedly true that Ligurian people are a bit close and not particularly welcoming and they often tend to see the tourist as an invader rather than a visitor.
There is even a word in Ligurian dialect to explain the characteristics of the Genoese: the word is Stundaio. Using the words of a famous Italian writer, Eugenio Montale, "Stundaio is a typical attitude of pride and timidity, mixed with mistrust. It's the daily practice of grumbling, a sort of inferiority complex, balanced by a sense of moral superiority."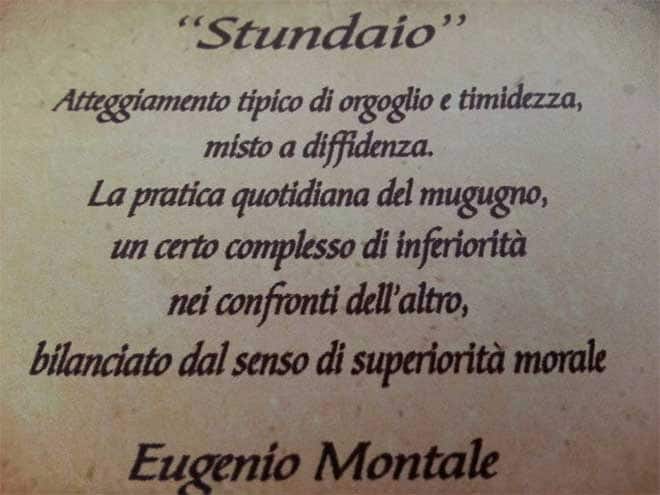 Stundaio is the Ligurian word to describe certain attitudes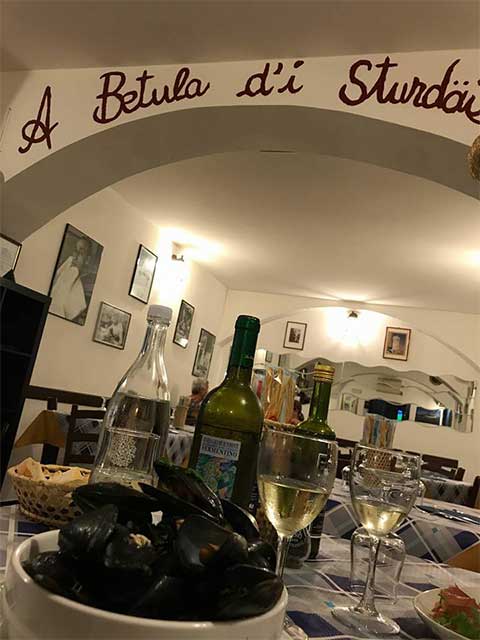 The Stundai's Inn tells you that Genoese can also be self-critical and self--deprecating
Although by no means I wish to generalize nor slander people living in this area, I must admit that many of these behaviors are true and extremely common.
One of these features is also the perpetual grumbling. In this Ligurian city people indeed grumble or complain for just about anything: "It's always raining" or "It's not raining enough," "There is too much traffic," just to name a few examples.
In order to prove my point before writing about it, I walked up and down Via XX Settembre, to and from Piazza De Ferrari, which is the city's main square, trying to notice how many people I heard complaining.
Grumbling is so common here one could say it's almost a tradition, a part of Genoese culture and many Genoese natives seem almost proud of it.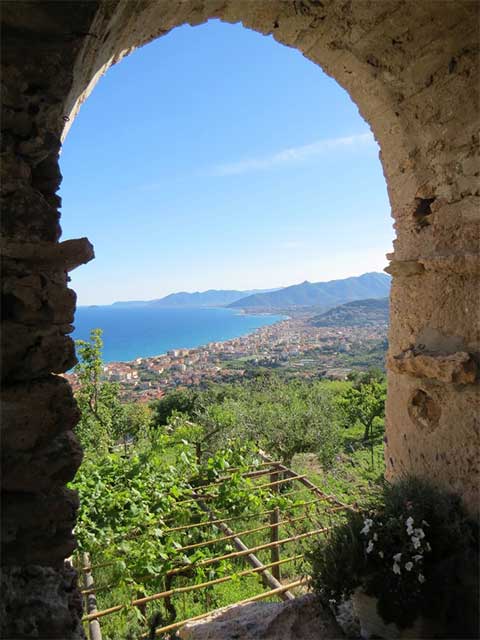 The region has an amazing coastline
Those who know a bit about Italian tradition and history know that every region of our country is characterized by playful stereotypes that mention a supposed flaw of all those born or living in that particular area. Among the favorite targets of these 'historical gossips' there have always been the Genoese, sadly known for their grumbling, their stinginess and their surliness.
When it was one of the four Maritime Republics, along with Venice, Pisa and Amalfi, Genoa always invested in banking, which was the real source of wealth for the city. The most fruitful century for the Ligurian city was the 1600, as numerous expeditions departed to Spain and then sailed for the Americas, returning with gold.
A saying from this time said: "Gold is born in the New World but it is buried in Genoa" and legends want that this attachment to money comes from this period.
Regarding the unwelcoming and cautious attitude, some people say this is due to the fact that back when Genoa was a Maritime Republic, it got attacked may times and that made its inhabitants wary and unwelcoming, therefore almost hostile. Some say that the reason of this behavior dates back to the 1585 and to the Spanish War. When a war broke out that year in Spain, the Genoese decided to help their Spanish allies and they partially financed the construction of the historic Invincible Armada with 130 ships and about 25,000 soldiers, equipped with horses, armors, and all the necessary weapons.
The victory of Sir Francis Drake and the defeat of the Spanish army led to the ruin of Genoa which, after a period of luxury and wealth, began to decline. Some people say that this unfortunate experience made Genoese people distrustful and stingy. Genoese do not waste anything, including smiles, and they are very fond of reusing. Proud and jealous of the beauty of their beaches, but even more of the hidden jewels of the Ligurian hinterland, they always get a bit angry at the idea of ​​having to share them with tourists.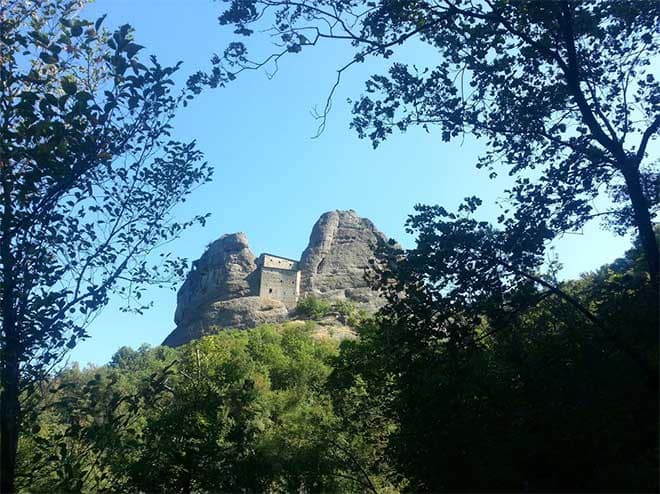 The stone castle is in the Genoese hinterland
In order to close with a positive note, I can say that many Ligurians (especially of the new generations) are friendly, polite and open-minded. We need to remember that this region on the sea is also a place of explorers and world travelers and globetrotters need to be open and outgoing.