It is well known that New Yorkers madly love burgers and, after New York style pizza, I believe that burgers are the most popular food choice by New Yorkers. And we are not talking about cheap fast food chains everyone knows, but in the City there many other restaurants suitable to all budgets, where to eat classic and tasty hamburgers for a few dollars (fast food style) or other more elegant locales where to find sophisticated, unusual hamburgers (and, alas, very expensive ones!), as well as veggie burgers options for the ever-growing vegetarian population.
The burger is an all-time favorite of every street food lover. Quick and easy (well, not the juiciest ones) to eat, this delicious sandwich is often presented in a gourmet version in the City. In fact, for some years there has been an exponential growth of restaurants offering increasingly original varieties of this American staple food. Needless to say, the best burgers are undoubtedly found in New York, where one can also find really unusual combinations, perhaps with exotic ingredients or prepared with a strange colored bread.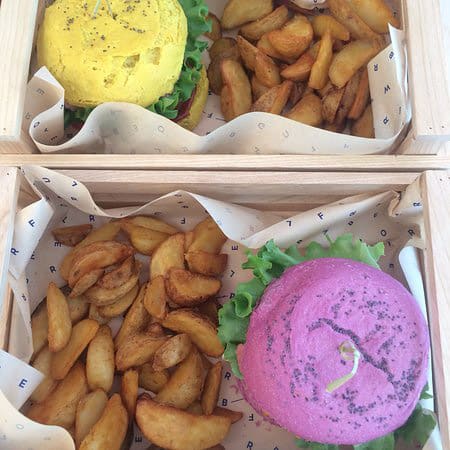 Although the burger is notoriously associated with the image of the United States, its origins are German, to be exact it comes from Hamburg (there comes its name Hamburger, nothing to do with ham). But Americans remain the biggest consumers of this most delicious sandwich.
The most legendary burger joint is perhaps the Corner Bistro in New York, your best deal when it comes to excellent quality at very affordable prices.
Located in the Greenwich Village neighborhood, the Corner Bistro is a bohemian bar which has been serving burgers to famous local people for over a century. By visiting their site, one can read that 'the original atmosphere is almost unchanged.' The wooden bar and the wood-paneled ceiling are vintage and hosted public figures such as Ernest Hemingway, Ezra Pound and Cummings, who were all regular customers here.
It is quite tiny and it offers minimalist décor and, as you enter, there is a large bar well stocked with spirits and draft beers. The adjacent room is quaint, with chairs and tables like in a diner-style venue.
The daily selection of hamburgers and beers is handwritten on a wall board and your burger will be served on a paper plate and, although at first sight it may seem small, once you give it your first bite you will change your mind because it's so rich and tasty which actually leaves you full and satisfied.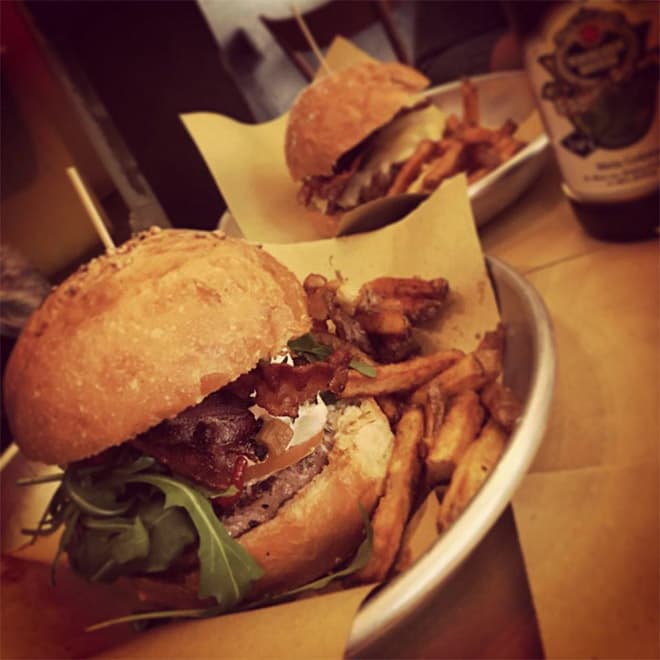 You can eat it together with one of the many draft beers on tap, and have a portion of fries: believe me, you will not need anything else. The house burger, with crispy bacon, American cheese, onion, tomato and cucumber is perhaps a classic but it's the best one.
There is also an old-style jukebox to choose an appropriate song for the occasion!
Another famous place in the City is the Shake Shack burger chain restaurant which has several locations across town now.
Considered the direct competitor of the famous In'n'Out burger chain present only on the West Coast of the United States, the first Shake Shack location opened more than 15 years ago and the first one is located in Madison Square Park on Madison Square in Manhattan.
When it first opened up, one needed to wait hours to taste the specialties offered by this small shed. The Shake Shack is now present in many countries and has several locations in New York, Vegas and other US States.
At its original location, you can sit at the park tables and enjoy a delicious burger while sipping a cold beer surrounded by skyscrapers which is great, especially in summer. Its zigzag fries, crispy and cooked to perfection, are the best I've ever tried!
They even have a menu for our four-legged friends such as peanut cream cookies and vanilla custard cookies for dogs.
And you know what is the new trend in the City now?
Sushi burger! In place of bread there is obviously sushi rice, used however in the classic slightly domed shape that have burger sandwiches. Inside we find spicy tuna, a seaweed salad, cucumber, pickled ginger and at times watermelon or garlic sauce. The sushi burger is a complete dish that with every bite allows you to go to the discovery of all the flavors that come into play, a dish that all sushi lovers should try. It is impossible, of course, to eat it with chopsticks but it's worth the try!