Natural skincare brands from the Oceanic countries Australia and New Zealand have been attracting attention in Japan recently. In this blog I'll tell you about some natural skincare brands that are gentle on your skin and the environment and are available at Australia's leading drugstores, Priceline and Chemist Warehouse. Priceline, with its flashy pink signage, and Chemist Warehouse, with its blue and yellow signage, are leading drugstore chains you can find everywhere in Australia and stock a huge variety of products. They have some kind of sale every week, so I often take a quick look inside when I do my shopping.
A'kin
This is an Australian skincare and haircare brand. All its products are made in Australia and contain no chemicals like parabens, mineral oils, and synthetic dyes, which are harmful to your skin. The packaging is stylish, and the prices are relatively low, which is nice. My recommended A'kin products are Micellar Water (water cleansing) and dry shampoo. I have tried a number of other chemical-free water cleansing products from other brands, but they weren't right for my skin and gave me rashes, but A'kin's water cleansing isn't irritating and doesn't give me a rash. I think people aren't so familiar with dry shampoo in Japan, but when you can't wash your hair or you're worried about oiliness, stickiness, or lack of volume, this spray restores volume to your hair and makes it silky, as though you've washed it. You spray the dry shampoo directly onto your skin, so I recommend getting a chemical-free one if possible.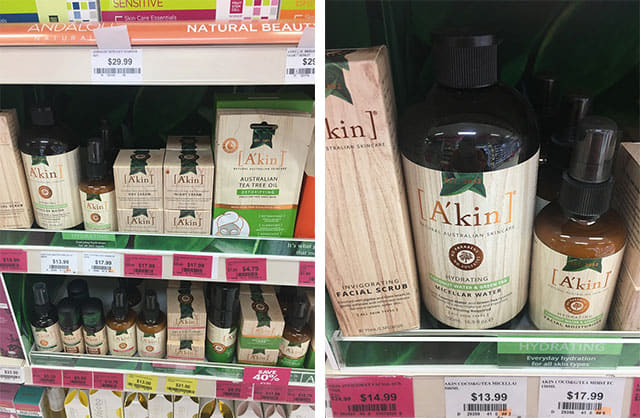 (left): A'kin's packaging is also natural and stylish. On the day I took these photos, most products were 40% off at Priceline and half price at Chemist Warehouse. Sheet masks have also become available in Australia in the last few years.
(right): My recommended Micellar Water (water cleansing). I particularly like the size (500 ml).
Trilogy
This is a natural skincare brand from New Zealand. The most well-known Trilogy product is their organic rosehip oil. Trilogy started gaining popularity with their rosehip oil, but their other skincare lines have been rated highly and is one of the brands that attracted attention in Japan from early on. Now you can easily buy their products on their Japanese website, and they are even available at major department stores. Trilogy has been putting out more and more products that demonstrate a certain level of effectiveness, as well as being natural products that contain ingredients like vitamin C and coenzyme Q10 and are gentle on the skin. Trilogy products are often discounted by 40% or 50% at drugstores, which makes them far cheaper than buying them in Japan, so if you come to Australia you really should check them out!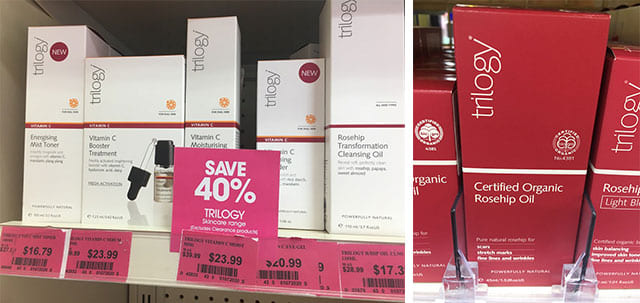 (left): My recommended Trilogy product is the vitamin C booster treatment, where you mix the powder and the liquid first then use it up in two weeks. It looks as though in Japan it costs about 5,200 yen, but when it's on sale, the price goes down to about $19.99 to $23.99 (about 1,500 to 1,700 yen).
(right): Organic rosehip oil, Trilogy's most well-known product. This is what sparked Trilogy's popularity.
The Jojoba Company
This is a skincare brand that uses high-quality Australian organic jojoba oil. It was launched in 2008, so it's a relatively new brand and still isn't very well-known in Japan. I use their jojoba oil and like it because it's smooth and doesn't get sticky. The texture of Jojoba oil differs slightly depending on the brand and where it's made, but jojoba oil from a proper Australian brand is really good quality and has a completely different effect to the cheap stuff. Jojoba oil is effective for rough skin and reducing rashes and other inflammations.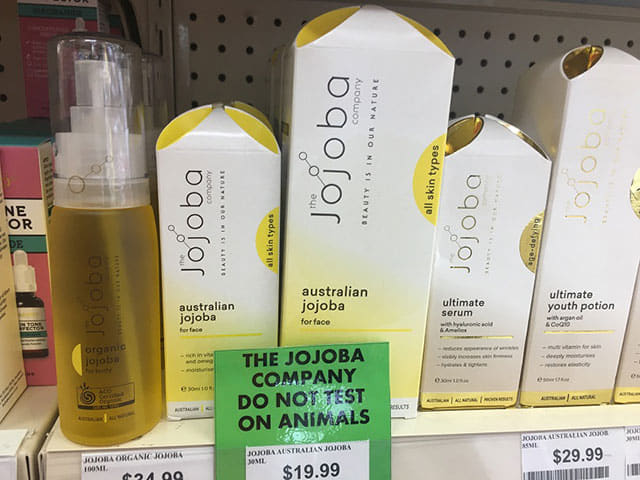 The only product by The Jojoba Company I have used is their jojoba oil, recommended for its smooth moisturizing effect without being sticky. The price is $35 (about 2,680 Japanese yen) for 100 ml.
Sukin
This is quite a famous natural skincare brand in Australia. The prices are reasonable and what's more you can get these products even cheaper because they often have half-price sales. They have a big range of products for acne or oily skin, sensitive skin, mature skin, as well as things like men's skincare products and so on. I happen to have sensitive skin and (this really is just my own personal impression) I used to use packs made of Australian pink clay, but they used to sting a little. I thought the alcohol might be a little strong, but a lot of people really like Sukin, so it's been so popular.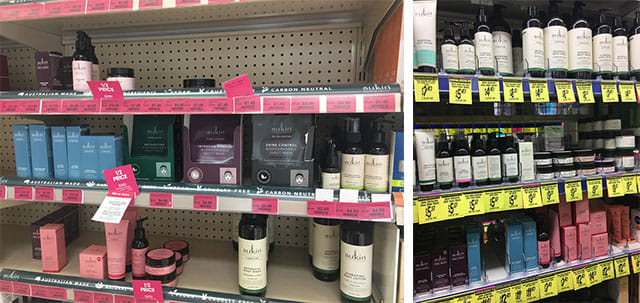 (left): For some reason, there wasn't a lot of Sukin stock on the shelves at the nearby Priceline store.
(right): I quickly went to Chemist Warehouse and took this photo. Here it was even cheaper, on sale for half-price.
Dermaveen
This is a brand of body soaps and body creams that contain oatmeal and are free of soap or ingredients that are harmful to your skin. Dermaveen is a long-standing brand making products like body soap and lotion in large pump-type containers, the kinds of products that every family has one of and that the whole family, from baby to grandparents, can use. When you go to the body soap corner at a drugstore and see all the similar looking products on the shelves, you probably wonder whether they are all the same, but if you look closely at the ingredients, some contain parabens and some don't. This brand doesn't contain additives like parabens, fragrances, lanolin, alcohol, or dyes. The products are not all chemical-free with 100% natural ingredients, but they are recommended by dermatologists to balance your skin's Ph and protect it against Australia's harsh dryness.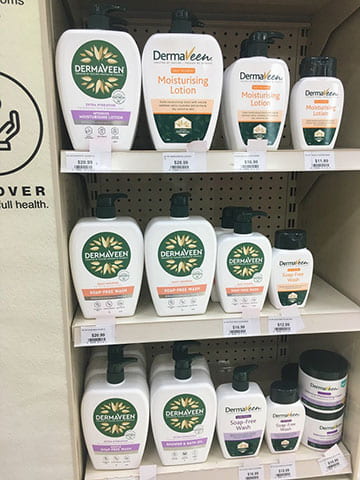 Antipodes
This is an organic skincare brand from New Zealand. Their products are packed with ingredients sourced from high-quality organic fruits and superfoods grown in New Zealand. Their products have a New Zealand-like character to them, for instance the products made from kiwi fruit and manuka honey, as well as packs made from volcanic mud. Each product belongs to one of the ranges: moisturizing, whitening, anti-aging, and sensitive skin. The prices are even higher than New Zealand brand Trilogy because Antipodes seem to be very particular about their ingredients. There are a lot of affordable natural skincare products available, so it's a question of whether Antipodes can survive at these prices in Australia. I actually found some products that were approaching their use by date and were discounted.


Antipodes products. Apart from the hand creams, prices are high, around $50.
So, that's the drugstore edition of this blog. Next time I want to tell you about additive-free skincare products that are readily available at supermarkets, and authentic organic brands available at organic shops.