I took a business trip to Taipei to set up an exhibit at World Design Capital in Taipei.Songshan Cultural and Creative Park includes a former Japanese tobacco factory, art facilities, Eslite Bookstore, and a department store called Eslite Life that operates Eslite Bookstore. It is a popular, stylish green park in Taipei. The exhibition was held there. Eslite Bookstore is said to have been the model for Tsutaya Bookstore, and adjoins with a high-quality café, shopping mall, and culture center. It is a successful attempt at a groundbreaking experiment in merging commercial facilities and art. Not only does it sell books, but it also plays the role of communicating new lifestyles.Songshan Cultural and Creative Park is a green expanse that has a pond and a stylish café.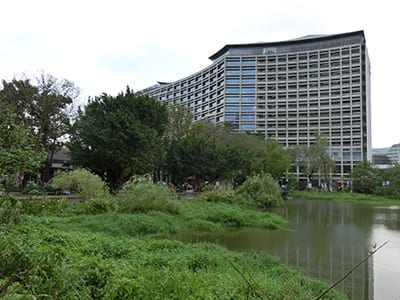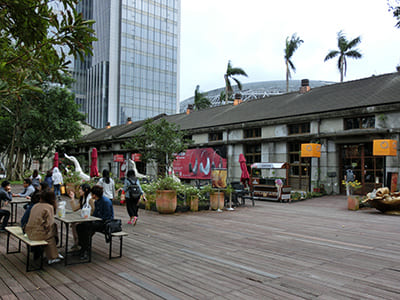 There is also a chic café called. Yue Yue Bookstore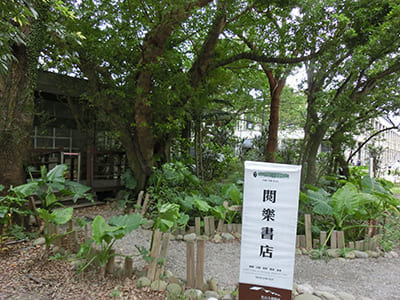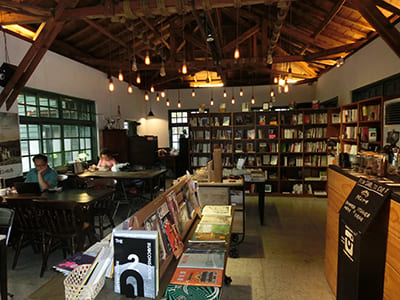 In the bookstore, art books are lined up in the spacious setting, and there is an adjoining café and CD/record corner.Small goods with a sophisticated sense line the variety shop.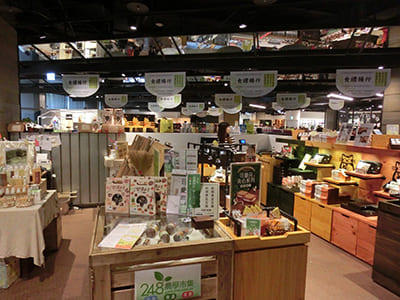 Next to the Eslite Life shopping center is a hotel called Eslite Hotel, operated by the Eslite Group. The lobby is filled with books so that guests can pick one up and read. Rather than simply being lavish, the atmosphere that is created encourages guests to be composed and relaxed. This atmosphere, which merges a hotel lobby with a library, is rare in a high-end hotel.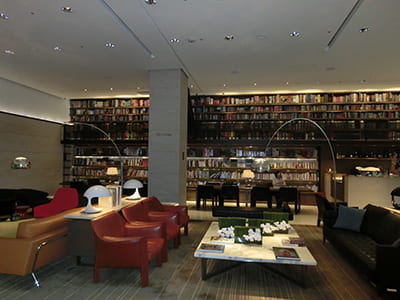 It feels as if there is a leisurely passage of time in Taiwan that differs from China. The people are also generally low-key and pro-Japanese.It had been a long time since I'd traveled to Taiwan, but though it was friendly to Japan before, it felt as if it were even more Japanese-like. You can see signs written in Japanese here and there in the city, but words like ramen and mango are mistakenly written in katakana as "rameso" and "masogo." I think this kind of mistake could be avoided if a native Japanese speaker were to check the signs before they are printed. That reminds me, I once saw a sign in a supermarket that said, "Bleach your skin".Lastly, when you think of Taiwan, you think of delicious foods! Traditional Chinese food and Taiwanese food are good, but I like hot pot dishes. Chun ciou hot pot is divided in half so diners can try 2 types of soup, really spicy and regular. Cabbage hot pot is made with pickled Chinese cabbage and is delicious. Ingredients include beef, lamb, and vegetables. Food stalls also serve everything from top-quality Chinese foods to yum cha and sweets. There is no end to the appeal of foods in Taiwan. (photo cell phone)
N・W (Dragon( TATU )Female)
REPOTER
Knowledge Capital Staff

Age

-

Gender

Male/Female

Job

Various work of a Knowledge Capital
Knowledge Capital is an internationally active organization. We partner with various overseas facilities, and among other activities, participate in international events.Here, we would like to share with you some OMOSIROI (interesting) local information that our Knowledge Capital staff has discovered overseas.