When you visit Australia, you will surely come across some typical dishes: don't hold back, but try them!
Some of them will ignite your curiosity!
Probably starting with the types of meat that are hard to find in supermarkets abroad, such as kangaroo meat, there is a great deal of foods that you can find only and exclusively here!
VEGEMITE
It is a real culinary institution in Australia, a sort of initiation rite: you can't say you've been to Australia without having tasted it. But what is it? It is a vegetarian spreadable cream with a very dark colour, containing yeast extract and spices. Australians usually eat it on toasted bread, with some butter, or with avocado, cheese and sliced tomatoes.
It is VERY salty, in fact it is also used to flavour some meat dishes.
It has a British counterpart called Marmite but here Australians are crazy about Vegemite and they often start their day with it, eating it for breakfast!
BARBECUE or BARBIE
The 'BARBIE' is how Australians call the barbecue and this way of cooking is a great part of the Australian culinary culture. Obviously, the Australian climate, mild and tendentially sunny for several months a year, helps a lot this form of outdoor socialization. When you think of Australia, you think of surfing, sun, kangaroos and barbie!
"Throw another shrimp on the barbie" is a quote often used, although Australians call shrimps 'prawns'!
They typically grill sausages, hamburgers, steaks, fresh seafood, bread, tomatoes and prawns, of course!
Australians usually own a grill and they have barbecues at home during the weekends but it's also true that most towns provide public barbecue areas to be used in recreational areas such as the beaches.
AVOCADO
Australians love avocados, especially at breakfast to accompany eggs. In most bars and restaurants that offer breakfasts and brunches, you can order the avocado as a side dish to scrambled or poached eggs...and it's delicious! The Aussies also have a passion for avocado and Vegemite on toasted bread... maybe the only acceptable combination I have tried!
TIM TAM
The Tim Tams are more than just chocolate covered biscuits, they are an icon of the Australian lifestyle, a sort of second flag! There is also a special technique to eat Tim Tam, which consists of biting two opposite corners of the biscuit and then use the biscuit as a straw to drink a hot drink like coffee, tea or milk. That way the chocolate inside it melts and it's to die for!
MEAT PIES
Meat pies are a very popular snack, perfect when you're in a hurry and need an energy boost. Almost every grocery store, bakery and supermarket has at least one shop window with many types of pies to choose from (even vegetarian versions). The classic filling is made with minced meat, tomato sauce, mushrooms, onions and cheese. The pies are also the typical night-time snack, after having spent an evening out having fun, to be enjoyed sitting on the sidewalk waiting for a taxi to get back home.
FISH & CHIPS
Australians are masters at preparing this simple but very tasty dish. Obviously, their British origins help.
Considering that the whole country is surrounded by the sea, you will always have the opportunity to find kiosks specialized in fish and chips and they normally serve a variety of fishes and fried seafood too. All freshly caught.
PAVLOVA DESSERT
Australians and New Zealanders have always fought to determine who invented the Pavlova. This is a meringue-based dessert topped with whipped cream and fresh fruits (usually berries) and it's very good although it should be eaten with moderation because it can be quite fattening. In Australia you can buy Pavlovas in bakeries or pastry shops and even in some supermarket chains.
LAMINGTONS
The lamington cakes are soft and delicious single-portion desserts typical of the Australian tradition.
These are real mini cakes glazed with dark chocolate and covered with coconut flakes.
The lamingtons get their name from the governor of Queensland, Lord Lamington. Legend has it that it was invented by the governor's cook who, given the sudden arrival of guests, prepared a dessert using advanced sponge cake cut into small square pieces and covered with melted chocolate and coconut flakes.
By Alberto Ferrando ----------- PHOTO GALLERY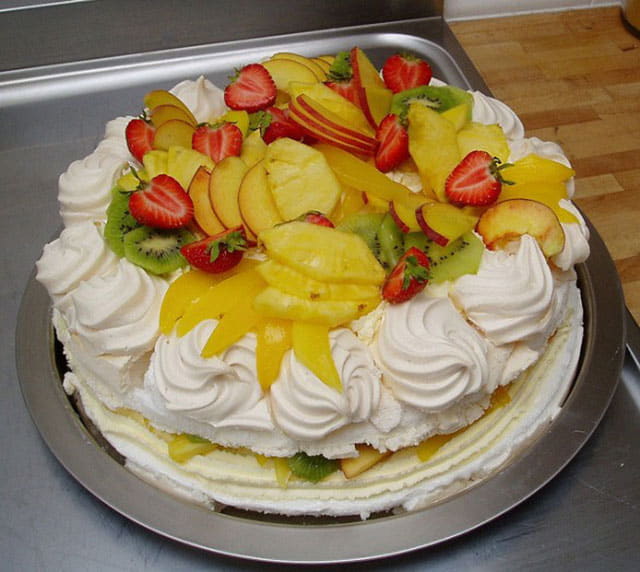 Pavlova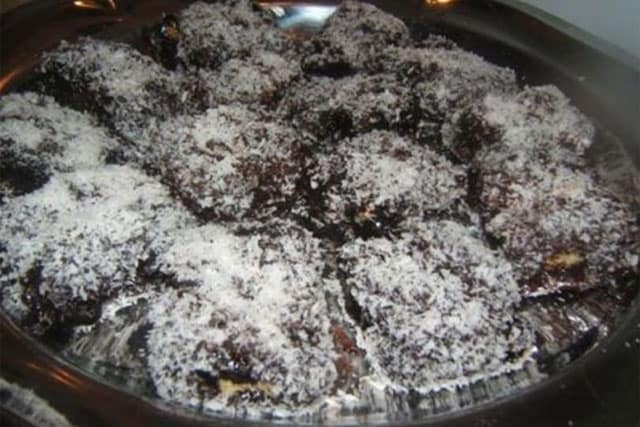 lamingtons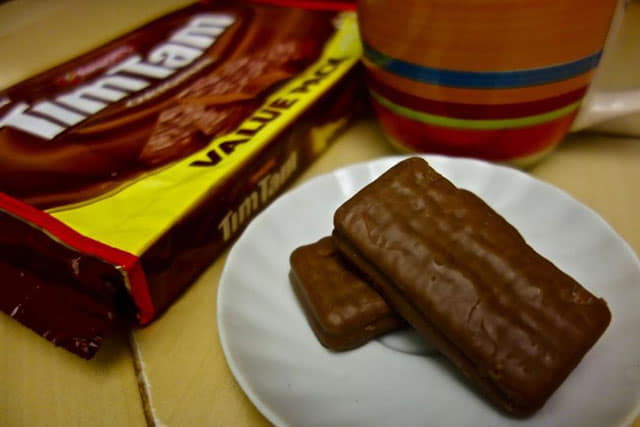 Tim Tams