A gentle woman with beautiful, almost transparent white hair lives in my neighborhood. She's like my American grandmother. The other day, I enjoyed making buckeye chocolates at her house. Written in Japanese, the word buckeye seems like a Japanese word, but it refers to the buckeye (horse chestnut) tree. (It's actually the Aesculus glabra and is maybe a little different from the Japanese horse chestnut tree). Ohio is also known as the Buckeye State, and residents of Ohio are called Buckeyes. In fact, if you look up buckeye in the dictionary, it says, "a resident of the state of Ohio." The buckeye tree has grown in Ohio since long ago and is very familiar to the people who live in the state. Buckeye chocolates are a traditional sweet associated with the buckeye tree. This was the first I'd heard of it, and I mistakenly thought the sweets were made with buckeye chestnuts. Actually, apparently you can't eat the buckeye chestnuts. Buckeye chocolates are sweets made with peanut butter to look like buckeye chestnuts. They're made from peanut butter, powdered sugar, butter, salt, vanilla extract, and chocolate. You mix all the ingredients except the chocolate together, shape them into small peanut butter balls, and put them in the refrigerator for about 20 minutes to harden.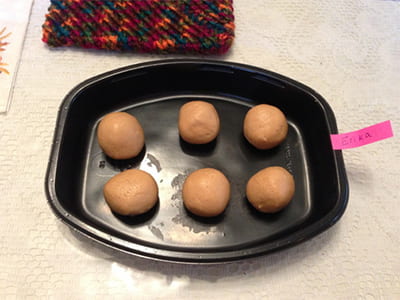 Then, you insert a toothpick into each ball and dip them into chocolate that's been melted beforehand.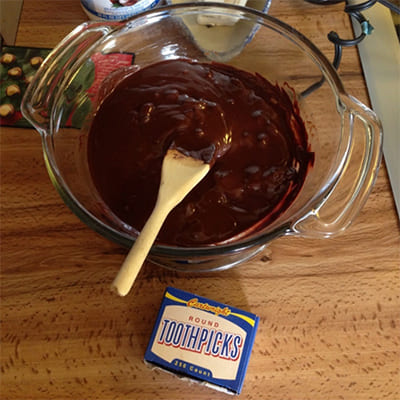 When coating the balls with chocolate, you have to be careful to leave a little of the peanut butter showing so that they look like real buckeyes. After coating the balls, you smooth over the small hole made by the toothpick, cool them in the refrigerator, and they're done.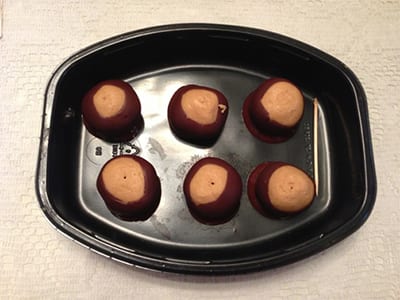 It was a little hard to coat them nicely with chocolate, but they're super easy to make and are finished in no time. Apparently, people in Ohio make them at home often. They're rich and very sweet. I think people who like sweets will really love them. I'm crazy about sweets, so I love these buckeye chocolates. (But, I can't help worrying about the calories…) They're easy and fun to make, so I'm sure kids would enjoy making them together. Homemade buckeye chocolates are good, but ready-made ones are also sold at the supermarket.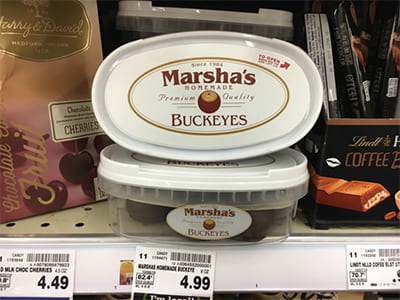 Also, interestingly, the mascot for Ohio State University in Columbus, Ohio is the buckeye.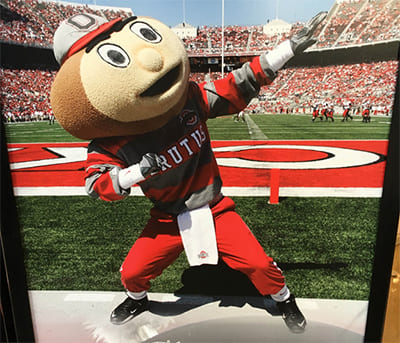 This is Brutus Buckeye. As you can see, his face is a buckeye chestnut.      There are lots of Brutus-themed goods at stores like souvenir shops near the university. Even the supermarket near my house sells university t-shirts that are printed with something like "Buckeyes" on them.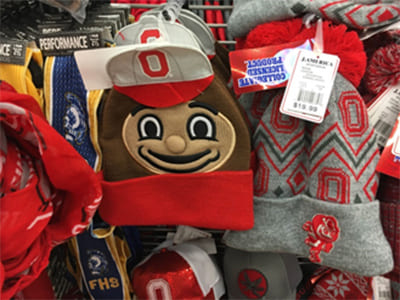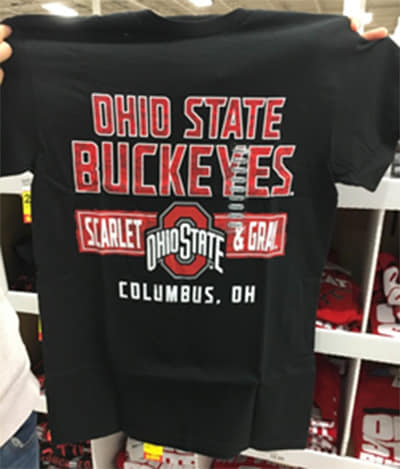 When you come to Ohio, please look for the buckeye tree and Brutus. Of course, you should also be sure to give buckeye chocolates a try!