Lately, you can find kombucha products lining the shelves at any supermarket in the US.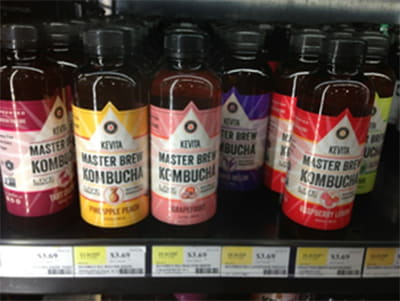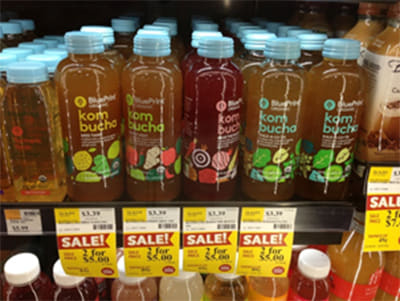 When I first saw them, I was shocked and delighted that Japanese kombucha was catching on in America. But it turns out that this kombucha is completely different than the kelp tea I was thinking of.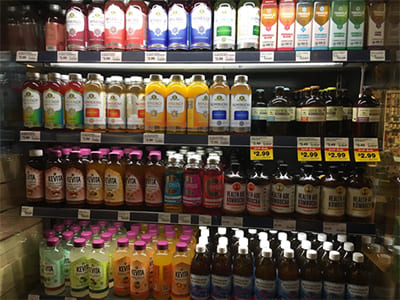 What they are calling "kombucha" here—this drink that comes in all of these flavors—is what we call kocha-kinoko, or fermented black tea, back home. Apparently, kocha-kinoko underwent a temporary surge in popularity as a health drink in the 1960s and 70s in Japan. Still picturing the kelp tea "kombucha" from Japan, I was fascinated by all of the flavors lining the shelves, and decided to give some of them a try.I started with a rasberry-lemon flavor by a company called Kevita.I thought the powder had settled in the bottom, so I shook it up before opening it. Big mistake. It was carbonated. I was then surprised to find that it tasted nothing like kelp (of course it didn't—since this is a completely different drink). If I had to describe it, I'd say it was kind of like a carbonated fruit vinegar taste. It's a tart, easy-drinking flavor. I ended up looking it up since it tasted completely different than what I was expecting, and it was then that I finally discovered that this kombucha and Japanese kombucha were two completely different things. Apparently this kombucha has become a very popular drink with health-conscious people recently, and now you frequently find kombucha displays in any supermarket. The products have fancy, colorful packaging that catches your eye and has you reaching for them before you know it. The Kevita kombucha that I tried has some other unique and somewhat strange flavors including lavender-lemon and mango-habanero. You can find all kinds of other healthy drinks in American supermarkets in addition to kombucha—including smoothies and cold-pressed juices—and most of the time they're pretty reasonably priced. (It seems to me that you'd pay around ¥1000 for a bottle of cold-pressed juice in a Japanese specialty store.)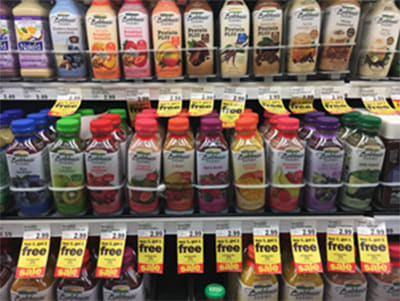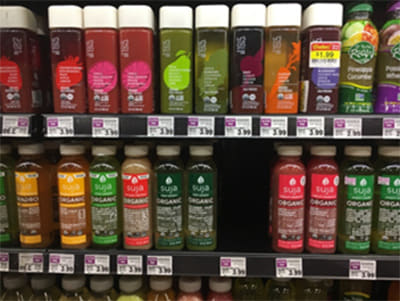 One of my particular favorites are the smoothies made by a company called Naked. They have no sugar or other unnecessary additives, and are all really delicious—nothing but the natural sweetness of vegetables and fruit.If you come to the US, I definitely recommend them as an energy booster! There are so many varieties, including ones with protein or chia seeds, so you're sure to find one that you like.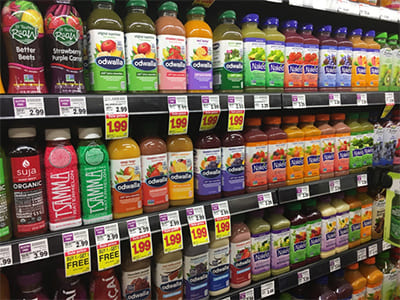 I'll be drinking them too, since I'm doing my best to get my daily dose of nutrients!