Here where I live in Findlay there is a place called the Mazza Museum. It is a museum for picture books said to exhibit and possess the most diverse collection of original illustrations from picture book artists all around the world.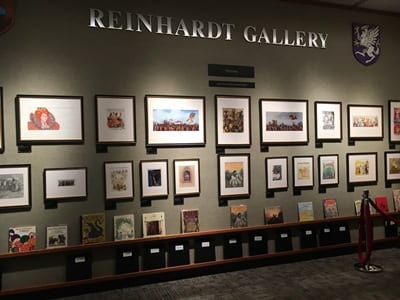 This museum, located on the campus of the University of Findlay, exhibits a collection of original artwork from picture books throughout the world. This collection numbers more than 11,000 pieces. (Above Photo: The black folders under the artwork on display introduce the author and illustrator of each picture book, enabling visitors to know more about each individual.)The original picture book illustrations from around the globe center on original artwork by illustrators of children's picture books. Visitors can view more than 2,000 pieces from famous illustrators and Caldecott winners (Caldecott Medal: An annual award given to the most outstanding children's picture book published each year in America)Not only are there valued original illustrations, but you can also view materials used by the artists, get to know how they came up with their ideas, and understand the process of how picture books are created. It really is quite fascinating.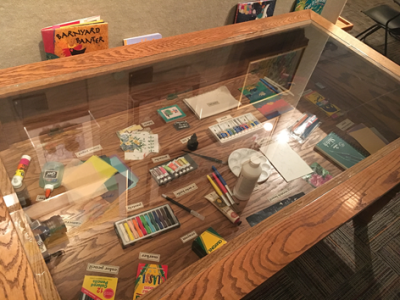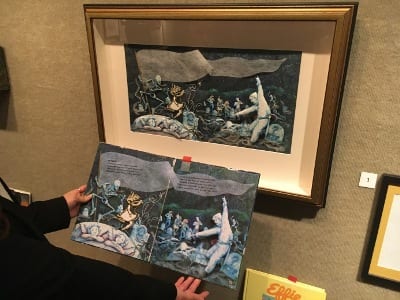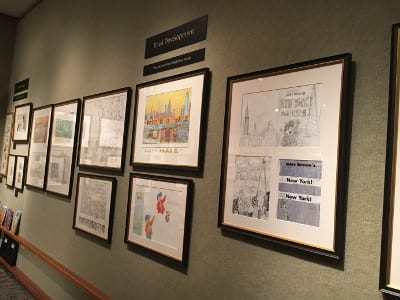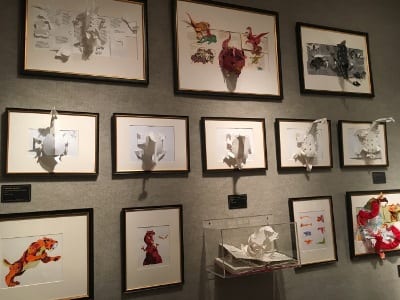 This museum began in 1982 as a part of celebrating the 100th anniversary of Findlay College. Today, various regional exchange activities and events are also held. I recently participated in the very popular museum event called "Funday Sunday," which is held on the 1st Sunday of every month from October through April. Various areas are set up based on monthly themes, and children can do hands-on activities with their family in each area. Also, on some occasions picture book artists are invited as guests to give presentations.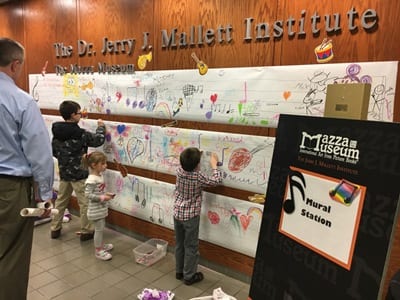 The theme on the day I visited was "Magical Music."On that day, students from the Findlay High School Symphony Orchestra were there as guests, and as I entered the museum I could hear the beautiful sounds of violins and cellos.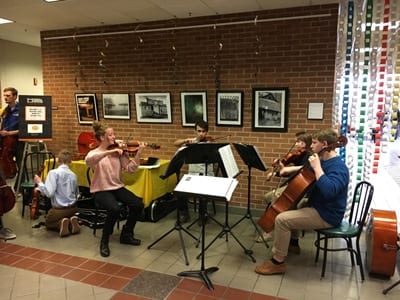 At each station there were different activities associated with the theme "Magical Music." There was also an area on Japan! Japanese exchange students from the University of Findlay were teaching kids how to make a piano out of origami as well as how to play the "Taiko no Tatsujin" drum game on an iPad.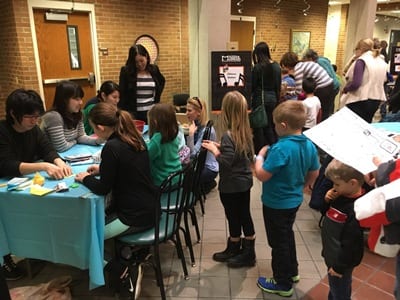 There were also very popular areas where children could actually touch musical instruments, learn how instruments make music, get their face painted, listen to picture book readings, and make drums and guitars using items like plastic cups in the craft activity corner. There were even artists who would draw pictures on the spot, too.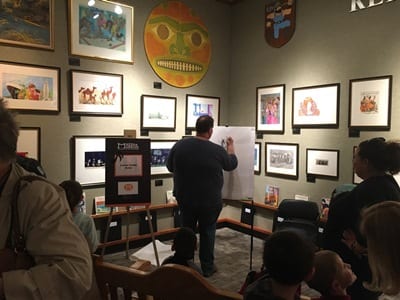 The museum walls are decorated with various artworks that had been drawn at the museum by artists.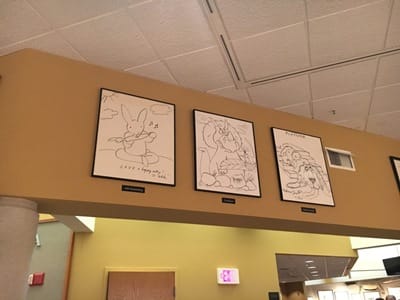 There were very cute treats for refreshments fashioned out of marshmallows and pretzels to look like drumsticks.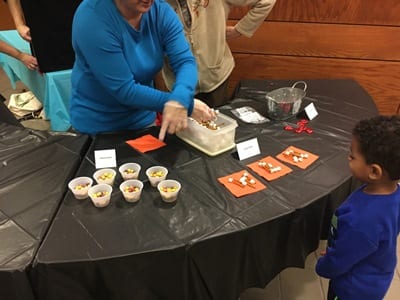 I was impressed by the well thought out details that even included the decorations.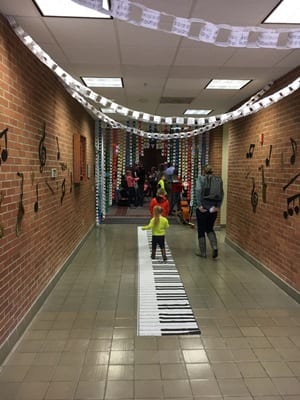 This event, free and open to anyone, was organized entirely by volunteers.Currently, it is sponsored by the Fifth Third Bank (local bank),This extremely popular event was an even greater success than usual on the day I visited, with as many as 528 people participating! The children were all smiles and looked to be having a wonderful time. I also felt a lot of that energy.The 2nd floor was also really cute. It felt as if I'd truly entered a picture book world.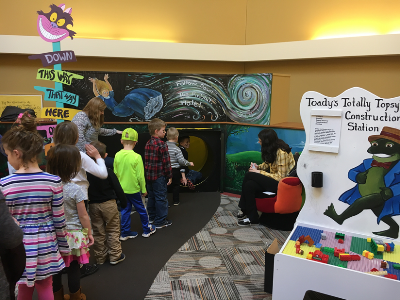 This slide that went down to the 1st floor was created around the "Alice in Wonderland" theme. It was so popular with the children that they kept lining up to go down the slide again and again.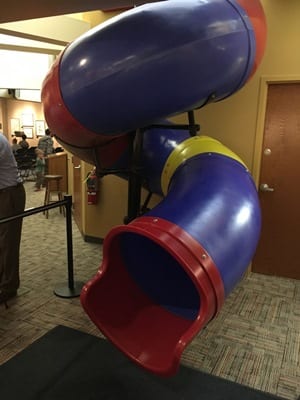 There is also a woman named Ayane Hida who provides information on Japanese picture books here at Mazza Museum. A very friendly person with a wonderful smile, she's the one who so kindly introduced me to this museum and event.Ayane was placed at Mazza Museum in the summer of 2015 through the Japan Outreach Initiative (JOI) program.(JOI: This program has been jointly implemented since 2002 by The JapanFoundation Center for Global Partnership and American nonprofit, the Laurasian Institution The program sends coordinators for 2-year periods to regions in America where there are relatively few Japanese, with the aim of deepening interest in and understanding of Japan.)Ayane not only works at the museum, but she also holds origami classes at schools in Ohio, teaches people at senior citizen centers how to hold chopsticks and write calligraphy, and conducts outreach activities at various other places. These are all things that she initiates herself by taking actions such as sending out letters and actually going to talk with people. She is working passionately as a Japanese Outreach Coordinator who shares Japanese culture here in Findlay where there are few Japanese people.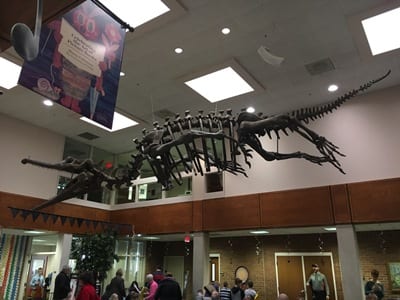 This museum apparently had very few original illustrations from Japanese authors until Ayane arrived. Thanks to her initiative to increase the collection of original artwork by Japanese picture book authors, the author Momomi Sako donated one original picture from each of her three picture books, "Where is my Partner?," "Planting Rice at Grandpa's House," and "The Bird's Song."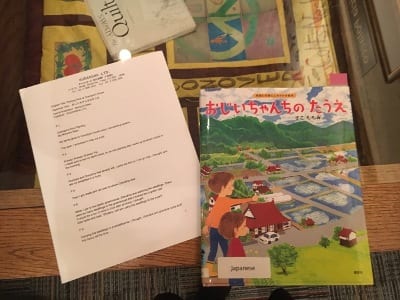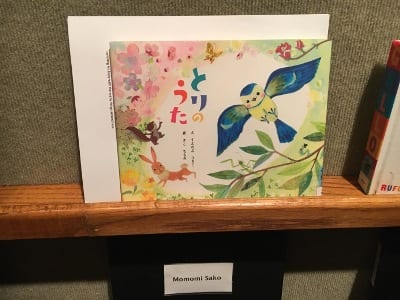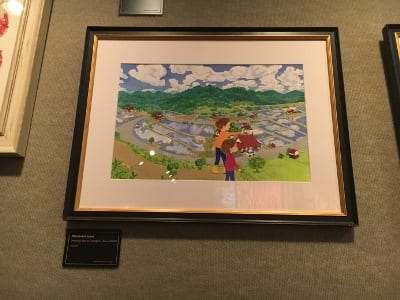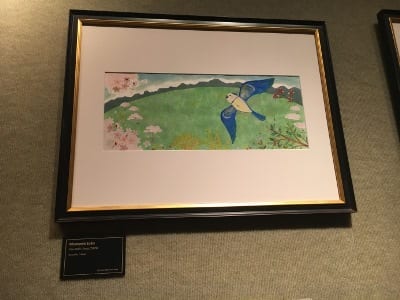 Last year in 2016, she visited Mazza Museum and gave a presentation on Funday Sunday.These three picture books have been translated into English, but there are also times when they are read aloud in Japanese. Japanese picture books contain a lot of onomatopoeias that American children aren't used to hearing, so it is very interesting for them to hear. (Ayane says that the onomatopoeias are the reason it's so difficult and tricky to translate into English.)Along the hallways in the museum these kinds of illustrations from picture books are hung as panel displays, and there are also interesting quizzes prepared for parents and children to enjoy.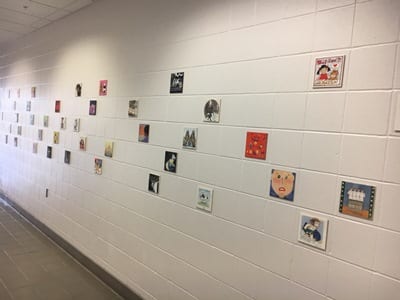 For example, there are questions like "Where is Mama Bear reading to Baby Bear?"In addition, the gift shop in the museum is also incredibly cute! It's great for picking out presents for children.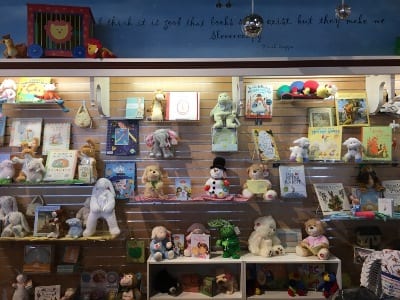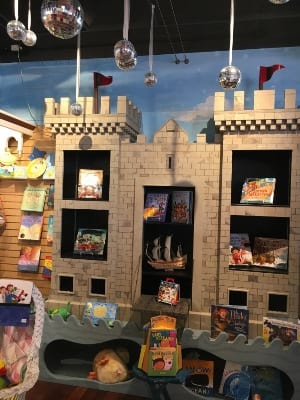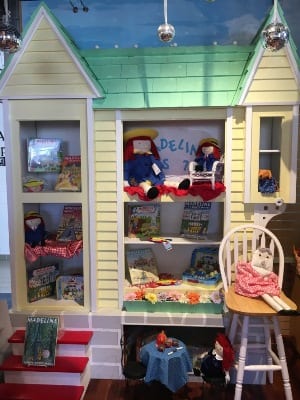 The staff at the gift shop is also made up of volunteers.Picture books from throughout the world give children the chance to learn about far away countries and the culture of the people who live there from a young age. I think that is a wonderful thing, and can completely understand the reasons this museum is so popular. It stimulates the mind, enriches creativity, and can spark various interests. When I was little, I also loved picture books thanks to my mother, but as I grew into adulthood the opportunities to read picture books became rare. However, now that I can read picture books with different feelings and perspectives than when I was little, the new discoveries I have made and the many fascinating things at this museum have once again renewed my interest in picture books. This museum has a kind of nostalgic feeling and comforting warmth.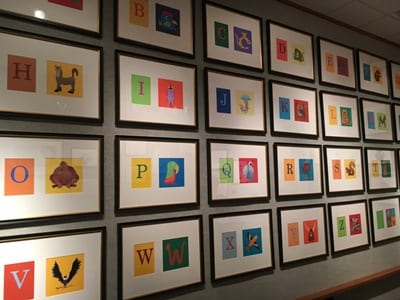 The impressive Mazza Museum is filled with the wonders of picture books and can be fully enjoyed by children and adults alike. If you come to Findlay, this is a must see spot that I can confidently recommend.Mazza Museum — (
http://www.mazzamuseum.org/
)
REPOTER
Erika Anderson

Age

Sheep( HITSUJI )

Gender

Female

Job

housewife
I moved to the United States in May after getting married. My hobby is baking.I want to spread the joy of delicate and delicious baked sweets I learned how to create in Japan.