A new smoothie shop recently opened in my neighborhood.Whenever I go it's crowded, probably because it just opened. The shop is really popular, and there's always a line at the drive-thru. The light blue walls and bright orange chairs inside cheer me up.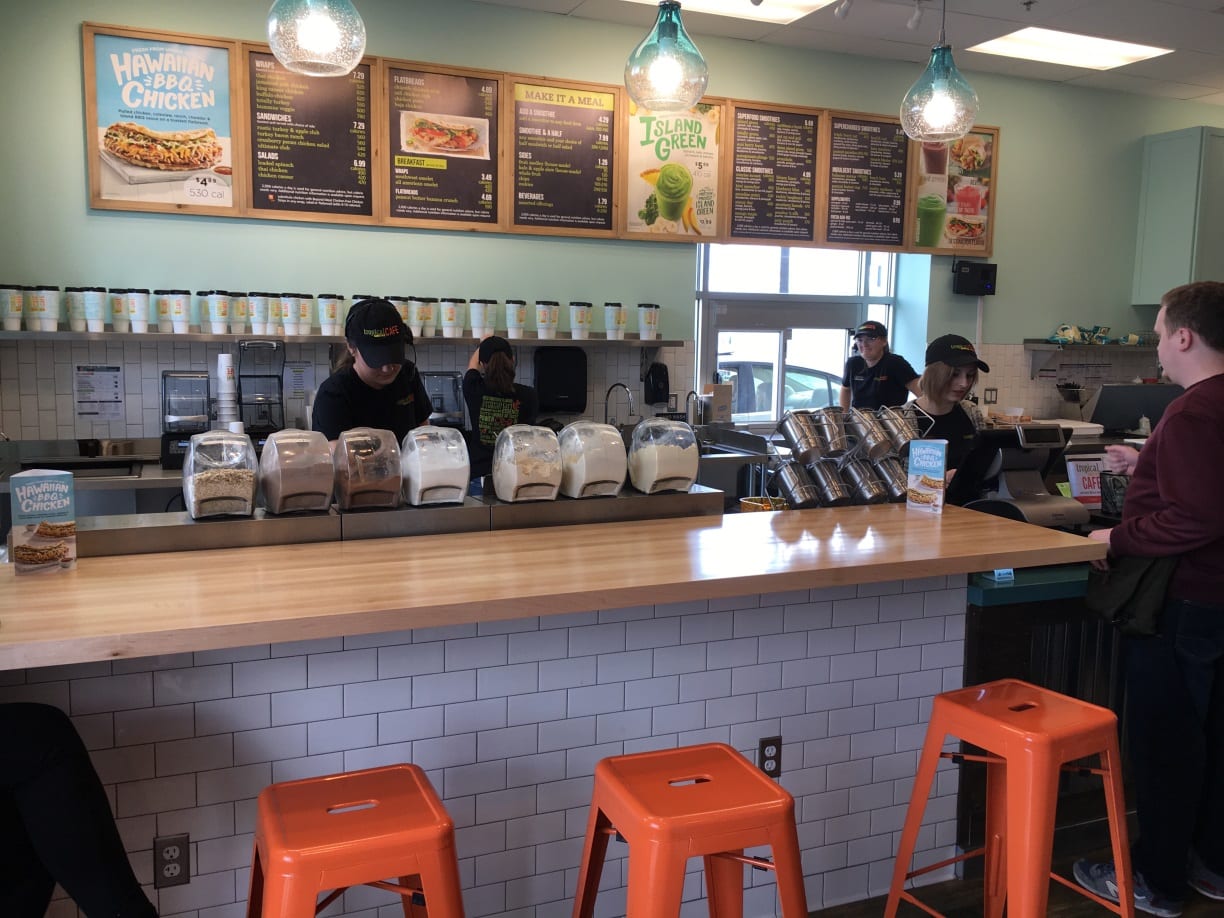 The shop also sells light meals such as salads and sandwiches besides the main offering of smoothies. There are over 30 different kinds of smoothies alone, plus you can make up and order your own smoothie. Happily, not only are there classic smoothie flavors, but there are also lots of smoothies made from super foods that I want to actively eat. I was surprised at the only available size, 24 oz.! (I think that's a little bigger than the largest size at Starbucks in Japan, the Venti.) Even this large size is only around $5.00–$6.00. It's been a year since I came to America, but I'm still astounded at the drink sizes in here. Another thing I found interesting is that you can add a supplement. (I wonder if this exists in Japan, too?) The shop will blend in additional vitamins, lactic acid bacteria, fat-burning supplements, and protein. Plus, you can choose from 3 types of proteins, whey, soy (soybeans), and peas (green peas).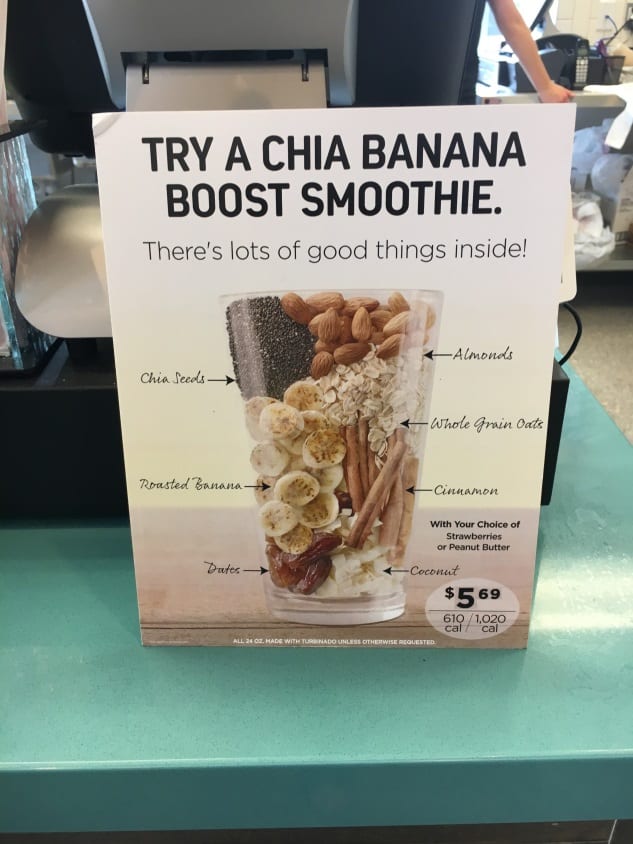 This is the smoothie I ordered the other day. It was made from chia seeds, almonds, banana, dates, oats, cinnamon, and coconuts, and I could choose between strawberries or peanut butter.Some people might wonder about putting peanut butter in a smoothie, but it's really good! In Japan, ordinary peanut butter is sweet peanut butter cream. In America, there are many different kinds of peanut butter, and the flavor is a bit different from the peanut butter cream we usually spread on bread in Japan. I think most peanut butter is made from ground peanuts and has the natural sweetness of peanuts. (Of course, there are many sweet peanut butters that contain a lot of sugar…) Also, there are numerous other spreads besides peanut butter that are sold, including almond butter, cashew butter, hazelnut butter, and sunflower seed butter.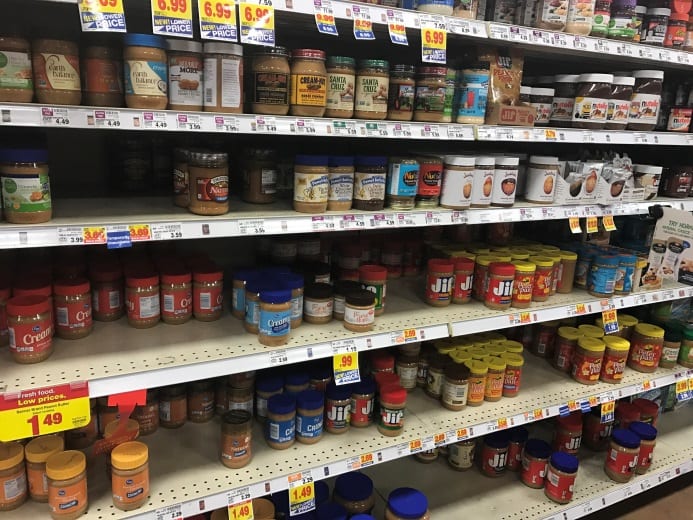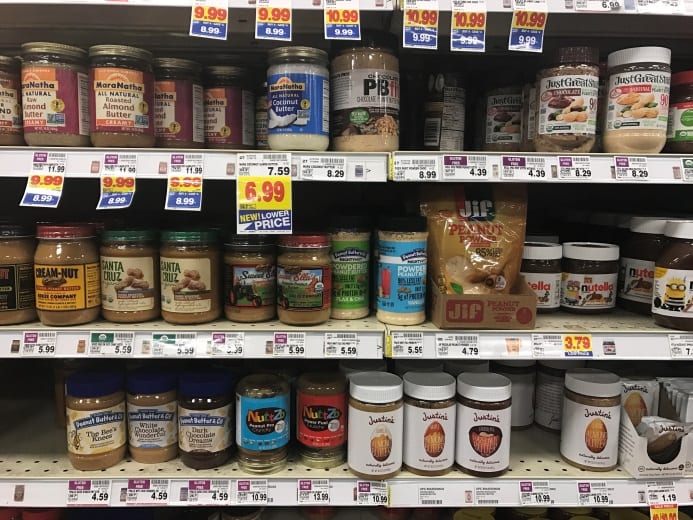 As shown by the choice to add peanut butter at the smoothie shop, it's a popular standard in America. Peanut butter that doesn't contain sugar is often used in cooking and sweets, and everyone is familiar with peanut-butter-and-jelly sandwiches, abbreviated to PB&J. Peanut butter is also often eaten on celery sticks. Celery spread with peanut butter and topped with raisins is called "ants-on-a-log" and is eaten by children as a snack.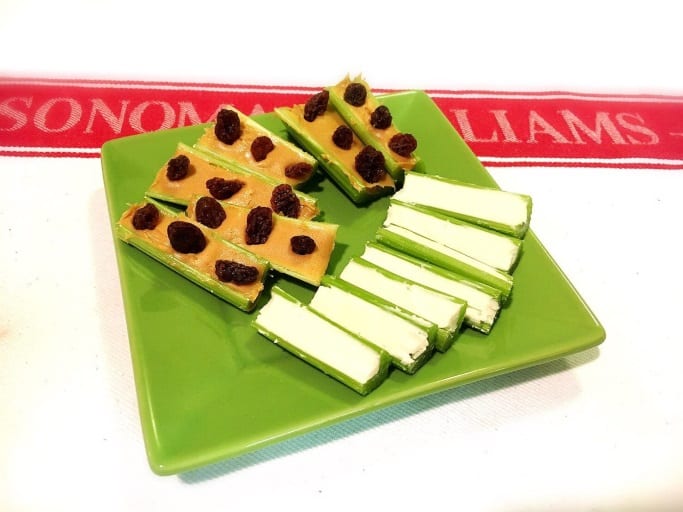 (The celery sticks in front have cream cheese on them.)
I couldn't believe it at first, thinking the combination doesn't go together, but when I ate it, the peanut butter celery sticks were surprisingly delicious. Why don't you give it a try?It'll be getting hotter and hotter and the season for drinking smoothies is coming. There are still so many kinds that I want to check out, so I plan on trying different ones to find my favorite.