Mention Italian food and I think the first thing that comes to mind is pasta, such as spaghetti and lasagna, but very likely it's pizza that's become far and away the most popular Italian dish throughout the world.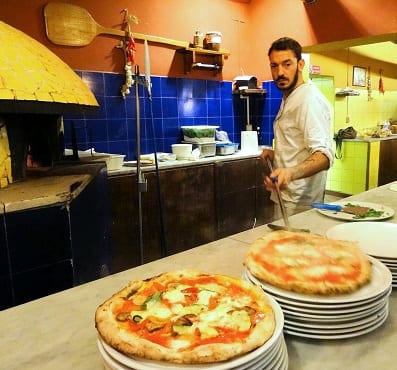 Pasquale nimbly transfers pizza from the pizza oven to plates.
Naples is famous for being the birthplace of pizza, but nonetheless, pizza is universally loved by Italians as a national dish. In the city center of Florence, where I live, there are many eateries specializing in pizza called pizzeria and restaurants with pizza on the menu. When choosing a restaurant, friends suggest going to a particular pizzeria and share the latest information about places they've heard are good. They're always trying out new restaurants. Of course, they also frequent their favorite pizzeria.
A typical pizza menu includes the simple Margherita made with fresh mozzarella cheese and tomato sauce sprinkled with basil leaves; napoletana style that adds anchovies; Quattro stagioni that features 4 flavors, such as ham, mushrooms and artichoke; quattro formaggi made with 4 cheeses; and calzone, which folds pizza crust in half to form a half-moon shape filled with ingredients.There are many different restaurants. Some have only 4 kinds of select pizzas on the menu, while others offer a wide variety of 20–30 types. My mind spins with too many menu options, so I often end up ordering the basic Margherita, but when I'm starving I feel dizzy with glee when eating a filling pizza with lots of toppings. People tend to think pizza lacks vegetables, but there are vegetarian pizzas for vegetarians, and diners can eat their fill of grilled vegetables.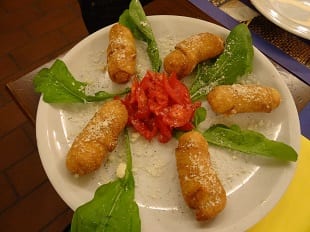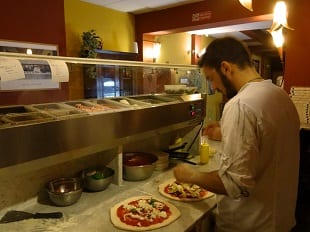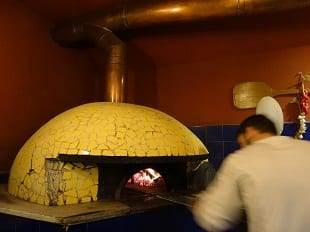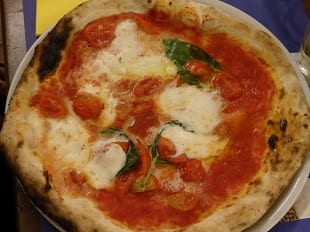 Fried pizza snacks are also served as appetizers. Toppings are placed on thinly stretched crust. A wood-fueled pizza oven. A standard Margherita pizza.
Restaurant meals are basically full course affairs. Traditionally, Italy is a culture of slow food where people linger over meals for 2–3 hours, starting with appetizers, then moving on to rice and pasta, meat and fish, accompanying dishes, dessert, and finishing with coffee. Even today, full courses are served for important family meals and on occasions such as holidays, but recently it's become commonplace at casual, everyday gatherings to order meals consisting of something like only an appetizer and pasta, or an appetizer and meat dish.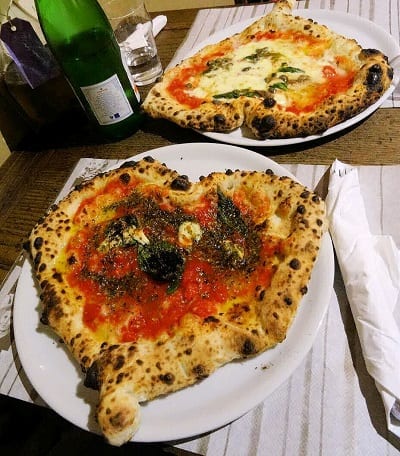 Basically, a light meal of pizza can also become a complete, fast food. The common phrase for a laid-back meal with close friends is, "Let's eat pizza!" When you want to see friends often and chat up a storm, pizza is perfect for a fun evening meal with friends that won't break the bank.In Italy, people eat as much as a 30-cm pizza by themselves, and men also order appetizers. When I first came to Italy, it was all I could do to eat half a pizza, but now my appetite is stimulated by a pizza with a crisply baked, soft crust and I can even eat dessert after nearly finishing a pizza by myself. I think the reason pizza tastes so good is most certainly because of the joy of carefree conversation with friends and the smiles on their faces. The power of pizza is amazing. The national Italian dish gets people through busy days with energy!