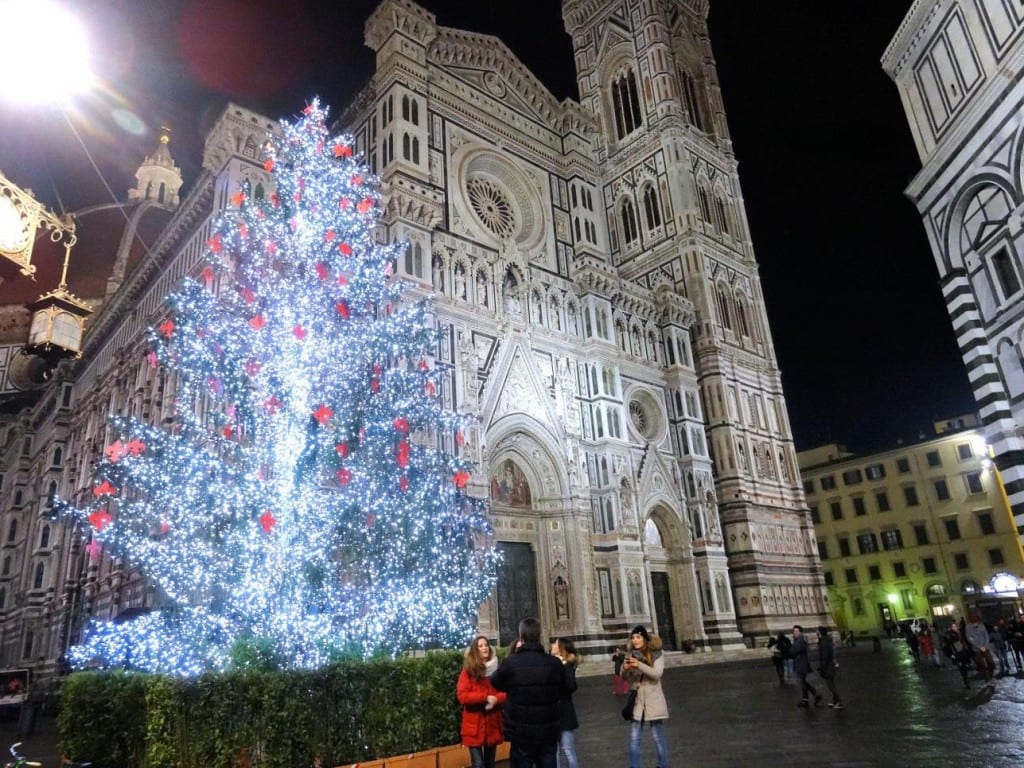 Large Christmas tree in the center of town, in front of the baptistery and church.
From around the last week of November, the streets of Florence become suddenly infused with Christmas festivity. The charming streets of the historic centre of Florence are elaborately decorated with Christmas lights and become bustling with people walking through and looking at the displays in the daytime, of course, but even after dinner and until late at night. Small concerts and Christmas events are held frequently, mostly on the weekends, so you can see a different gaiety than usual.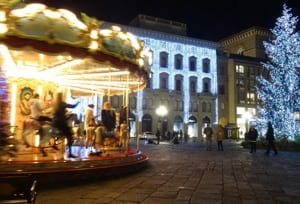 Merry-go-round in the Piazza della Repubblica.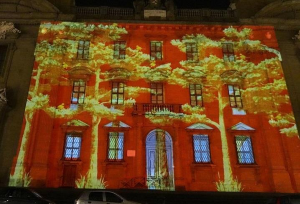 Light-up show using a 1700-year-old building as a screen.
The historic centre of Florence is quite small, and is great for a stroll as you can walk from one side to the other in an hour, but this season is one where wonderful shops and streets that usually stay hidden are covered in Christmas decorations, making it possible to enjoy new discoveries.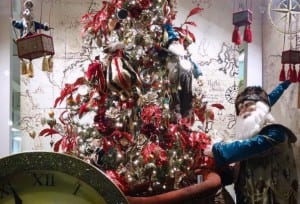 Window display creating lively Christmas spirit.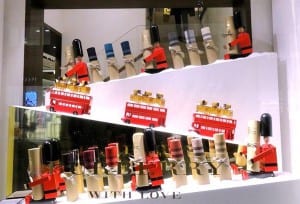 After browsing the chic Italian designer shops and department stores on the shopping street that is the town's most crowded area,, if you walk a bit and cross the bridge over the Arno River, you are certain to find the wonderful relaxing elements of Florence.The street from Ponte Vecchio to the other side of Palazzo Pitti is an unparalleled tourist attraction, but the neighborhood from Via Maggio that runs from the adjacent Ponte Santa Trinita bridge that was beautifully carved to Palazzo Pitti to Porta Romana is a lovely walking course that retains a sense of the old Florence.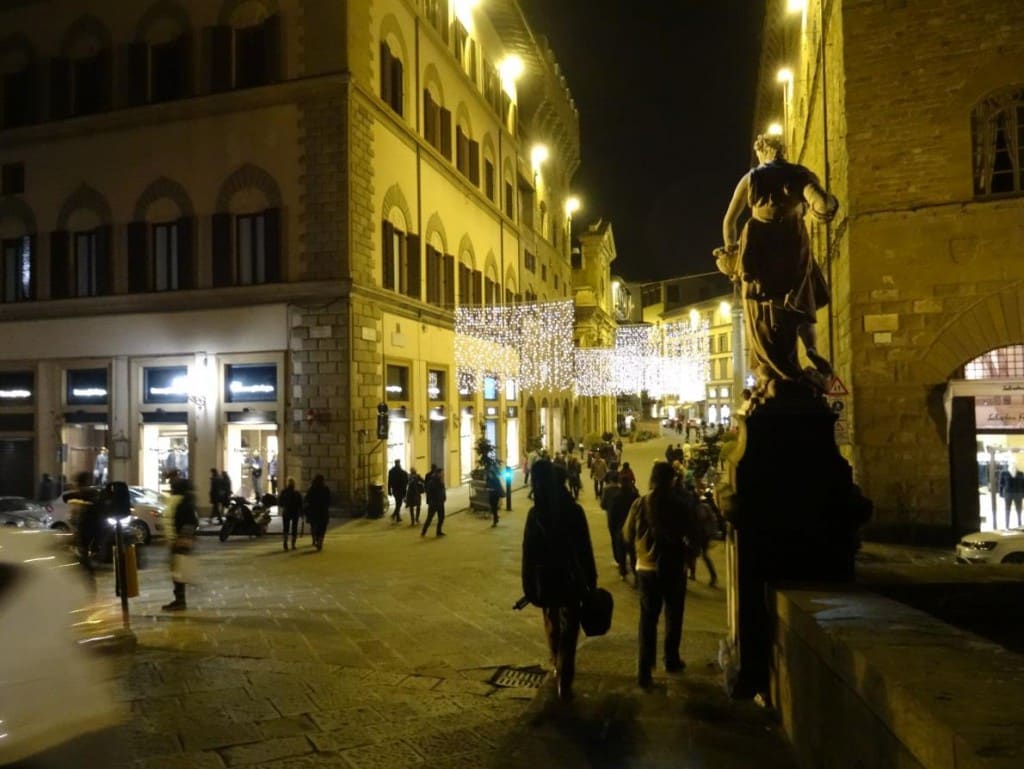 Panorama of Via de' Tornabuoni lined with luxury apparel brand shops from the Ponte Santa Trinita bridge. The opposite bank is Via Maggio.The Palazzo Pitti neighborhood is famous as an area where many studios of artists and artisans remain from long ago. The craftsmanship of Florence artisans who pride themselves on their high ascetics and skills has been passed down to the present day, and the area is lined with studios and shops in many types of traditional industries, such as furniture, bookbinding, picture framing, leather goods, jewelry, stone mosaics, and iron crafts, to name a few.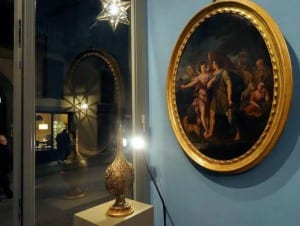 A shop that is like a small art museum.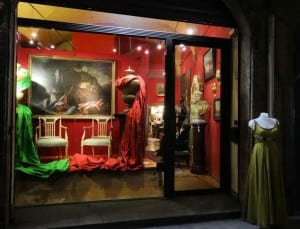 Comparing the displays of each gallery is very interesting.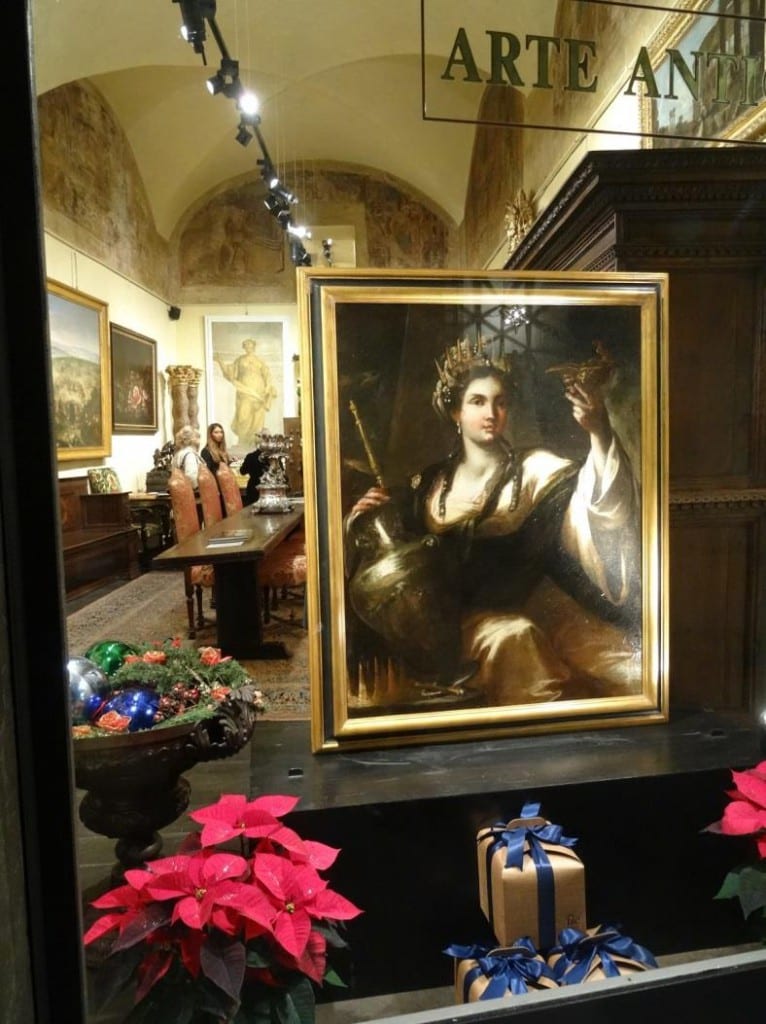 Meanwhile, when you walk along Via Maggio, the first thing you notice is the line of show windows elegantly decorated with lovely works of art. These are the galleries of antique art dealers in Florence who made their name selling Italian works of art that have remained hugely popular in Western society over time.Florence is like an art museum, with its streets full of beautiful buildings and churches. What is surprising is that these small galleries actually sell art masterpieces that would not look out of place at all in an art museum. Inside the shop past the show window, you will find interior decorations with a look of elegance, fresco ceilings and chandeliers, and an orderly row of sculptures and paintings on top of furniture. Each gallery has a different personality, and the space that is more private than a museum is breathtaking.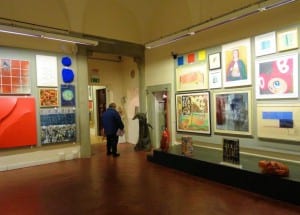 Auction house preliminary inspection place.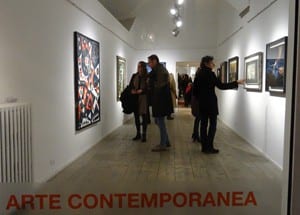 Contemporary art gallery.
Florence is an amazing city where apparel and fashion accessories, designer furniture and trinkets, gourmet food ingredients, and even premium works of art are sold on a daily basis. Your choices are only limited to your ideas. Have you chosen your Christmas presents yet?