When I was a college student, ramen was synonymous to 'instant ramen' and was a staple in every college student's kitchen cabinet. My roommates and I would often keep our eyes out for the 6 for $1 Top Ramen sales at our local supermarket. Culinary tastes, however, has evolved and ramen connoisseurs are multiplying by the dozen. We're seeing 'ramen fever' sweep across the continent (of United States of America), and Cambridge is no different.When I moved here about 10 years ago, there were only two ramen shops, but now there are nearly 20 restaurants in Cambridge (and that's not including those in Boston!) that serve ramen on their menu.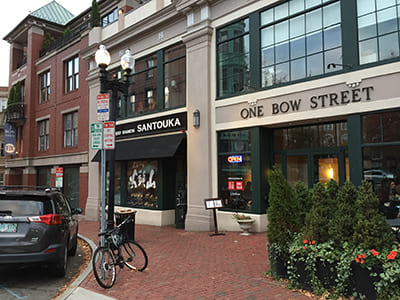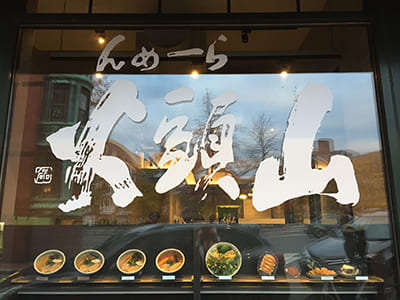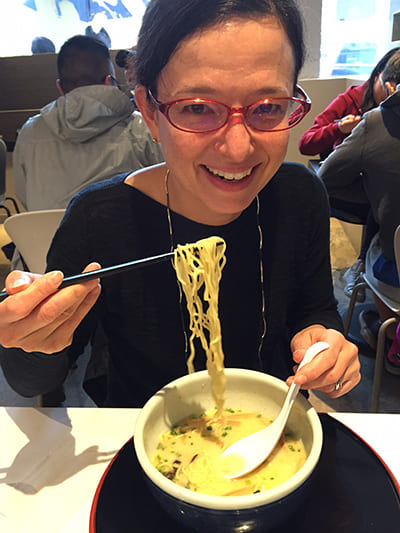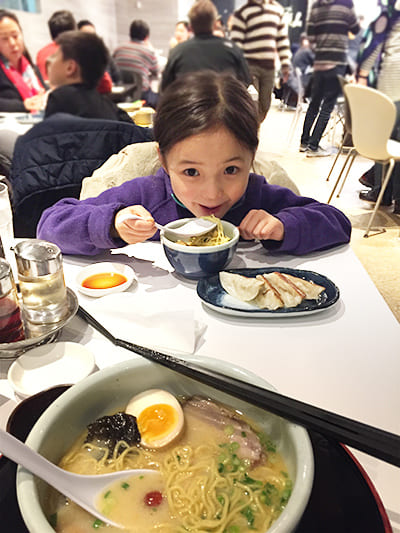 Ramen in Cambridge can cost anywhere from $9.45 to $18.95 plus tax and tip. It's a little pricier than in Japan, but the comfort that I can get for the extra price is worth it. Our family's Saturday ritual is to go for lunch to my daughter's favorite ramen shop, Santouka in Harvard Square. Santouka is about a two-minute's walk from the Jose Mateo Ballet Theatre, where my daughter takes ballet. Before her ballet lesson, we walk to Santouka for their shio ramen (and of course gyoza!). Her lesson is early enough so that we don't get caught in the lunchtime rush, but people wait as long as an hour to be seated for their ramen! We also go to Santouka in San Diego when we visit my mother. The Santoka in San Diego is located in a food court of the Mitsuwa supermarket. The Santouka ramen on both coasts are similar, but the egg in the ramen on the east coast at Harvard Square is more delicious; the egg is a true ramen tamago versus the egg in the San Diego Mitsuwa food court is just a hard boiled egg that's been soaked in their special sauce. I always need to order an extra ramen tamago or else my daughter and I end up fighting for the egg.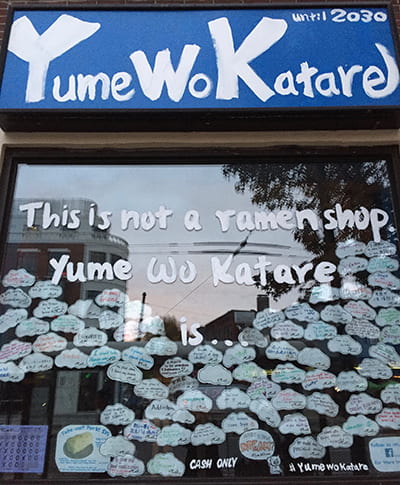 Irrashaimase, is the shouting greeting you get when you enter the quaint 18-seat Yume wo Katare ramen-only restaurant in Cambridge. The ramen shop opened in 2012, and until recently was only opened for dinner. I still have yet to eat a bowl of their ramen, but my husband loves their ramen. He secretly went to Yume wo Katare when my daughter and I were visiting Japan. He really enjoys their Jiro-style ramen and loves to put as much minced garlic as he likes. Their portions are really big and most people have a hard time finishing everything, but if you do the owner praises you for finishing 'perfect.' People snake around the block to wait for up to two hours in the evening to have a bowl of their tasty ramen. Rumors have it people still wait just as long for their large chashu ramen. Now that they're opened for lunch I may venture and hope that I won't have to wait that long to try Yume wo Katare's ramen.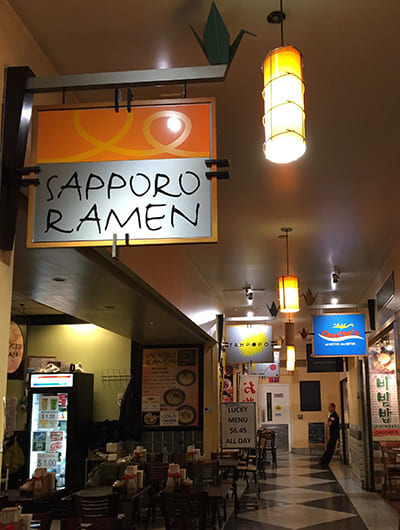 Close to Yume Wo Katare is the Porter Exchange, or otherwise known to many people as our "Little Japan." The art-deco building used to be the old Sears & Roebuck store, but is now owned by Leslie College. The complex houses the most-concentrated Japan-related stores in Boston. You can find a Japanese gift store, a Japanese bakery, and a Shiseido (and other) cosmetics store.There even used to be a Japanese grocery store with Japanese video rentals called Kotobukiya, but had to close because the College wanted to convert the space into their bookstore. You will also find a row of restaurants, including two of the oldest Japanese restaurants in Cambridge still open where you can order ramen—Sapporo Ramen and Tampopo. When I first moved to Cambridge I would stand in line to get a bowl of the miso ramen at Sapporo Ramen. I loved how the piping bowl of ramen had lots of bean sprouts in it. I always ordered a side of butter to put in the ramen to quench my craving for the authentic taste of Japan. Tampopo has an extensive menu and although I haven't tried their ramen yet, I really enjoy their katsu curry udon, which really hits the spot on a cold winter day. We've come a long way in choices of ramen since my college days, and I can't wait to try them all.