The first events non-Thai people think of when they think of famous Thai festivals are typically Songkran or Loy Krathong (the floating lamp festival). Songkran is actually this month, so I thought I'd tell you more about it, including why foreign people seem to be so captivated by it.
Songkran is a festival commemorating the New Year in Thailand. It is known for its water purification rituals, which this year take place April 13–15. Songkran festivals are not unique to Thailand, with minority populations in countries like Laos, Cambodia, and Vietnam celebrating it along with people in China's Yunnan Province, Sri Lanka, and India. The event is said to have been influenced by the Holi festival in India, which originated in an Indian town of the same name. Holi is a Hindu spring festival held in March every year to celebrate the coming of spring, where people cover each other in bright colors and drench each other with water.
The timing of the traditional Thai New Year has actually changed four times. It was once April 1, then moved to April 13–15, for example. Songkran corresponds to New Year's Eve. In 1940, Thailand switched to the international New Year's Day on January 1, but because the ancient Suriya Yatra astrological calendar puts New Year's exactly between April 13 and April 15, the Thai calendar also began the tradition of celebrating New Year's on these dates.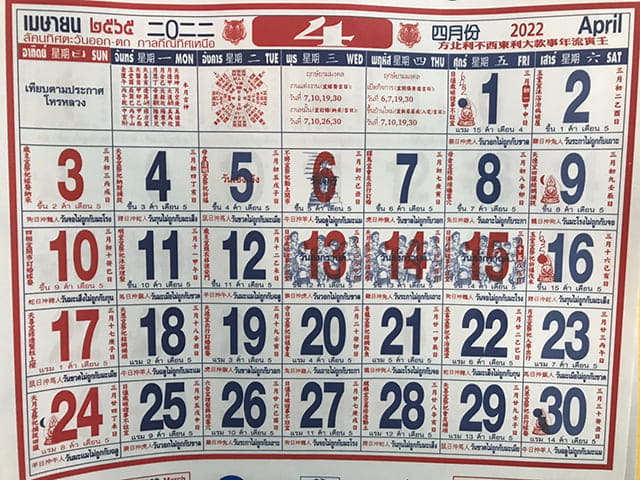 People typically get between three and seven days off during Songkran. It also overlaps with the hottest time of year in Thailand, so schools get about two months of summer vacation around the same time. It's also when many people living in the big cities travel back home to be with family, relatives, and friends, while some take family vacations elsewhere. The traditional New Year, by the way, comes with many old customs as well. We go pray at the temples, for example, or pour water over Buddhist statues. There are also ceremonies where we do good works for the deceased, or do water purification rituals for the elderly.
When I was a kid, we would always go spend a month hanging out at my grandmother's family home during summer vacation. The house is in northern Thailand, and in the mornings during Songkran we'd walk with her to a nearby temple to pray to the Buddhist statues. We'd bring food, flowers, or other offerings to the priests, and listen as they gave teachings. We'd then build huge sand pagodas—as high as our heads. (In ancient times, it was forbidden to take sand or other objects home from temple grounds, so people believed that this was a way to return the sand to the temples.)
Once people have finished worshipping, they return home with their family and relatives and pour water on their grandmothers, elders, and even pictures of the deceased in the hopes of receiving blessings. Then the kids get to have fun. Starting at about ten in the morning, they stand in front of their houses with squirt guns and big buckets of water to throw on passing bicyclists, or paint each other's faces with white powder. Sometimes they go out to busy areas and splash water from the back of their trucks. It seems to be a little dangerous to do it from moving trucks, but they're forced to drive slowly because the roads are always jammed, so in some places the crowds along the street are completely drenched in water. There are also parades where famous Buddhist statues from the city are covered in beautiful flowers, placed on floats, and paraded through the city playing Thai music. We celebrate for three days straight like this every year, and then on April 14, Family Day, we cook a huge feast with our families and spend the day partying or singing karaoke. That was probably my favorite part of summer vacation.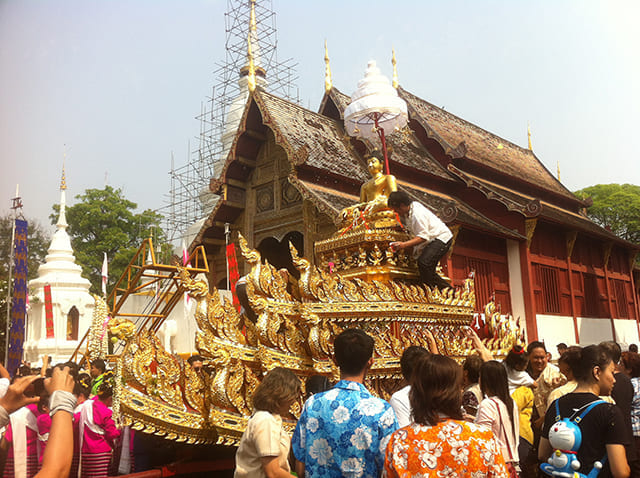 We often celebrate with concerts from popular singers or hosts at locations that are well-known to foreigners—like along Khao San Road in Bangkok or at the Tha Phae Gate in Chiang Mai. Unfortunately, the pandemic has put a stop to Songkran celebrations like many other activities all over the world for the last two years or so. We will still have some restrictions this year, but the government is easing up on pandemic measures, so most shops will be operating normally and Songkran will go on. Still, I urge everyone to take precautions and make sure to mask up if you're going to travel back home, meet with elders, or participate in the water events.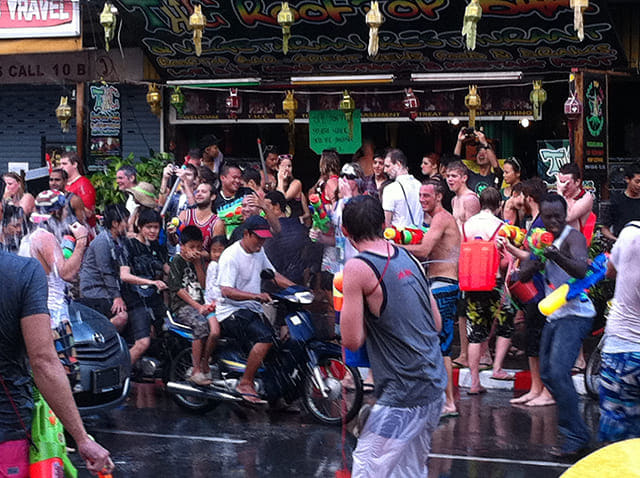 One of the reasons so many foreigners come out to see the festivities is the opportunity to witness longstanding traditions. I can't wait until the pandemic settles down just a bit more so that everyone can freely come visit us in Thailand again.