Anyone who's been to Chiang Mai Province in northern Thailand probably knows about Doi Suthep temple, the most famous tourist attraction in Chiang Mai. People all over the world say that if you haven't been to Doi Suthep temple, you haven't been to Chiang Mai.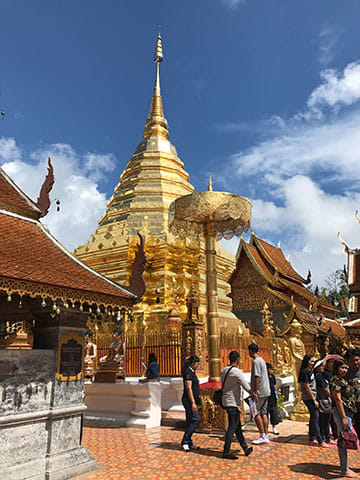 Doi Suthep is a mountain temple that was constructed about six hundred years ago. There was no road to the temple back then, so it was hard to get to—the only way there was to walk and climb up to it, which took about five hours. It's built eleven kilometers outside the city, and you can clearly see the city from the observation tower.
When Western culture came to Thailand about a hundred years ago, it brought new modes of transportation like automobiles and trains. Asphalt roads began to be built all over the country, and twenty years later they even started a road to Doi Suthep. Instead of building it with tax money, however, the most famous monk in Chiang Mai solicited donations of money, gold, and silver from Chiang Mai residents. It was finished in five months, which was incredibly fast for those days. People can now travel to the temple by car in about twenty minutes. The monk that collected all that money went on to build and restore several other temples. People erected multiple bronze statues of him in order to memorialize his accomplishments. One of these statues is located at the foot of the mountain on which the Doi Suthep temple stands.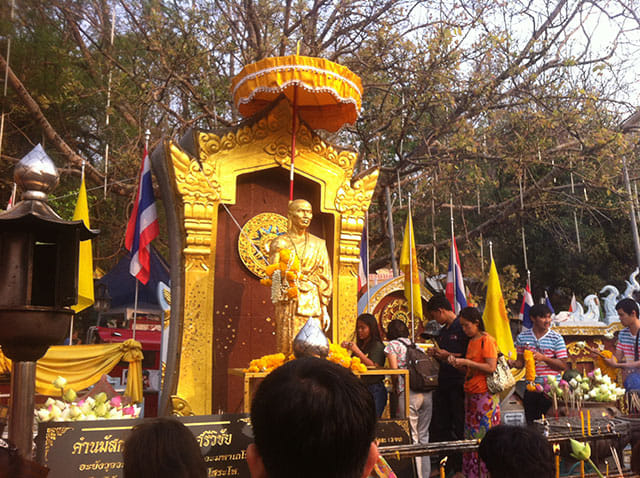 So if you can drive to Doi Suthep now, why is it still customary to walk and climb up to it?
If we go back six hundred years, it was customary to walk and climb up to mountain temples. Since roads have made it easy to get there by car, fewer people walk and climb. To keep the tradition from disappearing, people gather at the base of the mountain every year in mid-May at 4 p.m. on the day before Visakha Bucha Day , a Buddhist holiday celebrating the birth of the Buddha, and begin walking. More than ten thousand Chiang Mai residents and tourists participate in the event each year. The group includes numerous monks as well as government officials, shopkeepers, students, and everyday people. There are over three hundred shops on the way to the mountain, with volunteers handing out free water, snacks, and even lunches to the passersby. Flower shops sell items for worshipping at the temple, including cut flowers, candles, and incense. Some shops even sell raincoats and umbrellas!! (Thailand's rainy season begins in May.) There are various other events as well, including distinctive dances native to the Chiang Mai region and musical performances featuring drums and other instruments.

Volunteers hand out drinks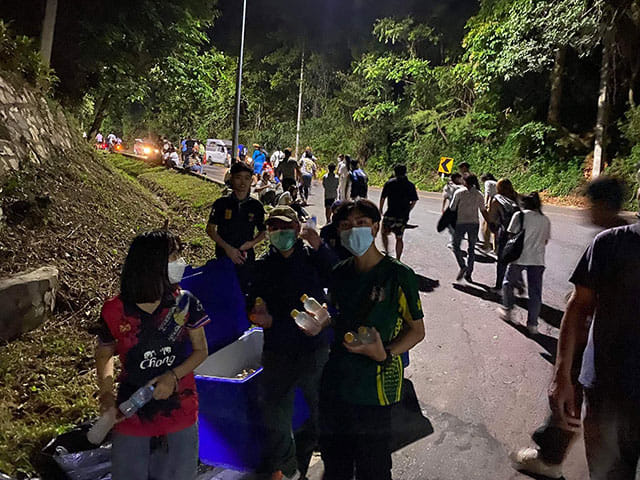 It takes about four or five hours to get to the temple. When people arrive, they pray at the pagoda and statue where the ashes of the Buddha are enshrined and diligently chant sutras and meditate with the monks until morning. The monks then go around asking for alms from the people on the temple grounds, and the event is over. The question is, do the people who walked and climbed then walk back to the city? Some do. Except they haven't slept all night, so most of them take the red songthaew share taxis back to Chiang Mai. Some rest for a bit in the open areas around the temple and then make their way home.
In recent years, there has been another walking event in addition to Visakha Bucha Day. Each August, upwards of six thousand teachers, graduates, and current students at Chiang Mai University have started walking and climbing up to the temple to welcome the incoming freshmen for the new school year. They engage in a variety of activities along the way, building solidarity between junior and senior students and developing friendships. It's a chance to have fun while taking on a shared challenge.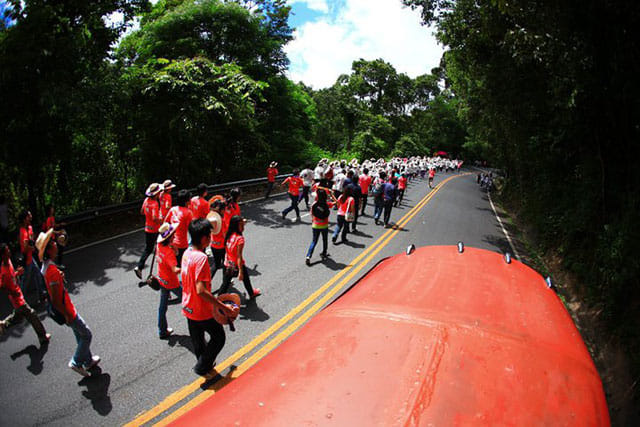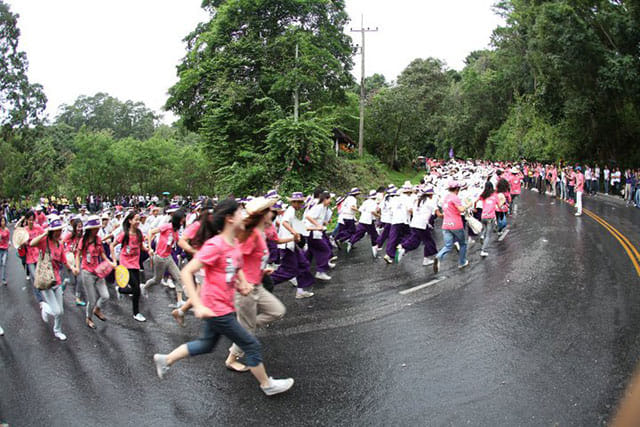 These traditions still live on to this day, so if you get the chance, try joining a walk and climb up to Doi Suthep at least once in your life. It's something you don't want to miss if you decide to vacation in Chiang Mai.