Where do you do your grocery shopping?
There are places that everybody has to go to as part of their daily routine—especially restaurant staff, housewives, and other people who handle meals. Markets and supermarkets basically sell the same things, and while supermarkets are typically bigger, offering a wider selection and more daily essentials, at markets you can find fresh foods at lower prices. Both markets and supermarkets are essential parts of daily life, so if there's one close to home or at another convenient location, it's fantastic!
It occurred to me that it's pretty much impossible to say exactly when markets started in Thailand, but before we knew it, they became an integral part of our daily lives.
During the Ayutthaya period 700 years ago, China, India, and even Western countries like Portugal, England, and France began trading with Thailand, and international commerce grew. That's why major department stores and trading companies do business with Thailand today. But within the country, the local people still need markets—floating markets, night markets, weekend markets, "walking streets," and so on—and markets like these are still popular today.
There are several popular markets in Thailand, but I'd like to talk about a few of the favorites among tourists—the Chatuchak Weekend Market in Bangkok and the Sunday Market in Chiang Mai, for example. Each has different characteristics and sells different things, and it depends on what you're looking for—so let's take a look at them together. Guidebooks typically point first-time visitors to Thailand to the Chatuchak Weekend Market in Bangkok first. This market was set up more than sixty years ago, and it's said to be the largest market in the world!
There are over eight thousand stores spread across a huge area selling all kinds of things (though the pandemic has caused many of them to disappear). You can get food, handmade goods, plants, used books, household essentials, furniture, wooden goods, spa items (for relaxation), clothes, and more. You can also see street performances and dancing. Thai locals will tell you that you can get anything there, and that it's open from 5 a.m. to 8 p.m. on the weekends. At night, many of the shops have end-of-day closeouts. The later it gets, the more items you can find for half price.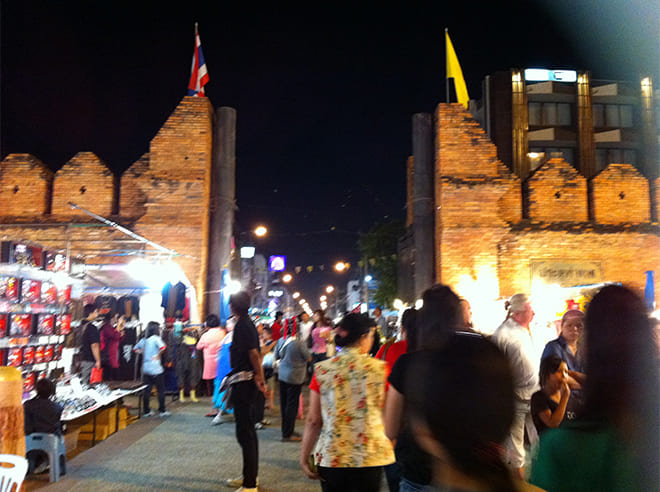 Chiang Mai in northern Thailand is another city outside of Bangkok that's popular with tourists. The landmark Wat Phra Singh temple is located in the old city center, and in the 800 meters between the temple and another incredibly popular attraction, the Tha Phae Gate, is the most popular "walking street" (street lined with shop stalls) in Chiang Mai: the weekly Sunday Market. Most everything sold there is locally produced, including handmade items, items from local mountain tribes, silver goods, and charming souvenirs.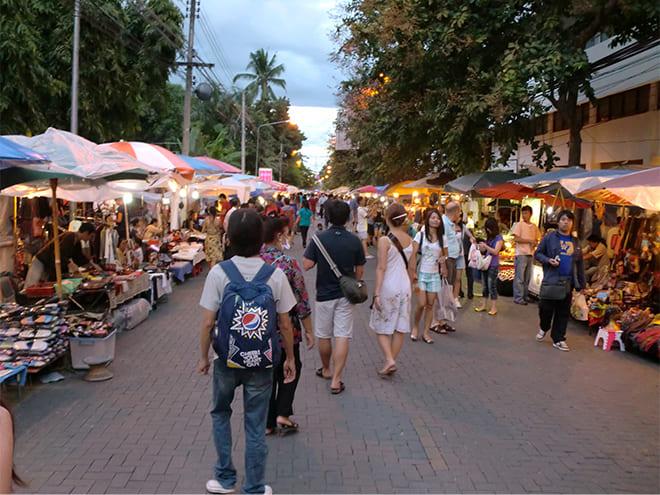 So is there anywhere to eat at the Sunday Market?
There are tons of restaurants, cafés, and other places to eat, but because it's so crowded, there will likely be lines . While you're enjoying some window shopping, you can see food stalls along the streets or inside the temples, with many delicious foods colorfully on display for sale. There are also several areas where you can sit, though the number of seats is limited—so it's best to get a seat first and then eat. When you're finished, make sure to clean up after yourself using the garbage cans nearby.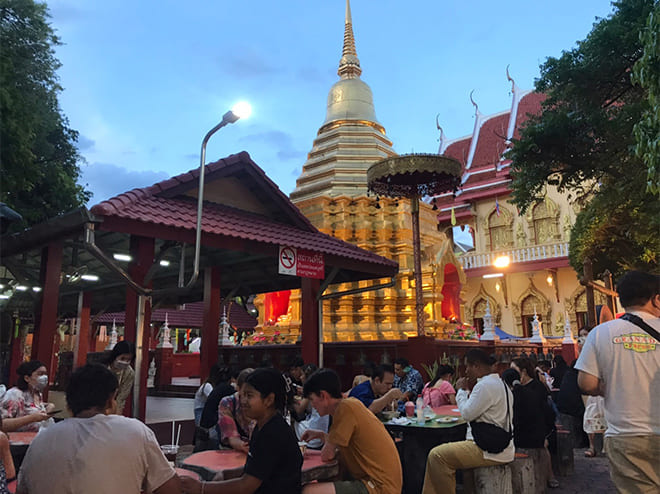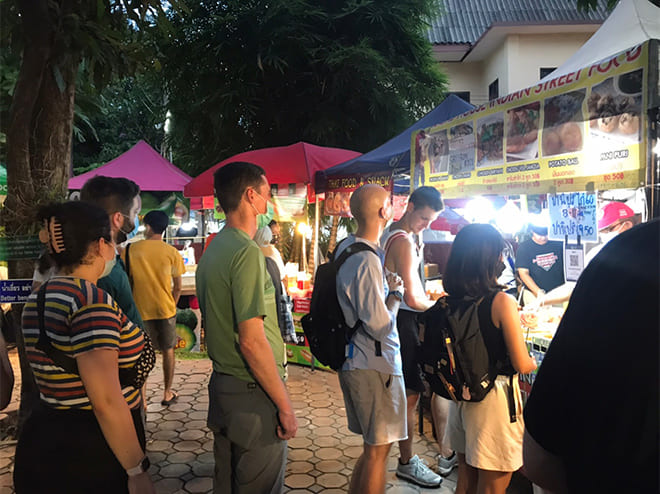 The Sunday Market isn't just a place to buy souvenirs, either. You can also see many of the locals playing local music, young people with guitars, or traditional Chiang Mai dancing. While you shop, you'll even see ladies along the street with chairs and simple beds talking passers-by into buying traditional Thai massages or foot massages. The Sunday Market runs from 5 p.m. to 10 p.m. on Sundays.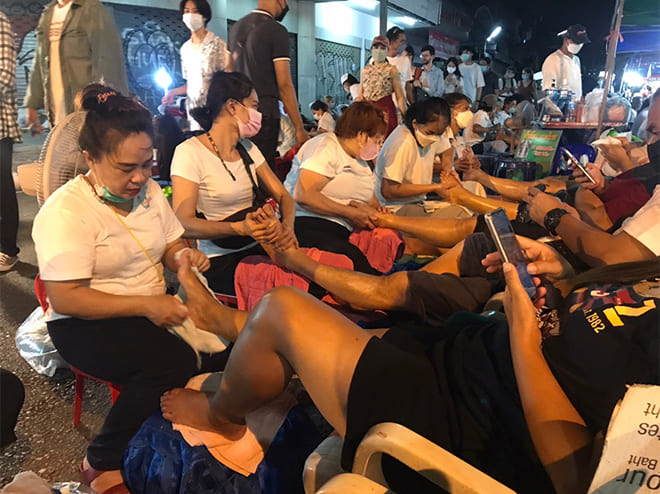 Also, one thing that surprises foreign visitors who have come to Thailand for the first time is that they pipe in the Thai national anthem at 6 p.m., and both the buyers and the sellers stop what they're doing and stand still. People seeing that for the first time will wonder, "What's going on here?!"
In order to show respect for their country, people always stop and stand as Thailand broadcasts the national anthem on TV and radio as well as in schools, government offices, and public facilities at 8 a.m. and 6 p.m. every day. So if you're out and about at those times and you hear the national anthem, you should stop and stand still, too. While a common practice in Thailand, it's a part of the culture that can really surprise first-time visitors.
It goes without saying that the reason many people want to travel abroad is to see beautiful places, eat delicious food, and interact with the local residents. But there are all kinds of unfamiliar things to see at markets, so give them a visit if you come to Thailand on vacation. I think you'll have a great experience there.
What kinds of markets do you like?