Thailand can't be the only country that struggles with the problem of too many powerlines.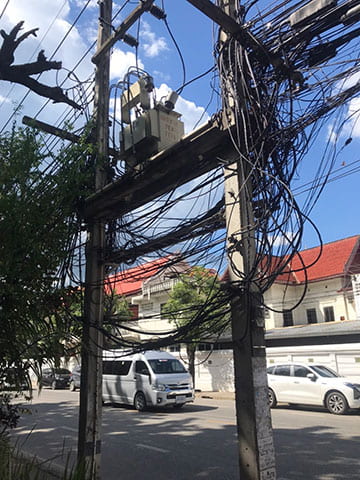 I think it's something that's plagued countries around the world for a long time. When foreigners visit Bangkok for the first time and walk through the streets, they're probably surprised to see so many tangled-up powerlines strung everywhere. It's become a topic of conversation among the local Thai people as well as visitors.
Some of the things I've heard from foreign visitors are:
"If you come to Bangkok, make sure you take pictures of the powerlines on the bridges!"
"It's scary and dangerous how many powerlines there are!"
"It's all a bit embarrassing for a country known as 'the land of smiles.'"
The problem actually started a long time ago…
Three different kinds of service wires are stacked vertically on every utility pole. At the top are the high-voltage wires, followed by the low-voltage wires, and then the internet cables or other telecommunications wires at the bottom. Telephones have served as a communication tool for people since they were first introduced in Thailand, and every household had to have telephone wires strung to it at one time. Fewer people use telephones these days, however, while the number of internet users has increased. So optical fiber is now used in place of the telephone lines. But the old telephone wires have been left in place and are now in bunches—sometimes tangled up in knots, sometimes wound up and hanging down.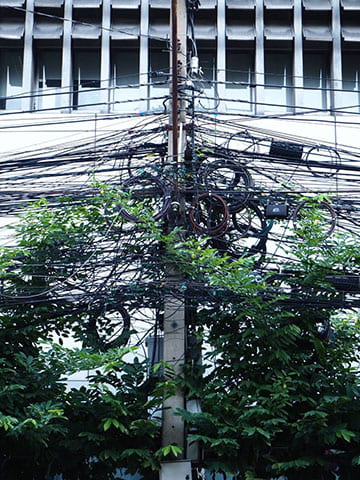 It's not uncommon for accidents to happen, either. Transformers blow up, electricity shorts out, there's the danger of electric shock in places where cars or people pass by… electric wires have even fallen to the ground.
Wires even strangle motorbike drivers…
One of the most common accidents is for a wire to get caught around the neck of people riding motorbikes. Poorly-managed power and telephone lines are often the cause of death or critical injuries in Thailand, making them a serious problem for society. Several other countries have begun to bury their utility lines in order to make their streets safer and more beautiful, but these projects are expensive. The Metropolitan Electricity Authority (MEA, the public power company for the capital region), CAT Telecom, the police department, and other organizations are working on completing a similar project for Bangkok within three years. As of a February report, they had finished burying a total of 133,050 meters of line, followed by another 2,228.07 meters.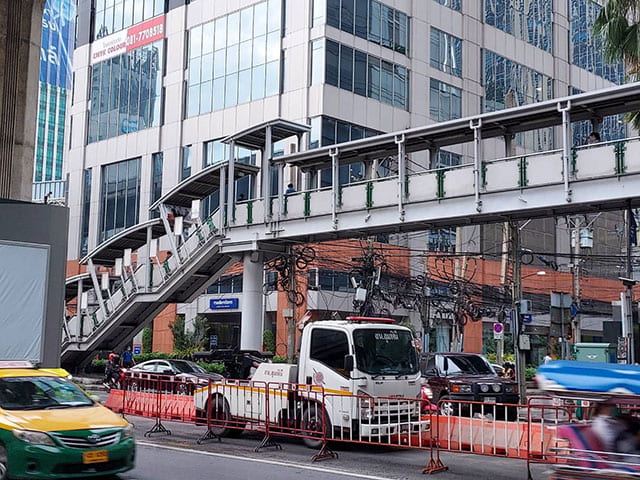 There are movements across Thailand aimed at eliminating utility poles and burying wires. I hope that they succeed in their efforts soon.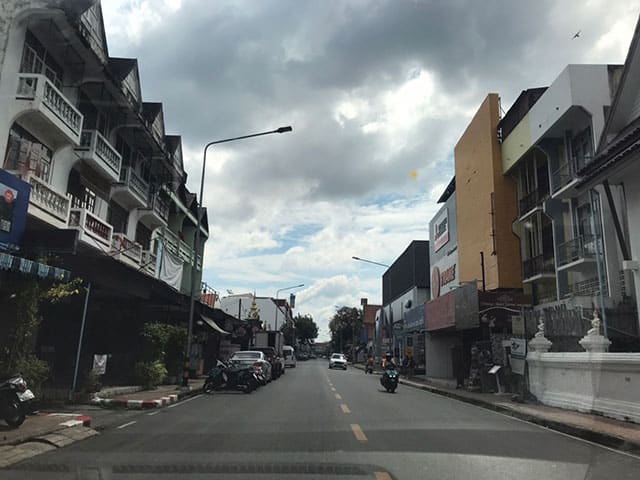 Street free of powerlines