Do you have any fun memories from your childhood?
I have fond childhood memories of a time thirty years ago, when there weren't any fancy department stores or shopping malls yet.
It was fun going with my family to the amusement parks or the zoo, but for a kid who grew up in the countryside, my best memories are of temple festivals.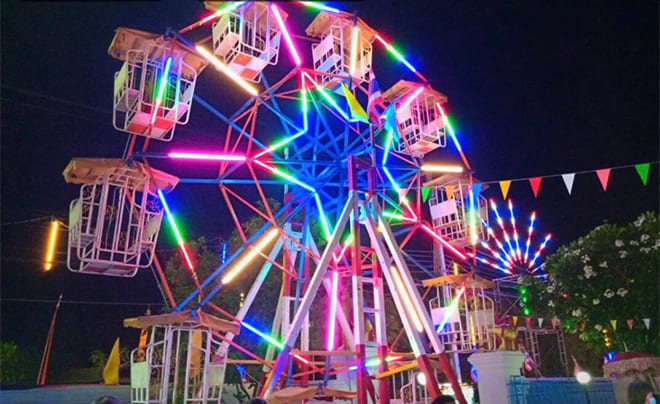 Temple festivals are different in different parts of the country, but all of them are annual celebrations held at local places of worship.
The dry season between November and February is the most comfortable time of year, and many famous historical temples across Thailand hold their festivals then.
Thailand has a long tradition of constructing a new temple every time a new king takes the throne.
Numerous pagodas, monuments, markets, and other structures have already been built.
These historical structures have aged over the years, so repairing or reconstructing them is a way to communicate to people the importance of carrying on historical and cultural traditions.
The celebrations held when there is an unveiling of a restored pagoda or Buddhist statue, or of a newly constructed temple building or pagoda, are called "temple festivals."
These festivals are a time to worship the sacred statues or pagodas, and also for the local people to set up street stalls selling specialty goods, snacks, toys, clothing, or daily necessities—making the events even more fun for temple visitors and creating a festive atmosphere.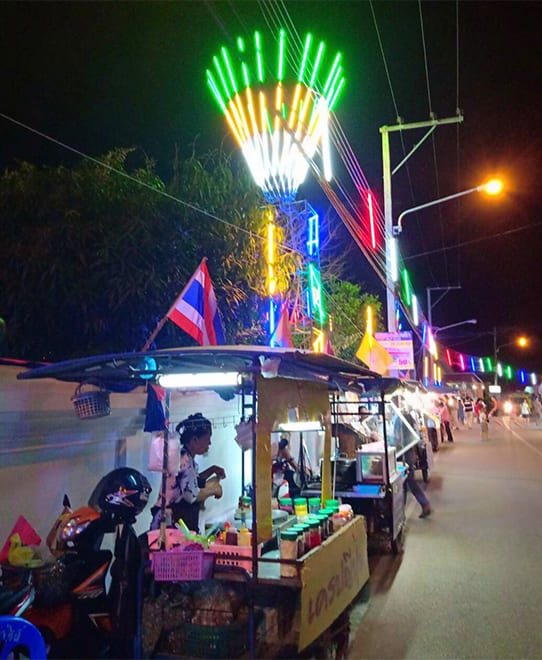 Anyone is free to participate in a temple festival.
There are shooting and darts games that are fun for the whole family. Some of them will give you a huge stuffed animal as a prize if you hit the target.
There are also bounce houses and events that are fun for small children. Older kids have the most fun in the haunted houses. They even have outdoor theaters, which are popular with couples. People can stretch out on the lawn and watch the films, or even watch them from their cars.
Sometimes they'll set up event stages with likay folk theater performances on local themes for the older people.
There are even traveling carnival rides like merry-go-rounds and Ferris wheels. Sometimes you'll see the Wall of Death , a performance show popular in the US and Brazil where people ride in circles around the inside of a metal sphere.
The most popular attraction with the men is the Dunk Tank Girl, where they try to hit a target in order to drop a young woman into a tank of water. (I imagine a lot of men love this lol)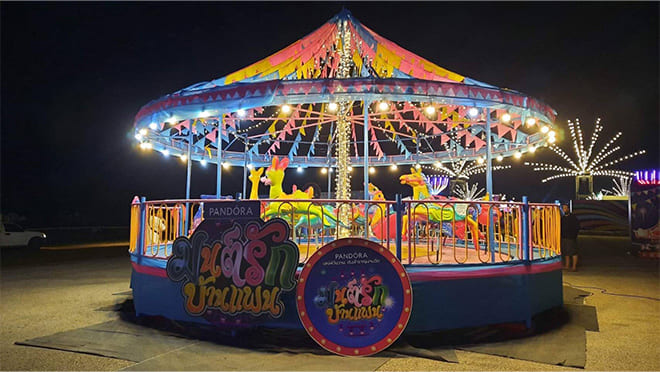 As the world has modernized, more and more young people don't even know about temple festivals anymore.
Fewer people visit temples regularly—usually saying it's because they're too busy. Another reason is that there are more fun spots to hang out in the city these days, like shopping malls, amusement parks, and the areas around train stations.
Temple festivals are a great way to experience temples that have a different vibe than the ones you're used to going to and to expose yourself to local history and traditions—but they're also a place to enjoy different sights and experiences. For me, they're a way to reexperience some of the happiest memories of my childhood.