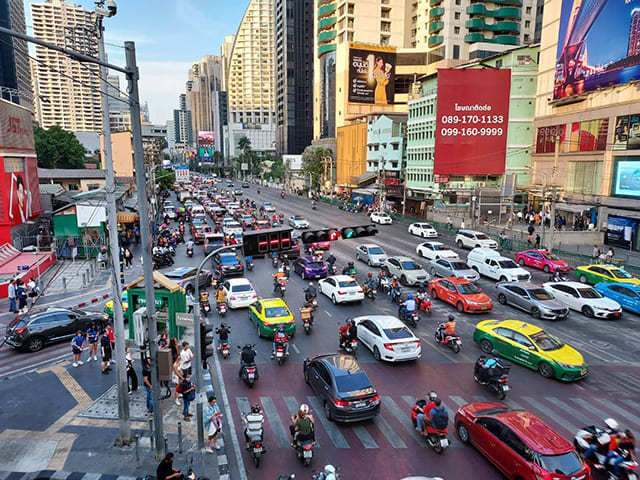 The world's urban areas have been facing all kinds of challenges in recent years.
It seems that some of the most pressing are population issues, the economy, slum areas, the pandemic, and traffic.
One major problem that plagues cities in every country is traffic.
In my home country of Thailand, traffic is particularly bad in the capital city of Bangkok.
According to 2023 data from INRIX, a software company that provides traffic information, congestion in the Bangkok area is the second-worst in Asia and 32nd in the world overall.
They calculated that people in Bangkok experience around 67 hours of traffic delays per year. For London, the world's most congested city, it's about 156 hours.
But Thailand's traffic isn't just in Bangkok. Other cities and roads all over the country suffer from congestion.
Several factors are contributing to the problem, among them the sharp rise in vehicle ownership and the resulting increase in traffic flow, coupled with an underdeveloped road system and few alternative routes. For this reason, you'll see traffic cops out directing traffic at peak times.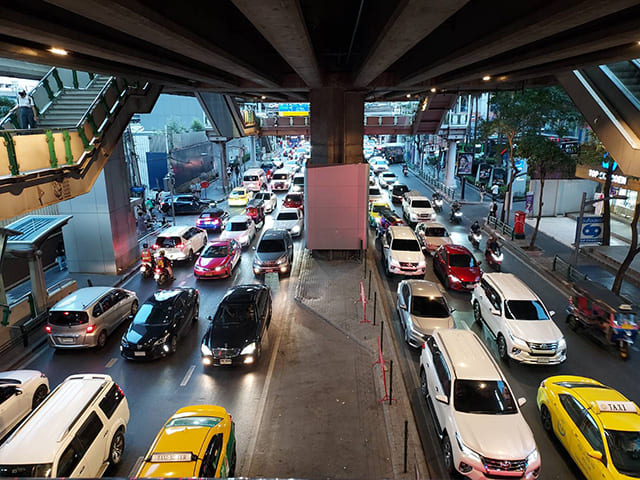 One of the biggest reasons for major traffic jams is the percentage of people traveling in their own vehicles versus those using public transportation.
Some families (or even individuals) own multiple cars, whose relatively affordable purchase prices are probably contributing to the amount of traffic as well.
Bangkok also lacks sufficient public transportation given the size of its population. This includes taxis, buses, the BTS Skytrain, MRT subway, Airport Rail Link, motorized rickshaws, the national rail lines, motorcycle taxis, and water taxis, pushing many people to use their own cars or motorcycles to get around instead.
Here's a typical situation during rush hour. Your friend tells you they're leaving for a place that normally takes 15 minutes to get to—and it ends up taking them two hours. No joke!
Have you ever heard of a woman giving birth inside a taxi stuck in traffic?
Emergency vehicles get delayed in traffic too, so it's not uncommon in Thailand for the police to have to assist women in childbirth.
I've heard that because it takes so long for ambulances and other emergency vehicles to arrive when it's rush hour in Thailand, some traffic cops are actually trained to assist in this way.
If you're going to visit the capital and want to get around smoothly, I suggest you make a plan before you go—including the routes you'll take, the time you'll need, and how you'll get there.
Peak congestion times are different in different locations, so it's probably a good idea to do some research ahead of time if you're able.
Get to know the traffic situation in Thailand so you can have a comfortable and enjoyable trip!