When the half-empty metal wagons of the NYC subway come out of the bowels of the earth to resurface into the light of the suburbs of the City, they resurface in a place which is perhaps more real, in its profound nature, with its residential neighborhoods and suburban stores. This is America. Not Manhattan. You suddenly see yourself surrounded by colorful walls covered in murals and old facades of exposed brick townhouses called by locals 'Brownstones'. It looks like a scene from a movie (because you probably know this place from some film), but it is not. You have reached the sea, the beach and most of all: Coney Island. Yes! In New York we have the beach, even if it seems impossible to believe it.
Coney Island is just a short train ride from Manhattan or Brooklyn (where I live), but when you arrive to this iconic New York amusement park, you feel that you travelled to a different dimension, away from the big Apple. By combining the charm of and old-style amusement park and its nostalgia with modern day gaming and lively emotions, Coney Island is a must visit for both adults and children year round. The atmosphere of Coney Island is at times surreal and eerie, especially if you choose to visit it during the winter season when the sky is overcast and the park is not crowded. Coney Island is mainly an amusement park with only a few roller coasters and some rides that have seen better days but this is where the oceanfront promenade begins and where wooden barricades create a path to the ocean. Coney Island is a classic but it's also very outdated. There are plastic palm trees scattered around, old-fashioned rides that modern children often snub and an overall atmosphere which takes you back a few decades at the very least. In spite of this, spending one day at Coney Island is not enough to do all the activities it offers, because it also features the New York Aquarium, the Coney Island Museum and the Circus Show. From June to September, every Friday night, the sky lights up with a spectacular pyrotechnic show worth seeing.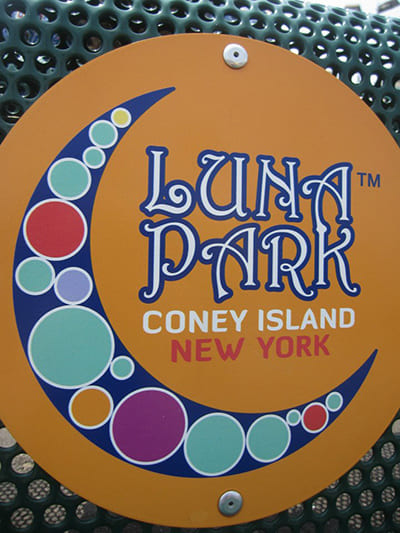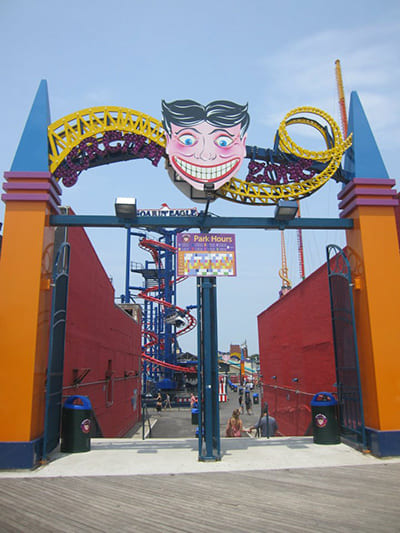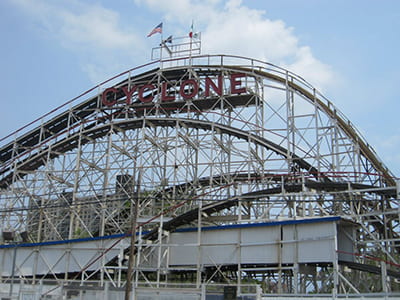 Coney Island's beach is probably the best-known among all New York's beaches. It fell in decay after the Second World War but, in recent years, Long Island has been revitalized and so has Coney Island. The promenade has been renovated, new public toilets and showers have been installed…It is again a clean, welcoming beach for families that stretches for over 3 miles. Many New Yorkers have chosen to move to this part of town because a two-bedroom apartment in this area is cheaper than a studio apartment in Manhattan and the place is now known to be a dynamic district close to the beach. There are accommodations with private rooftop terraces and panoramic views, just a few blocks from the F train which takes you directly to Manhattan if you are commuting.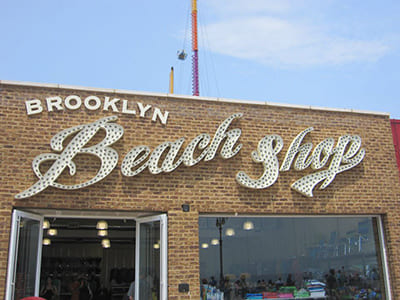 If you are hungry, you can grab some hot dogs at "Nathan's," where it is said to be special. I don't eat fast food but I have heard that in fact this is the most delicious hot dog around, although the place is not very appealing because it's quite run down and rustic. Every year, on the 4th of July, "Nathan's" holds the Annual Hot Dog eating contest, the most important 'race' for hot dogs eaters in the world. The winner of this bizarre competition is the person who manages to eat the largest number of hot dogs during a ten minute period. In the hot dog eating contest there are not many rules, apart from the fact that in order to be counted towards the total score the competitors need to eat both the bread and the stuffing. The use of sauces is permitted and you can also drink any kind of beverages, which are instead a solution adopted by practically all competitors to facilitate swallowing. Basically, since time is short, almost all tend to make huge chunks they send down without chewing, drinking water or other liquids at the same time may help. I think it's quite gross but it is a fact that the contest attracts thousands of viewers every year, and a few very hungry participants as well. For several years now this hot dog race has been broadcasted by ESPN and it's a quite successful event in the US, with an audience of about 2 million viewers.
Coney Island represents the City's past but it's also projected into the future.