Williamsburg, the most modern neighborhood in New York, is part of Brooklyn and it's where you go nowadays if you want to find hipsters at their peak.
First of all I must say that Williamsburg has become so popular and so hipster only in recent years so you can still find streets in which Orthodox Jews live and others in which the hipster culture is developing. Curiously, the border between one area and another is almost non-existent, although the contrast couldn't be greater.
Faced with the ancient traditions and way of life of the Jews, we find some youngsters riding a bike through a neighborhood full of colorful graffiti. This is Willamsburg.
While hipsters are probably drinking some coffee concoction in one of the many cafés in the area, pretty girls with vintage flower dresses and straw hats are strolling by.
Willamsburg's art galleries, vintage stores, second-hand bookstores, street markets, free concerts...make Williamsburg a destination that you have to visit and one of the most sought-after neighborhoods to move to in New York City because living in this relaxed and optimistic neighborhood will make you a little happier.
The main axis of the neighborhood is Bedford Avenue. Every Sunday there is a Flea Market on this street, where you can find a wide variety of objects, especially second hand and antiques.
A few blocks further north is McCarren Park, where in summer you can take a dip surrounded by hipsters or skating on the new ice skating rink during the winter.
If you are fans of the Girls series like me, you will love Williamsburg because in this neighborhood many of the locations of the series are located and easily recognizable.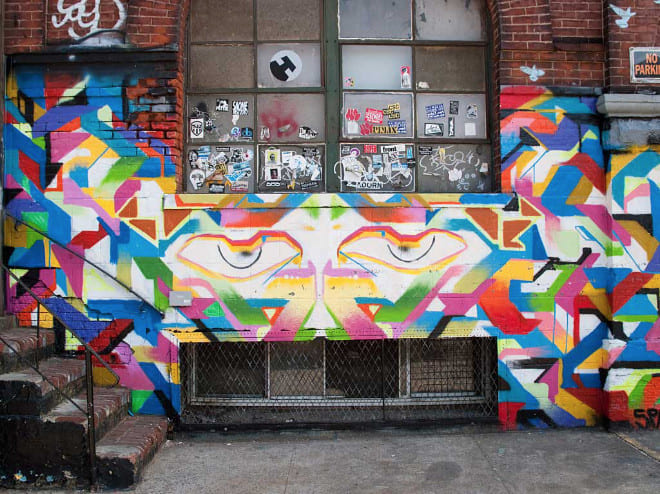 The neighborhood of Greenpoint is the newest up and coming neighborhood in New York. The noise and the chaotic traffic of Manhattan drive the New Yorkers to look for quieter areas in their city: the first discovery was Williamsburg, a step away from the Big Apple, now it's the turn of this quiet working-class neighborhood with buildings half-demolished and full of common people.
Greenpoint is located north of Brooklyn, just a few blocks from Williamsburg. It is known as Little Poland, as it is home to the second largest community of Poles in the United States, after Chicago. The area has gained strength and more and more people are deciding to move here, fleeing both the large concentration of residents of other areas of Brooklyn and the exorbitant prices of rents.
Despite not having a direct subway connection to Manhattan - you have to change to get there - and have a somewhat somnolent nightlife, the truth is that this green area of New York has many attractions.
One of the reasons why Greenpoint is gaining followers is because it offers a large number of outdoor areas, among which are its main parks such as Transmitter Park (at Greenpoint Ave and West St), amazing walks along the East River and wonderful views on the unmatched Manhattan skyline in front of you. Can you ask for more?
If you want a walk in a quiet area, with views of the New York skyscrapers but without the tourist traffic of Transmitter Park, you have to go to Newtown Creek. A lot of vegetation surrounded by water where some brave people dare to jump into the water, not because they wish to defy the cold temperature, but because in Newtown there is a wastewater treatment plant that, by the way, offers guided tours.
Close to McCarren Park, one of Greenpoint's best-known gardens, there is a huge American pub which has become very popular for late Sunday breakfasts as well as for afternoon happy hours and cheap beers. Not far from this huge pub is one of the best-known restaurants in the neighborhood. The atmosphere and the food do not stand out too much among the ten surrounding premises, although it has good decoration and small tables outside on a terrace. But the history of the Five Leaves restaurant has made it extremely popular among visitors to Greenpoint, as it was the restaurant project of the ill-fated Heath Ledger before his death. Although the Australian actor did not get to see it finished, his family was responsible for completing one of his greatest dreams: opening this restaurant.