The first bagel I ate in New York City was when I sat down to have breakfast in a little bar in Soho, more than ten years ago, on my first trip to the city. I was about to order some toast with my coffee, when I saw a girl eating a bagel and remembered that it's the staple 'bread' in the City. But don't you call it bread here! New Yorkers are proud connoisseurs of bagels and think it's a food category on its own.
Although the typical bagel needs to be served with smoked salmon, cream cheese and chopped onion, I decided to have my first with only cream cheese and homemade raspberry jam since it was only 9 in the morning!
That's when my love relationship with bagels began.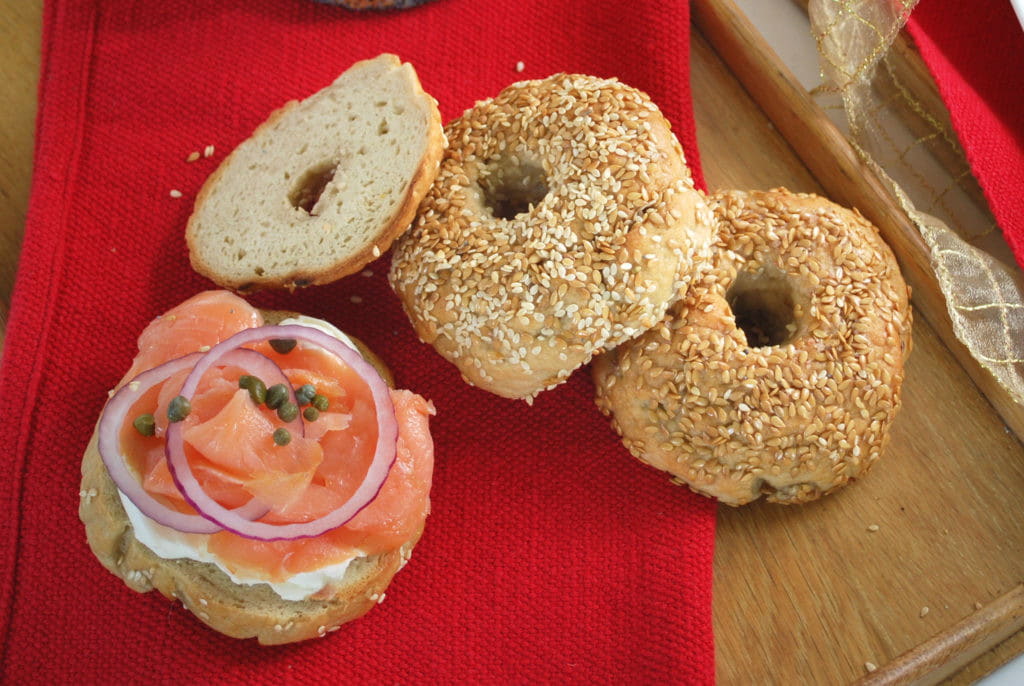 Do you know what a Bagel really is? It is a kind of bread roll indeed, usually made with wheat flour. It can have some additional ingredients added directly in the dough, such as blueberries, onion, chocolate chips and cranberries.
Bagels have a hole in the middle so they are shaped almost like a donut, they are very soft on the inside and crunchy on the outside. They are sometimes served toasted, sometimes eaten as they are. Since they can be sweet or savory, they are ideal also for brunch or for an afternoon snack.
There are plain bagels and flavored bagels but also many bagels have added toppings such as: onion, poppy seeds, cheese morsels, pizza sauce, etc.
The most famous bagels are those from New York because bagels were invented here.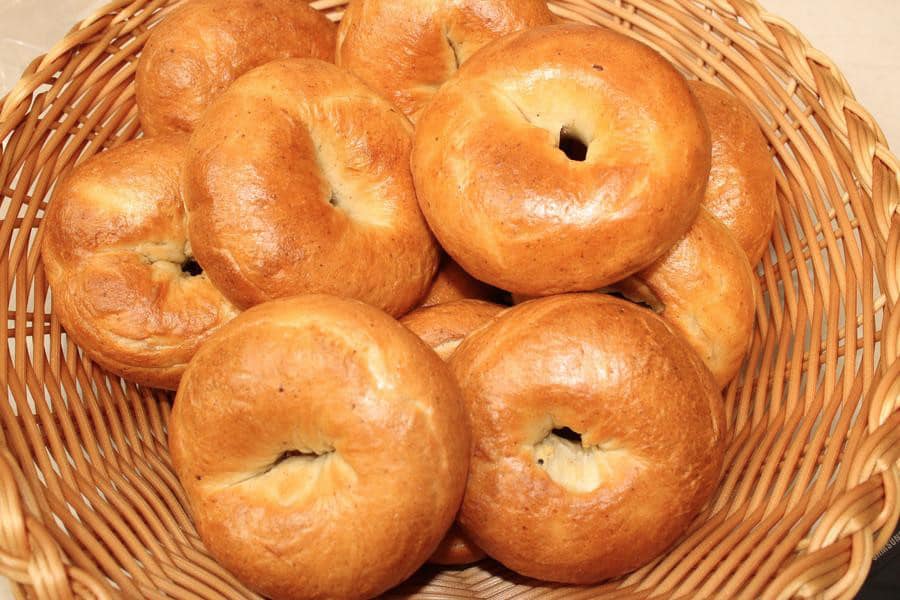 These rolls are served in half as if they were open sandwiches and they are topped with whatever you may like: cream cheese, salmon, tomato, egg, jam, peanut butter, chocolate spread, among others.
In the Big Apple you can eat bagels almost anywhere where breakfast is served, but there are also specialized stores that are a true paradise for bagels-addicts like myself and they are: Absolute Bagels, Murray's, Ess a Bagel…just to name a few.
And here it's a bit of history about the bagel because I read a few things up.
It is said that the origin of bagel bread begins in the year 1683 in Central Europe. A legend tells that a baker from Krakow (Poland) was the one who made this bread for the first time and gave it to King John III, to celebrate his victory over the Turks.
But put aside the legends, we know that after the Second World War, the first bagels were produced by hand in the Jewish neighborhoods of New York.
The Jewish bakers submerged the dough in boiling water and added salt and subsequently drained them with a skimmer and once cooled they painted them with egg yolk and sprinkled them with different seeds before finally baking them in the oven. These rolls (originally shaped like braids) were usually sold in the kiosks along the streets and served as breakfast. As this custom picked up, the bagel changed its shape becoming a ring and it started being stuffed with cream cheese, chives and smoked salmon or, at times, with pastrami and cucumbers. A version with herrings and cream cheese were also popular.
Later on, the bakery industry developed a machine that could knead bagel dough and the 'roll' started having a thicker crust, with or without seeds, sometimes and it started coming with fried onions or garlic on top. It soon became a brunch staple and also a practical finger food for quick lunches, as it is today.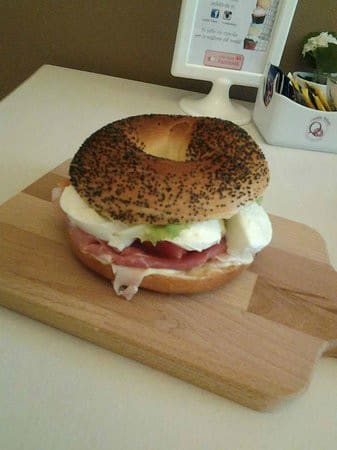 This bread is very nutritious since it combines the properties of whole wheat with the protein of the egg and some nutrients from the seeds which are added in its dough. That's why we can say that bagels contain protein, fiber, carbohydrate, minerals (iron, calcium, phosphorus, magnesium) as well as vitamins.