It wouldn't be an exaggeration to say that all Americans like cupcakes. Phrases including such as "NY's most popular" or "LA's latest buzz" are often seen on Japanese websites, but I think nothing comes close to cupcakes when looking at the entire U.S. There probably are a lot of people who can eat up a cupcake or two despite saying they don't like sweets.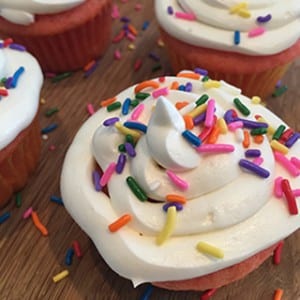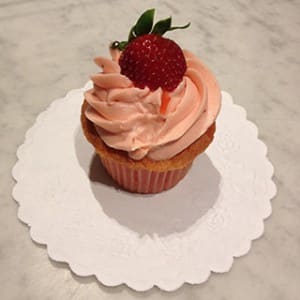 Cakes with fruits on top and decorated with whipped cream like the ones seen in Japan are rare in the U.S. Common cakes in the U.S. are often cupcakes or large square shaped cakes decorated with buttercream. The large square shaped cakes, like the whole cakes in Japan, often have a message written at the center and are presented and then served in sliced pieces at special occasions. Although cupcakes aren't suitable for writing messages, they make appearances at all kinds of occasions because they can each have its own flavor, be eaten with one hand without a knife or fork and easily add to the cheerful atmosphere with just little variation in their decorations.  Lately it has become common for cupcakes to be used as the wedding cake (cake served to guests), excluding the piece used for the cake-cutting ceremony.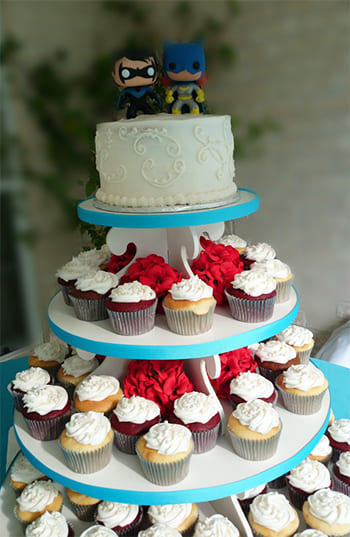 Washington D.C. is an especially fierce battleground of cupcakes. One of the reasons has to do with a certain cupcake specialty store in Georgetown of Washington D.C. that won in a television show featuring a competition for America's best cupcakes. Tourists form long lines, even outside of the store, but the cupcakes sold in other stores are delicious as well.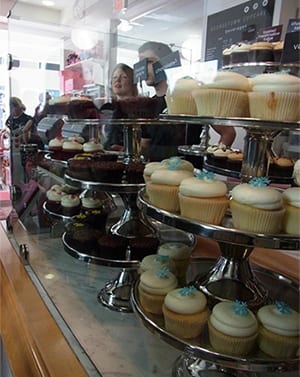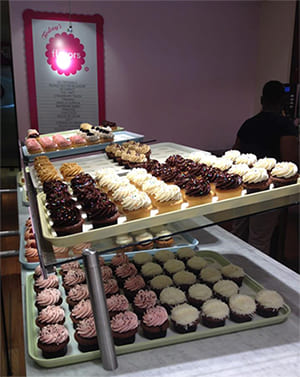 There are a variety of cupcake stores, with some that are particular about their cake decorations and others about the ingredients or types, sweetness or the store atmosphere that changes with the season. You can even find gluten-free or vegan cupcakes, since more people in the U.S., compared to Japan, are very particular about the raw materials in their food due to religious reasons, personal ideas or allergies. I myself am currently in search for my favorite store as well. My latest hobby has been to eat one or two cupcakes (depending on how I feel that day) as my lunch in a new cupcake store, while glancing at those buying 20 to 30 cupcakes in bulk and wondering how many they are each going to eat.