National Harbor is located along the Potomac River in Maryland. It's called a census-designated place. The area was artificially created to generate statistical reports from the United States Census Bureau. It's quite a beautiful port town where development is progressing, with resort hotels, museums, and outlet malls opening in turn since 2008. We usually go there by car, but it's also possible to get there by water taxi. The boat visible in the foreground of the picture is a water taxi.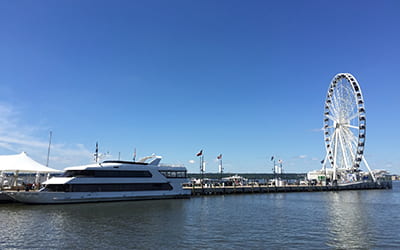 In addition to a Ferris wheel and merry-go-round, National Harbor has attractions such as the 30-meter statue of a giant, called The Awakening, embedded in the sandy beach. These are extremely popular with children.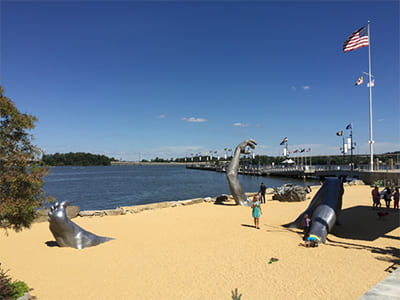 When you think of Maryland, what comes to mind is the blue crab it is famous for. Here, too, many seafood restaurants line the streets. The Chesapeake Crab and Beer Festival happened to be going on when we visited, so we took part.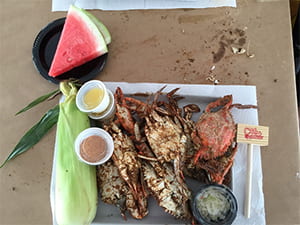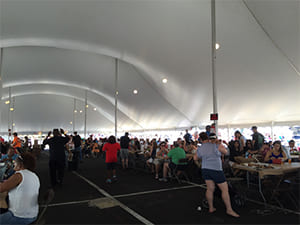 Each person takes a small glass in hand and enjoys the all-you-can-eat-and-drink beer and crab! In Japan when we think of blue crab, we doubtless imagine crab legs in miso soup because they don't have much meat, but people here use a wooden mallet to crack open the shell and dig out the meat from the body. The venue was very lively with the tapping of the wooden mallets and cracking of the shells, the conversations, and the live music.I love blue crab so much that I regretted not having brought chopsticks so that I could've picked the shells clean. Those around me were attacking the shells, eating the meat they could get out, and yelling, "More!" Being slightly intoxicated with beer spurred them on, and they ate a lot of crab at a good pace.Unfortunately, I can't drink much beer, so I only had the crab. There are lots of breweries in the area, and different beers can be tasted, so for those who know beer, it's an event they can likely enjoy all day long.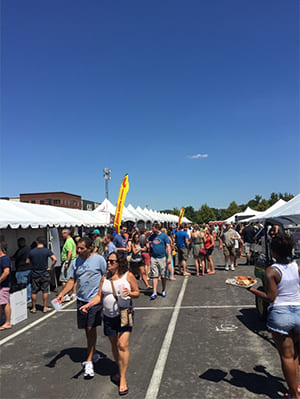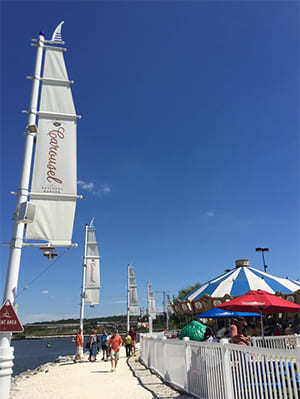 Normally, National Harbor is enjoyed as a playground for children, for its numerous bars and restaurants in shopping malls, and for riding a boat and standup paddle boarding on the river. On some days, the grassy area is used for yoga in the mornings and movies in the evenings. This community everyone can enjoy, both men and women of all ages, is a recreational site indispensable to Washington, D.C.