Bangalore had its first carnival in the busiest road of the city. MG Road, the central most road of Bangalore was blocked for one whole day for the carnival to be held. And Bangalore people are always up for such unique fun days. As expected, people flocked to the carnival all excited. It was on a Sunday so it had become a family affair with kids also taking part in the carnival.This carnival started from one end of the MG road and stretched out till the other end of the road. Barricades were in place to ensure no vehicles can enter and security was also in place to make sure of this. The carnival started around 11 am and went on till night.The carnival had promised to have arts, dance, flea market, food court, paint gallery and play area for kids. And everything was delivered.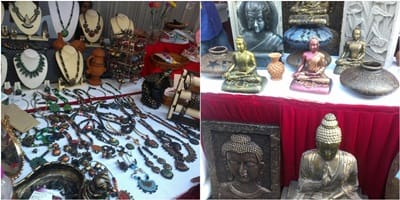 Once we enter the carnival, there is a long line of flea market stores. There were all sorts of stores in the market. You can find from clothing, to paintings to statues of Buddha. One thing was mostly common in these stores, all were handmade and of high quality. Even the clothes, it was purely cotton clothing.The flea market also had fresh tropical fruit store and fruit juices store for people to buy and drink. There were stores specially made for handmade jewellery. The Jewellery was all made out of Jute. Which is very environmental friendly too!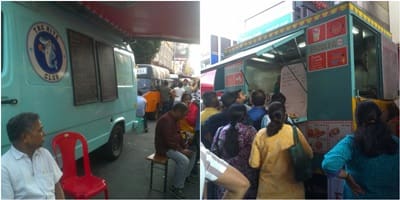 Once the flea market got over, then came the food truck line. Those who have been shopping for quiet some time were tired and went to these food trucks for some quick bites. The food trucks offered appetizers to main courses. Many different cuisines were on the menu for people to indulge. And all there were lines for almost every truck out there. You can clearly tell by now that everyone are having ball of a time.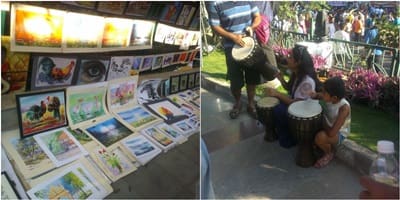 Next up was a huge art gallery on the side lines of the entire stretch of the MG Road! Artists from all over the city and country had put their work on display for this massive crowd to admire. There was all different and rare concepts of paintings been showcased.Not only that, there were drummers who had gathered in a group played away for the cheerful crowd.Overall, it was a memorable day for the whole of Bangalore people. They got to experience food, art and culture everything together on the most famous road of Bangalore and all of us are left asking for such carnivals to happen regularly.