It's was a sweet learning day for the little kids of Bangalore. Time to put on their chef hats and cute pink aprons, to make sweet cupcakes which they have only been fond of eating so far. And they were all so excited about it! And why not?! We all love cupcakes and who doesn't like baking? Kids have the same feelings too! Which was evident with the amount of curiosity they showed in this whole event.It was a beautiful Sunday morning and 'Steppin Out', one of the most popular event companies in Bangalore known for their well thought out events, planned this very interesting event called "The Little Chefs". The event was organized in JW Marriott hotel. The ambience was made kid friendly. Super happy kids accompanied by their parents started strutting in the location were this sweet baking was organized. First things first, the kids were given their chef hats and pink aprons which they happily put on, mostly for the first time in their lives. And the event started!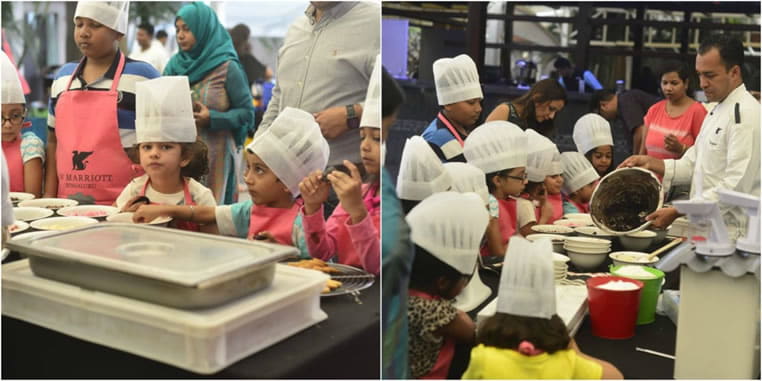 A huge semi circle table was put up and the kids surrounded the table, the chief chef, along with his assistants were standing at the other end of the table. All the ingredients, from flour to eggs to cocoa powder, etc was placed on the table. Each kid was assigned a bowl and they started following the chef's instruction. It was nothing like what they have done before, so one could see how much they enjoyed doing this activity. They finished the process and the cupcakes was sent to baking. Once the cupcakes emerged, all the kids were given their cupcakes to decorate it with their favourite toppings that was placed on the table. The parents stood and proudly watched their kids being successful little chefs. Also the kids were so excited to see the outcome of their newly gained hobby.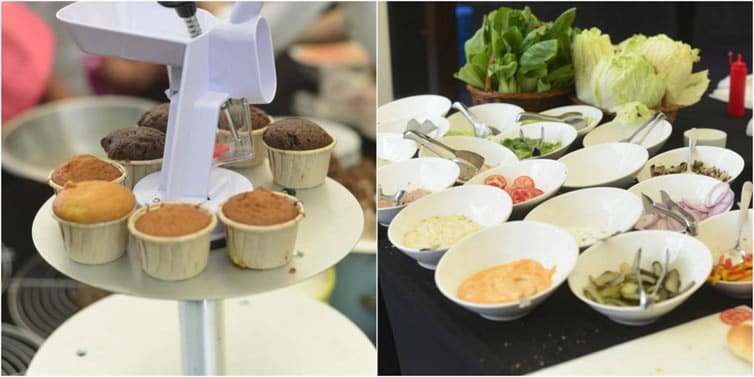 And now it was time to eat! Once the work was done, the kids couldn't wait to eat their handmade cupcake. The flavours were mostly chocolate and vanilla. The event had one more surprise for them, as the kids received more treats from the chefs, more cupcakes and also sandwiches were served for them after their hard work. What goes in their sandwich was kid's choice! Every kid relished their treats and left home with big smiles. And so did their parents and everyone involved with this event. Happy kids, happy life!