The Covelong Point festival is a surf, music and yoga festival that happens every year. It's a festival for free spirits to join together and experience waves and get in touch with their spiritual self. This festival takes places in Kovalam – a small village near Chennai, Tamil Nadu, India. Kovalam is the first place to start the culture of surfing in India and it the central hub for all the South Indian surfers.
The main attraction of this festival is the national and international surfing competition. The professional surfers all across the country as well as the world come together in Kovalam to show of their skills and win the competition. You can also spot many celebrities in this festival, having a very laid back time, chilling around.
This festival is not limited to only surfers, there are so many people who can get attracted to this festival, and one such crowd are the Yoga people. This is a massive get together for Yoga practitioners.
There are several yoga classes that happens here like Hatha yoga, Aerial Yoga and Blind yoga. If you are tired of practicing only Yoga practice and want to dive in deeper, then there is a beautiful session of meditation that takes place with soothing music in background. And also crystal healing for those who believe in the power of crystals. And yes yogis flock in numbers in here.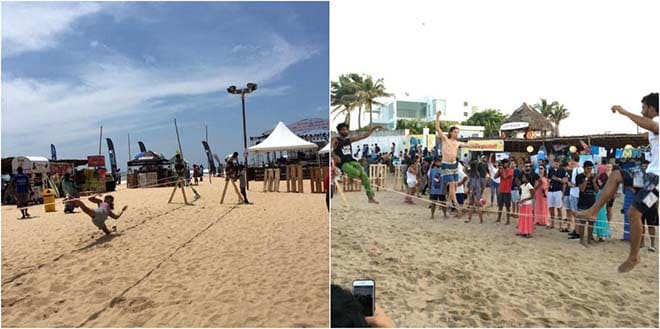 We can still find hundreds of people who are not into surfing and yoga, yet they have a time of their lives. That is because of the option of entertainment that is there. For those who want to explore their wild side of walking, there is Rope walking. There are guides there to help people out if they are beginners. The professional rope walkers perform stunts on the rope for an exhilarated audience.
There are a line up of stalls for clothing and accessories. And also food and drinks for those who want to sit calm and enjoy the beach and cheer the surfers.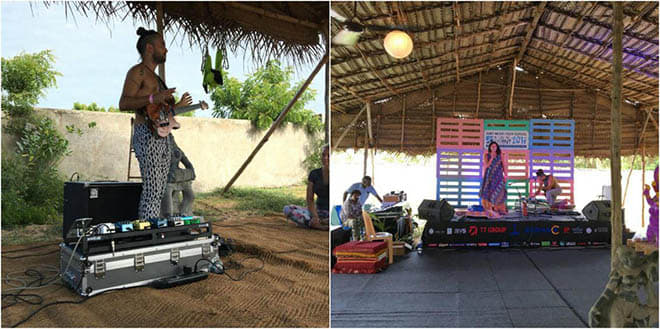 And to end the day, there is live music from bands all over the country who sing and dance for the large crowd and make their day worth it. This is an all in all a beautiful union of people with different genre of interests who want to let their hair down and just be in the present and enjoy their lives.