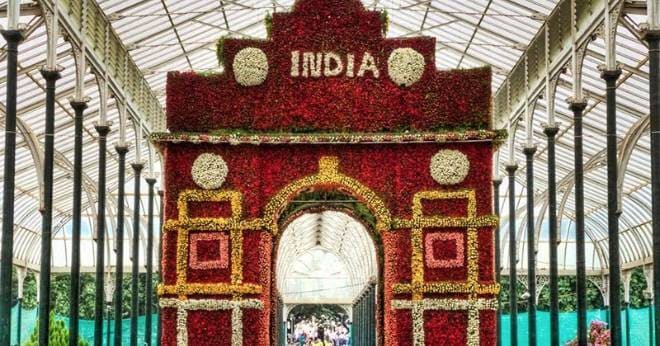 Every year during the Indian Independence Day and Republic day, Bangalore organizes a massive flower show at the very famous Lalbagh Botanical Garden. This flower show has been one of the most awaited events in the Garden City. That is flocked by hundreds of thousands of people. The event is jointly organized by Government and the Horticulture society.
This flower show alone uses over 200 varieties of flowers from all over the world and also 20,000 flower pots for decoration of the show. The lalbagh botanical garden is spread across for 240 acres and currently it acts as a house for some of the world's rarest plant species. This garden was declared as the Government Botanical Garden in 1856.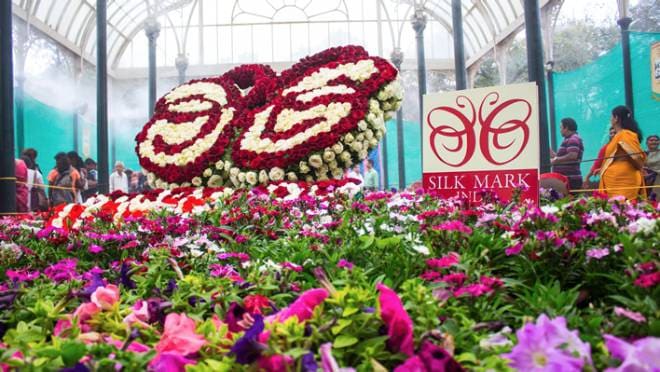 The botanical garden is open on all the days for the public to visit. There is a separate small garden where the public can even buy different varieties of plants, saplings, seeds and flower pots. Indoor and outdoor plants are available.
But the flowers and plants are not for sale during the Show because of the size of the crowd. People all across the county and also worldwide come over to see the flower show extravaganza! And usually the entire stretch of the road will be jammed and you can see people flocking in and out of the garden.
One of the highlight is that 900,000 saplings were planted three months before the show so they can bloom all to glory. Other major highlights on the garden is the 'Glasshouse' this is the main attraction as inside this glass house there are massive flower designs are put up for display. Every show has different designs. One time it has the parliament of India, once, a massive bungalow and once India Gate. So every show is unique and never the same which leaves all of to visit the flower show again and again. It's a marvel to see crown of flowers in all beautiful colours arranged so perfectly that it takes your breath away!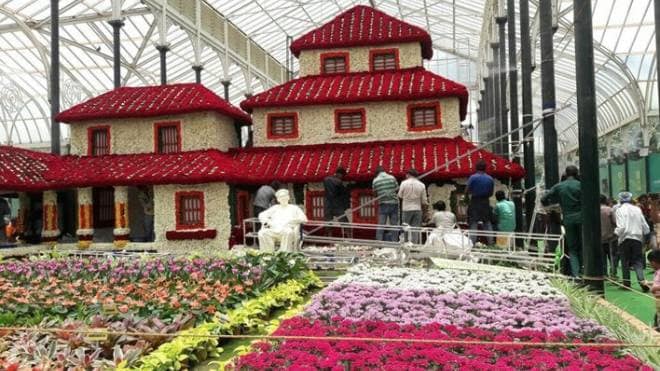 This flower show gives the opportunity to the farmers across the state to display their unique and rare farm produce. It also shows the horticulture's new emerging technologies. This is truly a breath taking show that happens twice every year. It explains why so many people come to watch this show everytime because it has the loveliest of flowers stacked in beautiful shapes that they have never imagined could be done given the delicacy of those flowers.
And as much money is also been spent on this show. It is said that government spends approximately 1.7 crore Indian Rupees on every edition. And it's always a success for them and worth every single penny for the spectators who buy the tickets. This show is truly a wonder that even brings international visitors not only people from Bangalore or India.