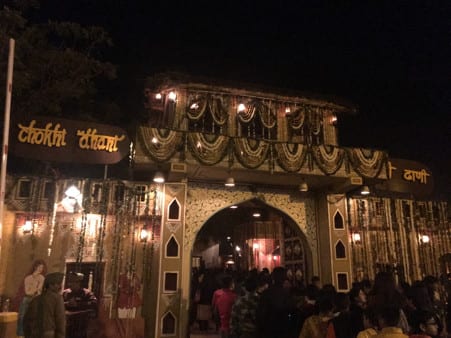 Choki Dhani means Special village. This article is about my time in this special restaurant village. I am traveling in Rajasthan and had an opportunity to visit this beautiful place for a lovely dinner. It's a traditional Rajasthani food place. But that is not all. It's called a special village because the restaurant offers a village experience as its filled with dance, fun, games and delicious food all in one place.
As expected there was a huge crowd that flicked in this restaurant. Once we enter the restaurant, we were greeted by traditional Rajasthani music and people were encouraged to dance. And many happily danced as well. There were also many pottery collection placed for the viewing purposes. Everything about this place is about the city and its vast culture.
Now before going into the main entrance of the village were people fun, food and frolic, we have to buy tickets. Ticket for the food. There were three categories of price range and three queue. Each line was long and we had to wait for an hour in the queue before we got our tickets.
Now that we have collected our tickets after such a rush, we entered this special village. There were many segments for different activities.one segment had folk dancers, in here the music played for 5 mins and one set of people can join the folk dancers and do the traditional dance. Then next group of people joined for the next 5 mins.
Another segment had fire dancing and stunts. This is were the stunt man blew fire and played with it sending shivers down the spine of the spectators.
There were camel rides, games like darts, bow and arrow, and so many unique games that adults and children both indulged.
The tickets that we bought was only for food. We had to pay for these small segments if we used it. But the price was as less as 5 rupees for these games which attracted more crowd.
Also snacks like cotton candy and corn was also for sale.
So once we all became tired after the games, hunger set in and we head out for our traditional feast.
The whole feast was first allowed for a set of people.. say about 100. Only after these 100 people are done with eating, they allowed the next set of people. It's because all these 100 people are served at once starting from the appetisers to main course and dessert. Literally 25 items of food was served for us. All the food are of Rajasthani cuisine. The main attraction of this meal was the waiters who served us food rather than the food itself. They were pretty amusing with their jokes and their fondness of feeding people. They were having fun serving us and making us laugh all at the same time.
Overall, this Special village was one of a kind experience for us!