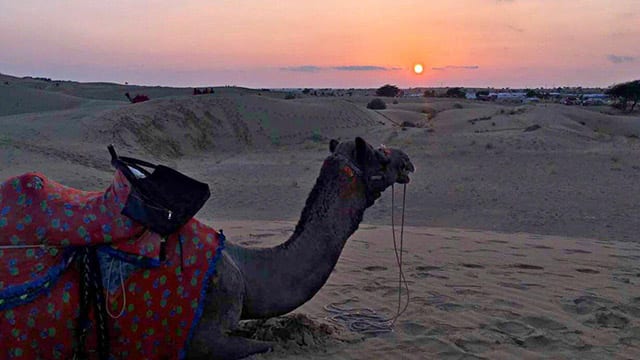 During my trip to Rajasthan, I visited a city called Jaisalmer there. Jaisalmer is known for its desert camps and also Havelis (big bungalows of the royal family). The city had its own charm. We had booked a desert camp. This camp was situated far away from the city, almost an hour drive from the city.
The desert camp had tent rooms. But the rooms were spacious and nicely kept. They had also kept heater because it was winter and super cold.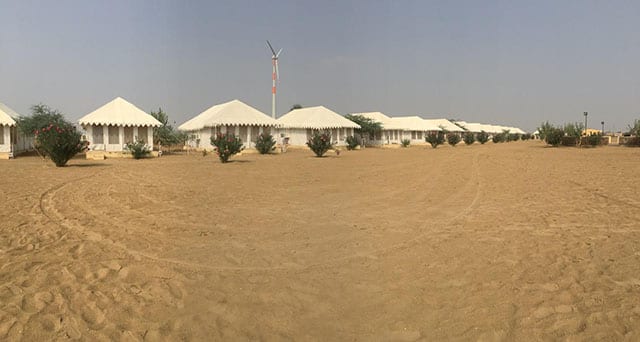 Once we checked in, we were told to rest and freshen up and to meet at reception at 4.30 pm. So we did, we took a nice nap, got ready and left for our desert adventures. They took us all in a jeep to the camels. It was only a 10 minute drive. We reached to a meeting spot were so many camels and their owners were waiting for us. Seeing that many camels was the first time for me in my life and I got so excited. They asked on to hop on a camel, and we started riding into the desert on the camel. It was definitely a one of a kind experiences. They took us further into the desert. Almost after 20 mins we reached sand dunes. It was really a sight to see! We boarded of the camels and started taking in the beautiful view and amazing sunset. There were traditional musicians and singers who sang their folk song playing their traditional instruments. We also had our refreshments like tea in the desert. So once the sun had set, we got on the camel again and went back to the spot where we drove to our camp.
Once we entered our camp, we were welcomed by a folk group singing welcome song. And also a lady member from the group did a traditional welcome by applying tilak on everyone's forehead.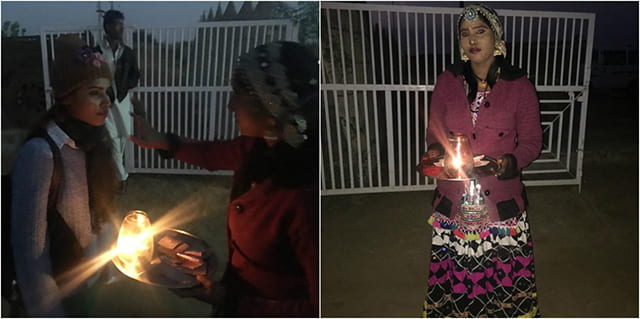 It was about 6.30 pm when we returned, then we all resigned to our rooms for a bit and came back outside for some hot coffee and catching up with fellow travelers. And then it was time for dinner. This wasn't any normal dinner. It had a live folk performance for almost an hour before the dinner.
As we sat on our tables, the folk group started playing many different songs, the excitement and energy levels just kept increasing. Both of the performers and the audience. And then the two ladies of the group started dancing the Rajasthani group. It was a spectacle to watch these women move with such ease and pace without missing a beat.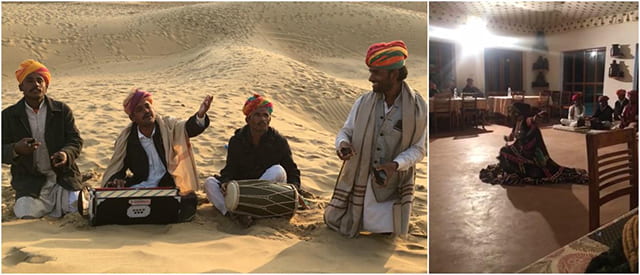 There was a huge applause at the end. Then our dinner started. The dinner was a Royal Rajasthani Food.
What an amazing day it was and rare experience to come so close to a beautiful culture as this.