I originally come from Italy and when I first moved to the United Kingdom I wished I could have taken with me a huge suitcase full of Italian delicacies and homemade dishes because the English cuisine has a notorious reputation but, in the end, I was pleasantly surprised by the variety of foods London has to offer. The multi-ethnicity of the city allows having a pretty varied gastronomic landscape and London's cuisine is a mix of cuisines, flavours and ingredients.From Chinese restaurants in the area of Chinatown to the French bistros, the Italian pizzerias, Thai restaurants and Spanish tapas bars. But these cuisines are not the English one I wish to introduce to you. Although you may think that British food is poor in culinary traditions, in reality it is almost as old as French or Italian cuisines and it does have dishes that are delicious and I think you must absolutely try them once you are in England. And I won't even mention the classic "junk food" served in fast food chains.When you say English food, what easily comes to mind is the famous "Fish and Chips", but the English cuisine is much more than this simple deep fried dish. English cuisine includes many dishes, representing both meat and fish, often accompanied by vegetables or savoury pastries. There are also several types of sandwiches, English desserts and the worldwide famous English breakfast.Being a lover of savoury dishes, I already have my mouth watering just writing about this topic and I hope to convince even the most sceptical reader to give English cuisine a try. First things first.In the morning most English people still choose to have a full English breakfast (rather than eating a quick croissant on the way to work) and that comprises beans with salsa, sausages, eggs, bread, 'hash browns' – that is a sort of potato pancakes – bacon, mushrooms and tomatoes.The most traditional (and courageous!) ones replace the sausages with English black pudding, a sausage made of blood.Breakfast bread is usually white or rye sliced bread or English muffin, while the eggs can be made in a variety of ways, according to taste: scrambled, fried, poached or hard boiled.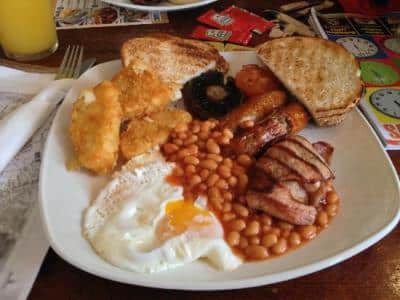 English breakfast
Since the breakfast is usually scrumptious and filling, English people generally have a quick bite for lunch and they often consume this meal in a café or they bring a lunch bag with them from home.The English lunch usually consists of a roast beef or veggie sandwich or a Cornish pastry, easy to eat, it is a half-moon pie stuffed with meat, onions, potatoes and cabbage. English people usually have a big dinner or supper consisting of a main dish accompanied by a side dish and they usually complete the dinner with a dessert and some tea.The most popular dishes for supper are the English roast, bangers and mash or shepherd's pie.The English roast is originally from the Yorkshire and it became popular during the years of the industrial revolution. It is the traditional Sunday dish because it's a slowly roasted meat cooked on the bone with baked potatoes, steamed vegetables and gravy.Bangers and mash dates back to World War II and is a dish of sausages flavoured with spices and pepper and garnished with mashed potatoes. It is usually served with onion sauce, fried onion rings, beans and peas.The "Shepherd's Pie" is a baked savoury pie made with lamb ragout and carrots, peas and it is usually served with a 'blanket' of mashed potatoes.Other popular supper dishes are roasted chicken, turkey, ham or fish and gravy (meat sauce), chutney (sauce with pickled cucumbers) or cranberry sauce are normally added to most dishes. The latter is particularly used at Christmas to accompany the stuffed turkey.It's also common to add a mint jelly to some meat dishes like lamb shank.The most commonly served vegetables to go with the meal are Brussels sprouts, parsnips, sweet potatoes and mashed potatoes which usually go together with baked salmon.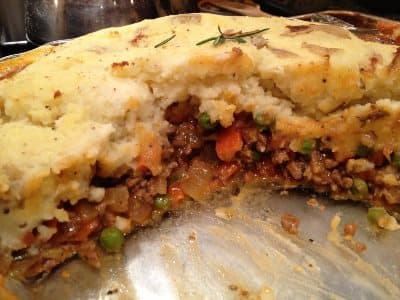 Shepherd's Pie
In Latin they say 'dulcis in fundo' which means 'last but not least' but it literally means 'sweet for last' and a very important part of the English culinary tradition are indeed the desserts. Aside from all the wonders that can be found in supermarkets, there are some cakes that can only be made at home.The most common English desserts are apple pie, carrot cake, muffins, scones (crumbly cookies usually served with tea), rice pudding, custard and apple crumble.There are also some special cakes that are newer in the English cuisine panorama but that are becoming more and more popular such as the Banoffie pie (a delight of banana and caramel), the Jaffa cake (made with chocolate biscuits and oranges) or my favourite – because I'm a fan of savoury dishes – the Stilton and walnuts pie (made with English blue cheese and walnuts, served cold as a dessert).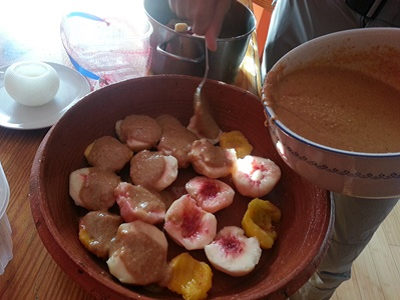 Making peach crumble
And if after so much food you get thirsty, England offers a variety of draft beers, stouts, teas and ciders to wash it down.