The fact that London is not the classic English city is clear to everybody, I believe.
London is multi-ethnic, colourful, friendly, diverse and cheerful.
The city is a temple of international and ethnic cuisines and it offers the best of all of them.
The theatres of this multi-faceted gastronomy are the farmers' markets, outdoor markets where one can taste delicacies of all kinds, preferably in their most primitive form (now truly fashionable) that is street food.
Trying foods from different cuisines, eating with your hands, sitting on the steps of the metro station: this is the right way to experience the London markets.
Back in the days, farmers' markets used to be low-key places where customers shopped for veggies, fruits and cheeses and left quickly.
Nowadays, these markets are very fashionable places where to eat with co-workers during weekdays or with friends on weekends.
The biggest farmers' market around is the Borough Market by the London Bridge.
The Borough Market is an internationally renowned gourmet market, where one can buy great British products but, in recent years, the place also started offering juicy gourmet burgers, fresh oysters, loaves of freshly baked bread, fluffy cupcakes and we could continue for hours listing all the goodies.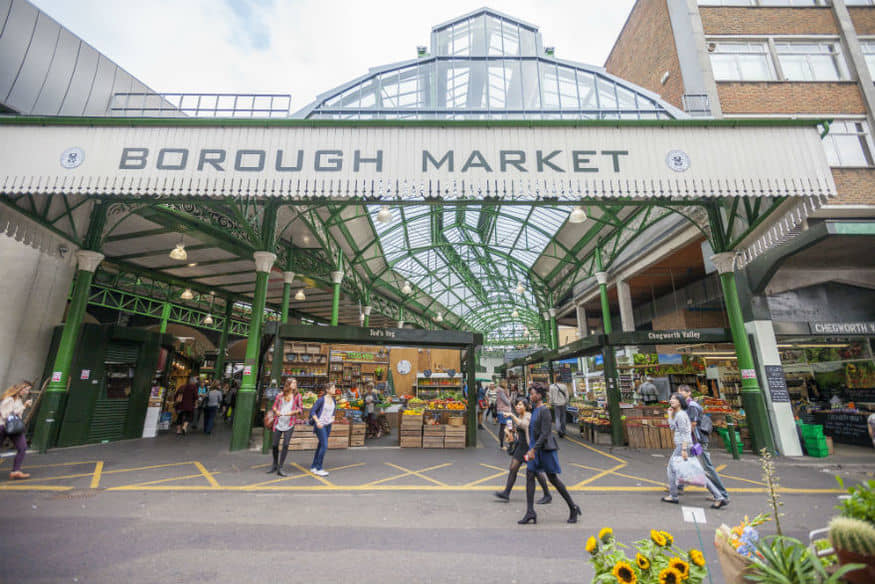 Borough Market entrance

The Borough Market has been adapting to the changing demographics of London which is welcoming many new immigrants each year and it's opening up to new culinary trends such as veganism and healthy eating.
Although the traditional British pie stuffed with ground meat is still sold at the Market, many locals come here to try Israeli Halloumi cheese sandwiches or Spanish paella, just to name a few.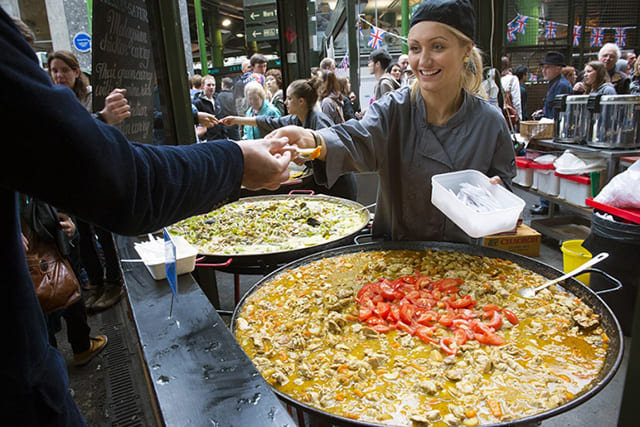 Paella at a Market

Another popular farmers' market is the one in Brixton Village.
Just until a few years ago the Brixton area was considered very dangerous and shady, whereas today it is only dangerous for your stomach, because there are too many delicacies to try here!
A centre of African Culture, Brixton is home of the best plantains sellers and it's a great place for reggae lovers.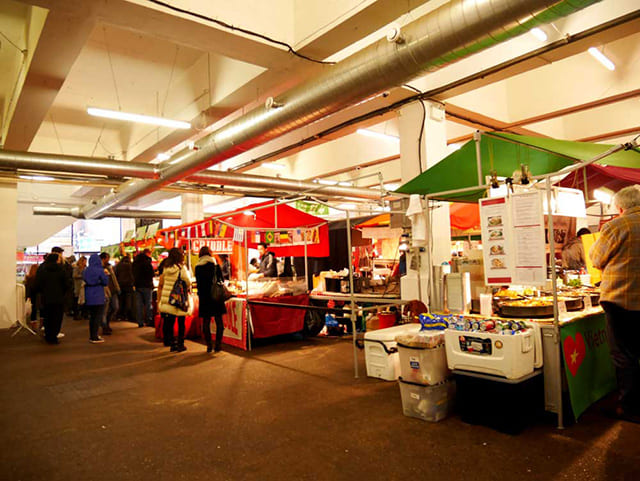 Brixton

The Farmers' Market takes place on Sunday and it's a paradise for local produce.
In Brixton Village one can eat European, Asian, African and Caribbean dishes at small prices but with assured satisfaction.
The Billingsgate Market near Canary Wharf is the most important fish market in the United Kingdom and the selection of fish and crustaceans available is top notch, with daily arrivals from all coasts. 40 traders inside this covered market compete every day to sell their fresh fish to local restaurants and to patrons alike. Although the market opens at 6 in the morning, most local customers arrive around 8 but it's hard to get good quality fish past 11 in the morning.
Last but not least, the Brick Lane Market is where to go for street food according to most Londoners.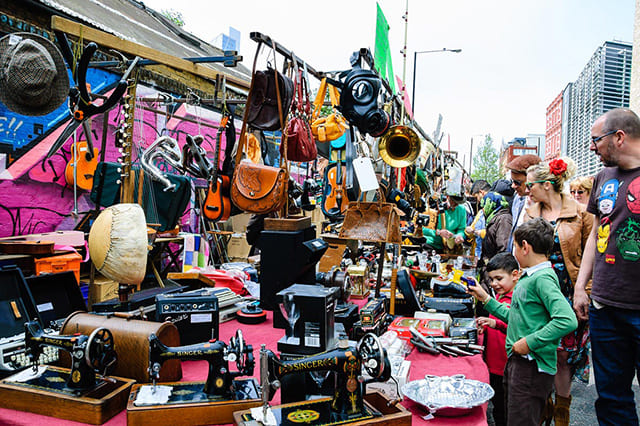 Brick Lane Market

In the past, the streets of Brick Lane were the theatre of the murky murders of Jack the Ripper: today, it has become the home of one of the largest expats communities and it is the undisputed destination for Sunday brunches.
Amongst dozens of murals and street art works there is a chaotic young market where to eat bagels and sausages while buying second-hand leather jackets and Art Deco furniture at bargain prices.
The area got famous for its great curry restaurants, thanks to an emerging Bangladeshi and Indian community, but the equally valuable food stalls within the marketplace, offer curries, Japanese okonomiyaki, Polish pancakes and a wide variety of ethnic dishes.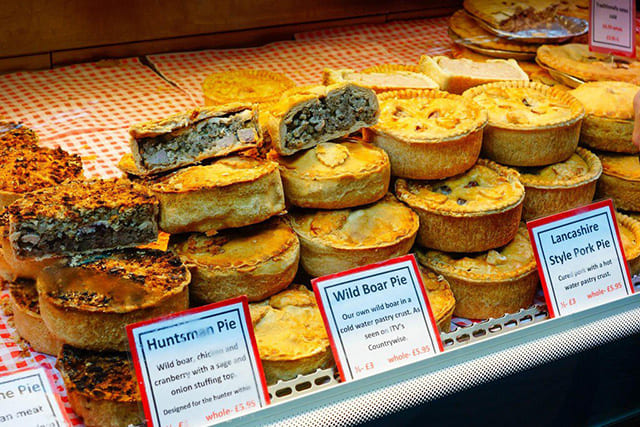 Pies at a Market

When visiting the area on a weekend to enjoy a delicious brunch, it is imperative to visit the nearby fragrant and delightful Columbia Road's flower market and perhaps buy some seeds or an old English teapot before going home.