Having visited Tokyo, I know that themed restaurants and hotels are nothing new in Japan but, in Europe, they are just now becoming a trend as people are more and more searching for a unique night out experience, especially in London.
In a city which claims to be 'the fun place to be in the Old Continent' unique culinary experiences are becoming an increasingly popular phenomenon.
If there's one thing you learn by living in London, it's not paying too much attention to the oddities; or more than anything else, let's say that after a while you even stop noticing them.
And, if people in underpants in the underground tend not to have anymore an effect on you, maybe what will surprise you is to know that there are some restaurants that have made the word 'weird' their point of strength, attracting customers and tourists intrigued by their eccentricity and particular characteristic.
If you are a bit fed up of the usual dinner in a common restaurant, or you want to leave someone speechless on a first date for instance, let's say these could be places to be taken into account.
Weird? Not too much; after all we are Londoners: expect the unexpected.
One restaurant I have personally tried is
Dans Le Noir.
This restaurant is a unique experience of its kind.
Managed almost entirely by blind people, when you enter the dining room you too will step in a pitch-black room, completely immersed by darkness.
The 'game' is to guess what you are served but you have a choice when it comes to the menu: green is vegetarian, blue is fish, red is meat and white...anything goes!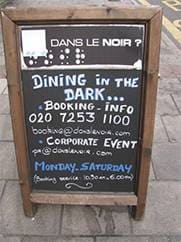 Dans Le Noir, dinner in total darkness
Another place,
Sarastro
, is a mini opera house, where one can enjoy live music while eating and where they serve you a menu of Mediterranean dishes in an opulent atmosphere with curtains, theatre sets and tables in private booths.
All this within a theatrical world with exuberant colours, where drama, passion and emotion are the protagonists, you will live a truly unforgettable experience.
It is a carnival of the senses that gladdens the heart, delights the eyes and captivates the soul.
In the middle of the Chelsea neighbourhood we find a very sophisticated restaurant,
Bibendum
, where one can buy flowers, eat oysters and drink champagne.
It is located in a former tire factory of Michelin and it is so beautiful that it has been declared a national monument.
It was the first permanent British headquarters of the Michelin tire house in the United Kingdom.
It offers seafood of excellent quality as well as classic dishes made with the best ingredients.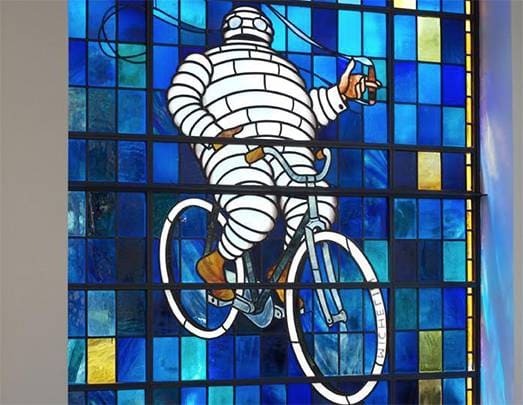 Bibendum, a former tyre factory
The Doodle Bar
, with a very international homemade menu, offers everything from pizza made with a fermented dough in a wood-fired oven to kebabs or beef patties.
The bar offers endless cultural activities, such as serigraphy workshops, activities for the little ones, or graffiti classes.
It is a versatile space for art and other creative innovation events, where you can express your ideas and experiment.
If you are undecided about going out to eat with friends or changing your look, this place could save you the choice:
Hurwundeki
, located in the Cambridge Heath area, is the only London restaurant that offers restaurant service on one side and hairdresser service on the other.
So, if you were thinking of going to taste good Korean cuisine but you also need a new hairstyle, the solution is here; hoping not to find a hair in the pot.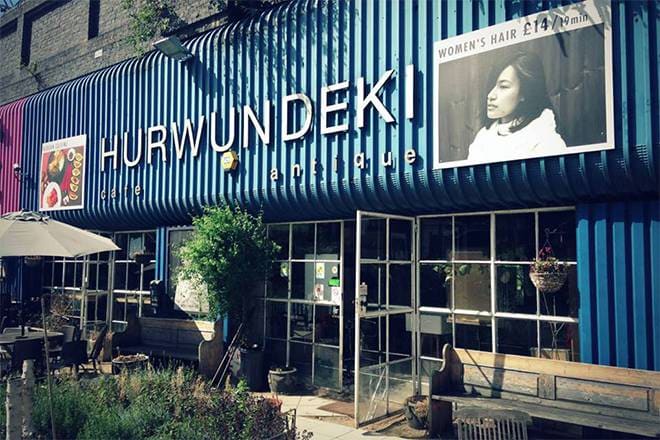 Hurwundeki, restaurant and hair salon
Circus
, a restaurant located in Covent Garden, as you can guess from its name, is a culinary experience and a circus tent coming together.
It is a cabaret where one can see dancers, acrobats, firebreathers and tightrope walkers perform while enjoying an Asian menu.
The surreal and elegant interior transports its customers to a decadent world full of glamor and fun.
Famous also for serving amazing food, Circus is famous above all for the fact that your table will be turned into a track for firebreathers, jugglers and somersaults right after your meal, with acrobats that will overturn and vault over your head before desserts arrive.