Abbey Road.
For many it is a simple road, for others it is a mere title of a music album which used to be famous, but for many music lovers it is THE album, more precisely THE cover which made the history of music. I am speaking of the famous photo taken by the Beatles in 1969 on this road and used as cover of their album by the same name.
Abbey Road is indeed the title of the twelfth album composed by the Beatles, famous for the presence of songs like "Something" and considered among the best albums in the history of music.
Thanks to this album cover, Abbey Road, the famous London street where the Beatles recorded most of their hits, has become an undisputed icon of music.
And nowadays millions of fans fly to London to reach the most photographed pedestrian crossing in the world.
The band chose Abbey Road in London simply because it was close to their recording studios.
Abbey Road is located in London's Camden district.
Camden is the most alternative district in London which, with its funky buildings, its market and its huge Regent's Park, is an obligatory stop for tourists visiting the English capital.
You will read on all the signs in the area and on some wall signatures, names, messages and song pieces which may seem romantic but it's still considered vandalism.
In London there is so much to see that "wasting time" here might seem almost useless.
Yet, trying to reproduce the Beatles style photo can turn out to be not only an original experience, but it can also be a lot of fun and many tourists and Londoners alike come here to pay homage or take a group photo "a la Beatles".
Before moving here, upon my first visit to the city, I had listened to a street artist singing the Beatles' song "Here comes the sun", one of the pieces that I appreciate most by this band and which is contained in the "Abbey Road" album.
Well, it is true that the English capital and the sun do not really get along, however, since then every time I listen to this song, I think back at my first time in London and at that time now indelible in memory.
A few months ago I returned to the most famous pedestrian crossing in the world.
Getting to Abbey Road is simple: you can take the bus from Baker Street or you can take the metro and get off at St. John's Wood stop and then follow the street signs.
Abbey Road has definitely a profound meaning for those who loved and lived the Beatles' music.
Son of a younger generation, I could only live the Beatles Mania.
And I found out I was not the only young person to love them.
Finally arrived on Abbey Road I realized that at the height of the famous pedestrian crossing, on both sides of the road, many people - especially guys - were already lined up to take the super photo.
The pedestrian crossing was occupied by large families, young girls, barefoot boys wishing to emulate Paul McCartney (who was not wearing shoes in the original photo) and even a gang of hilarious American kids who looked like they'd stepped out of one of those TV shows.
All this seasoned by the curious looks of the passers-by (including myself) and the horns of buses and cars waiting to make their way.
Yes, because the road is not closed off to traffic but it's a rather busy crossroad.
You can just imagine the poor residents and bus drivers who are forced to endure this show every day!
But, whether you are walking on this road or driving by it, I suggest you to get comfortable, turn up the volume on your Mp3 and listen to your favourite Beatles song while visiting this "sacred" spot!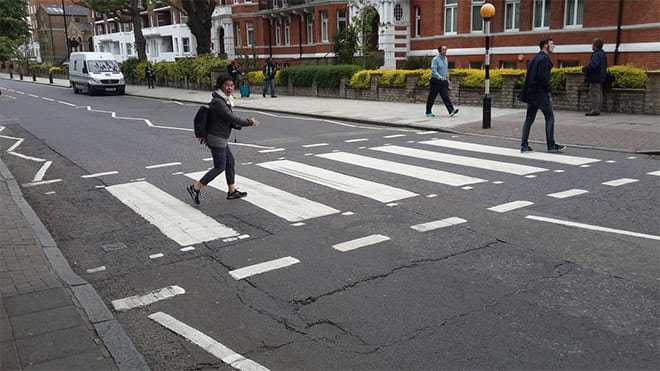 Abbey Road