As a famous British writer once said "If you are tired of London, you are tired of living"… Truth is, you can't get bored in London!
Whether you walk the streets of London on your own (and you'll always find a corner you hadn't seen before and something entertaining to do) or if you choose to walk the streets of London with the Secret City Trails app, you'll have great fun!
The Secret City Trails app is an app which has a map and this map guides you around the city and, at the same time, you must solve several puzzles all along the walking circuit suggested.
The game is very cool because it allows you to both discover unusual places, but also to learn a little more in detail about the history of the city.
Using this app, I was able to discover hidden parks, funky places and unusual art while solving a series of riddles and unlock London's best kept secrets. Brixton, Peckham or Square Mile are colourful neighbourhoods that can be explored with guaranteed fun with Secret City Trails for example because they offer a lot of street art and hidden gems and perhaps, they are not so obvious to visit both for tourists or locals who live here but not in those areas.
Through this app I discovered for instance the new fashionable district in London: the district of Peckham, located in South London which I am sure it will become in 2 or 3 years, 'The Place To Be' for the London youth and artists.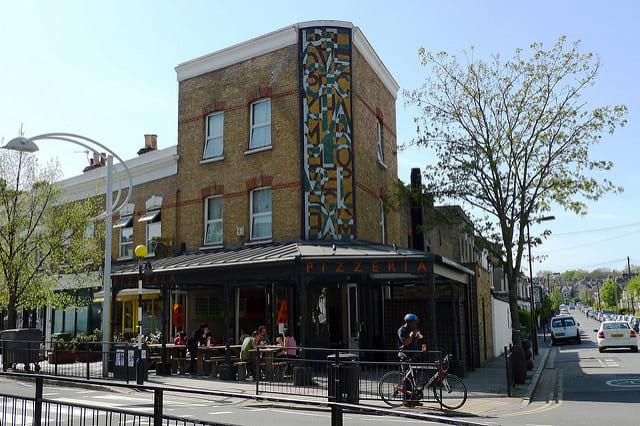 Peckham neighbourhood
Formerly, it was the black ghetto of London, plagued by endemic misery, but in recent times the neighbourhood has been slowly transforming into an art centre thanks to the arrival of artists who have installed here their workshops, small coffeeshops, bars and cheap restaurants.
If you stroll through this district through the workshops and art galleries you can discover the most unusual area in London at the moment.
Something else to do in London is to get the adrenaline rush with street games from Fire Hazard.
Fire Hazard is a small London-based company that organizes unusual games in the real world (from a warehouse robbery in Hackney to a zombie Apocalypse in Hampstead Heath).
Basically, you can enjoy a crazy day filled with activities and adrenaline and be your own hero.
It's the perfect way to spend a day with friends or to throw an unusual birthday party.
Maybe next year!
I also mentioned Brixton…
Brixton is an up-and-coming neighbourhood for lovers of food, there are no better places in London to taste the flavours of the world. 'Foodies' arrive in large numbers on Saturday mornings to enjoy a brunch of giant pancakes and English muffins at one of the cute local cafés.
For shopping Brixton offers many shops where one can find vintage treasures.
The intensely multicultural soul of the neighbourhood has meant that since the early 1980s there have been serious episodes of violence and riots against the police found guilty of racism against the various communities.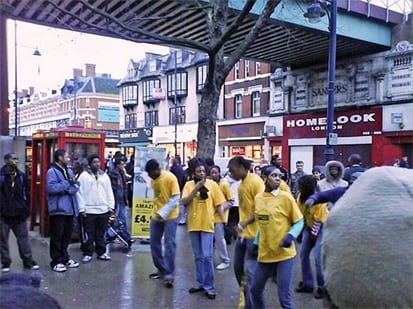 Brixton neighbourhood
In fact, the Afro-Caribbean presence is very strong in Brixton and in particular the Jamaican population represents the largest community outside the Central American state.
Although not even now the area is considered among the safest in London, the situation has greatly improved.
The Afro soul of Brixton in London feels in any case overbearing, you can breathe it as soon as you get off the metro.
There are Pakistani halal butchers, Mexican restaurants, fruits and vegetables stalls from the Caribbean islands, street food from Africa and spices from India.
In addition to food, craftsmanship and clothes are the protagonists of Brixton Market, a large covered and uncovered area where an infinite number of products are sold every day.
The Brixton Market is the main attraction of the neighbourhood and it is impossible to miss as it runs right behind the metro station and is easily visible.
Brixton in London is also the birthplace of music legend David Bowie. The community has always shown great love and attachment towards the singer, so much so that in 2013 the Australian artist James Cochran depicted him in a mural here.
The mural is located almost opposite the metro station in Tunstall Road.