Just a few days ago, on the 3rd of January 2020, the Norwich court in eastern England ruled that Veganism is now protected by law against discrimination in the United Kingdom.
The verdict marks a turning point for vegans in the United Kingdom.
The vegan lifestyle, which consists in not consuming animal-derived products, is now recognized as a 'religion' by all legal rights and therefore protected against discrimination by the Equality act of 2010, on a par of a religious belief, a disability or sexual orientation.
The news came out at the same time of the 'veganuary,' an initiative that invites to avoid, or at least reduce, the consumption of animal products during the month of January.
Whether you are a vegan, you love vegan cuisine, or you are just curious about it since more and more people are talking about veganism as a help to the environment, you will be amazed by the innumerable options to eat vegan food that this city offers, from the small restaurant to the big chain, from the classic fast food that always presents the same vegan burger options to street fairs entirely dedicated to vegan food…and also vegan pastry shops with irresistible donuts and scones!
I had even seen a Japanese vegan restaurant and a famous place in London is Wagamama which boasts one of the most unique menus in the world and it uses organic ingredients and raw foods to create a fusion vegan cuisine.
According to a recent research, London is the most vegan-friendly city in the world. it seems a century has passed since vegans and vegetarians were held up as aliens! Now, it is no longer a trend, nor a simple novelty.
According to the Vegan Society there is a presence of over 500,000 vegans in the United Kingdom, 120,000+ of which in London alone.
In other words, veganism is no longer a niche market, but a mass phenomenon and more and more omnivores love to indulge in detox and cruelty-free meals.
The only real problem for a Londoner, if anything, is the endless choice: here you can find vegan street food festivals, vegan hamburgers, vegan kebabs, vegan fried chicken (which is not chicken but it seems) and much much more.
Green Bay is the biggest vegan supermarket in Europe and it is a must-visit for all vegans in the city.
I visit it at times, although I'm not a vegan, and I bring home a lot of veg delicacies like hummus chips, salted caramel chocolate or vegan salami…really yummy!
There is also an attached vegan bakery where you will find madeleines, cupcakes, muffins, biscuits and savoury snacks as well, other than the possibility to order a special all-vegan birthday cake.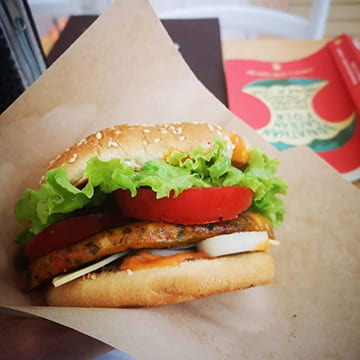 Vegan meat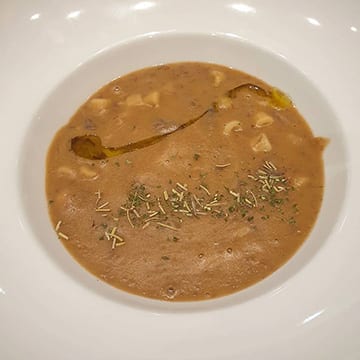 Vegan soup
La Fauxmagerie in Shoreditch is the first shop in the world strictly selling vegan cheeses and the cheesemonger recently opened its new store in east London.
The sisters who founded the business, Rachel and Charlotte Stevens, launched their first shop in Brixton last year, selling non-dairy cheeses, together with other products to make vegan sandwiches such as breads, pickles and veggies and later this past year they decided to expand opening a bigger shop in Shoreditch, the trendiest neighbourhood in London.
In London one can also find vegan 'Fish & Chips,' a cruelty-free reinterpretation of the most classic and beloved London street food, to be enjoyed during a walk through the main streets or comfortably seated in a pub.
The Norman's Coach and Horses is indeed considered the first vegetarian pub in London and the place offers this dish - alongside other revisited traditional dishes - together with a wide range of drinks (including alcoholic ones) and strictly vegan delicacies.