I'm glad I didn't buy a ticket to go home for the holidays because a friend of mine did and his flight was cancelled – not to be rescheduled – just eighteen hours before departure.
Numerous countries are shutting down passenger air traffic with the UK after the discovery of a new strain of coronavirus that spreads much faster apparently so cherry on top as we say in English, right?
The French closed the tunnel so now we are having problems with trade to and from England as well and making the situation even more chaotic is the approach of Brexit, which had led many exporters concentrate their deliveries before the 31st of December in order to cushion the repercussions of a possible no-deal divorce between London and Brussels and which they are now facing the possibility of a transport blockade extended to all countries within the European Union.
Christmas 2020 is upon us, but there will be very little to celebrate.
From December 20th, London is officially in Tier 4, which corresponds to the hardest level of lockdown.
No Christmas bubble then and even on Christmas day we will not be able to celebrate at home with friends.
We will have to stay at home at least until December 30th, going out as little as possible, and being able to meet only one person outside our family unit but only outdoors.
In short, there are only Christmas decorations and lights left in the empty streets, but let's forget about Christmas shopping, Christmas markets and skating rinks.
If you spend Christmas in London, then, there will be very little you can do.
I live with housemate so I can spend my Christmas with him and my girlfriend and they will be my family on that day.
Despite the restrictions I now it will still be possible to take an outdoor tour of the city, on foot or perhaps by bike, to admire the Christmas lights and perhaps we will take a walk or do some physical activity in one of the many parks or public gardens if it's not raining or too cold after we make a big lunch at home.
If it's cold or rainy we'll watch a Christmas film on TV or on one of the streaming platforms.
We decided to make a typical Christmas lunch menu including: roast turkey with vegetables and 'with all the trimmings' (with all the side dishes), that is carrots and peas, beans served with sauce, croutons soaked in a cream obtained with milk, pepper, cloves, onion and butter with the addition of cream and nutmeg and cranberry sauce. Tradition has it that Brussels sprouts are eaten, which, however, not everyone loves (indeed I dislike them very much).
The typical dessert is instead the Christmas pudding, a round-shaped dessert made with eggs, candied fruit, rum, spices and almonds but we are not making it and we are buying one from a local pastry shop instead, it is quite hard to make it.
Of course, we have already decorated our Christmas tree and few people know that the tradition of the Christmas tree was born in England in the second half of the 19th century: the original custom was Saxon, introduced into the Kingdom by Prince Albert of Saxony, along with many other Christmas traditions. The tree is a central element of Germanic culture and it is a symbol of life and rebirth and Albert was a typically Germanic prince, a lover of art and beauty and I learnt this when I visited the Museum of London here a few years ago around the holiday period.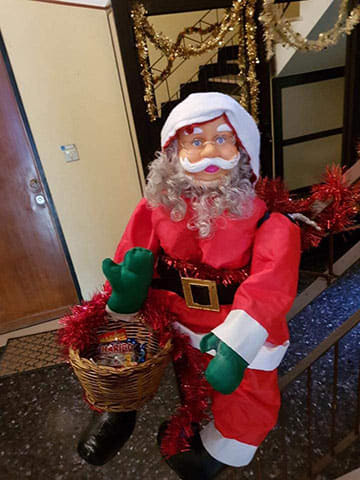 Christmas decorations and candies to share in our building