The years in which graffiti were compared to acts of vandalism and scribbles on the walls are long gone and today street art is considered to all intents and purposes an expressive form of value.
Contemporary, within everyone's reach, representative of society, street art has the merit of being understood by anyone.
And that's probably why it has become part of the attractions a city has to offer.
London is one of the most representative cities of this revolution, thanks to artists such as Banksy and Stik who have chosen it as a showcase for their innovative and provocative works.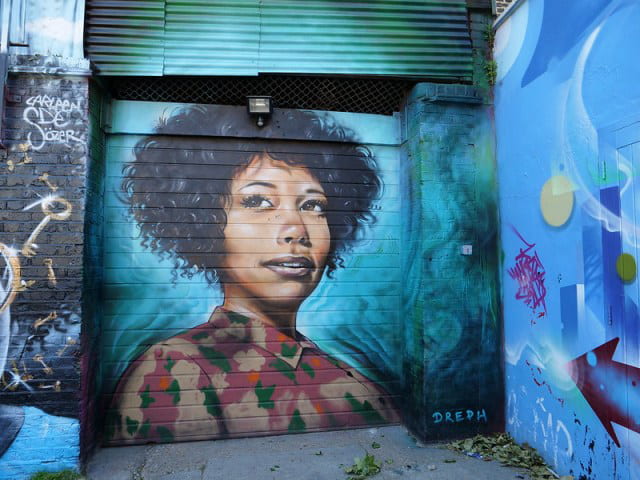 Street Art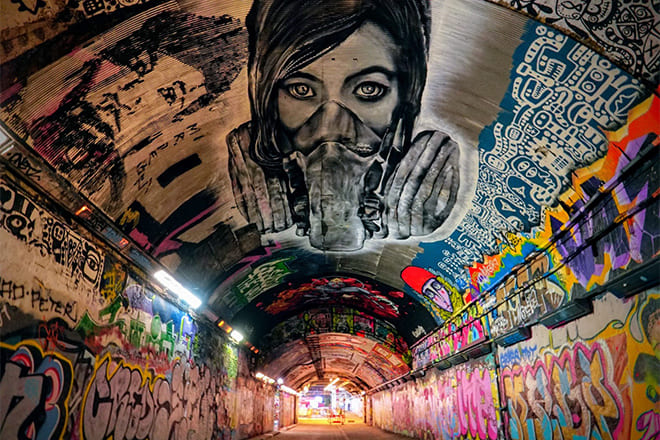 Street Art

Street Art
As you may have previously discovered from my blogs I am a big fan of street art.
The good and legal ones as I have mentioned of course.
The first neighbourhood on my list is of course East London. East London is in fact a particularly prolific neighbourhood in terms of Street Art.
In particular, Shoreditch has long been an industrial and rather infamous neighbourhood in which murals began to cover the walls of buildings years before they were recognized as an art form.
Over time though, hand in hand with the gentrification process and partly thanks to the works of Street Art, the neighbourhood has become a reference point for anyone looking for art and culture.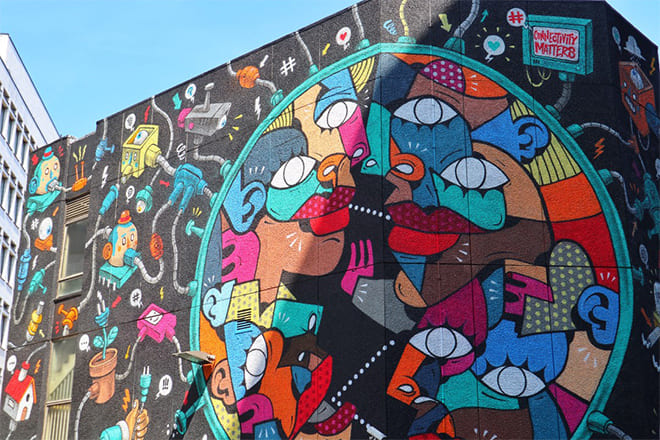 Shoreditch
Here you can get lost in the streets and immerse yourself in the atmosphere of the neighbourhood and to fully experience it I recommend that you look for the streets with the richest murals, like High Street and of course Brick Lane.
London has one of the most vibrant and exciting street art scenes in the world. Contributing to his fame is undoubtedly the satirical street artist Banksy, whose identity is still unknown to his followers but who had a prolific production under his belt for over a decade.
Banksy's murals were usually of political and social interest, and they appeared on streets, walls, and bridges throughout the world.
His distinctive work of art and social denunciation has largely and regularly appeared in London, however, many of Banksy's original pieces in London are no longer visible - or barely are - because they have been vandalized, whitewashed by the City Council or even removed from the walls for private collections.
One of his artworks is located on a wall in the Fitzrovia neighbourhood.
It features a mouse standing under the phrase "If graffiti changed anything, it would be illegal" written in capital letters.
I have found out that this sentence is a reference to a quote from a campaign for women's rights which goes "If the vote changed anything, it would be illegal."
Today, the mural is still visible but most of it has been covered with various tags.
There is also a mural by Banksy on the side of a large office building in the heart of the West End neighbourhood.
The work is drawn at the intersection of two floors of the building and depicts a woman falling with a supermarket trolley from the top of it.
Banksy's goal was to highlight the dangers of consumerism.
The mural was painted in 2011 and it is still visible even if quite damaged.
There is also a hanging graffiti located next to the Regent's Canal tunnel in Camden.
The mural depicts a city worker covering the work of another graffiti artist.
This mural is particularly famous because it became the battleground of a graffiti war between Banksy and the late legendary London graffiti artist King Robbo.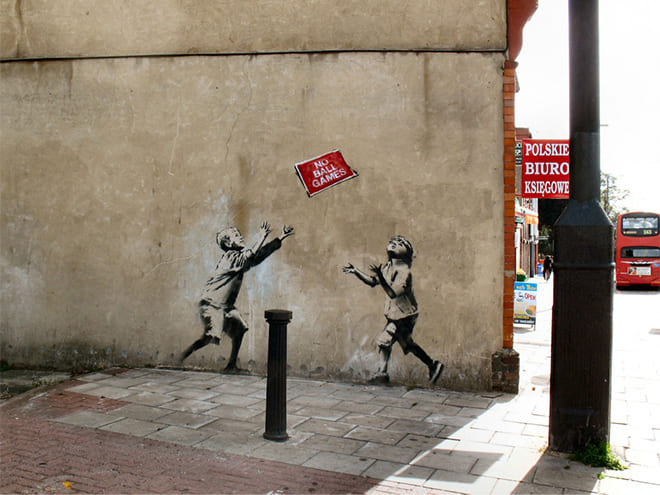 Banksy's murals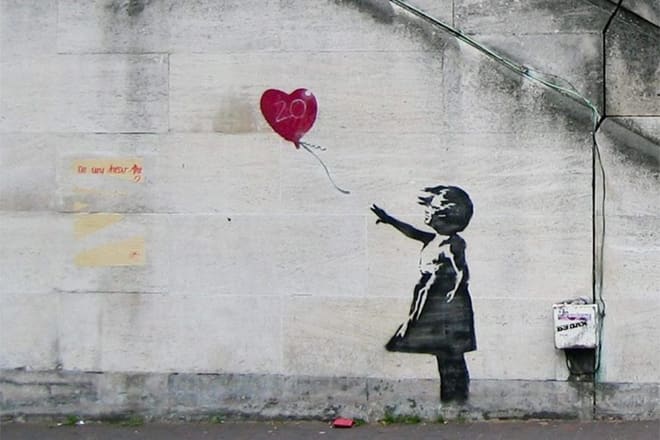 Banksy's murals