Over the Christmas holidays, I spent a few days in Wales for the first time.
My trip was long overdue and when traveling it is essential to get in touch with the culture of the place and the easiest way to do it is through its local cuisine I think.
Especially during the cold and rainy winter months when it is hard to visit places and get around.
And right there in Wales, get ready to discover a culinary tradition very different from that of England.
I was surprised, positively surprised.
Surrounded by the sea on three sides, the country has both a seafood and a hearty cuisine, but above all it is mainly a peasant and popular cuisine.
Among the dishes you can rediscover some ancient Celtic traditions, but also more modern and widespread recipes, such as the classic Fish and Chips.
The biggest surprise for me was Laverbread.
The main ingredient of the dish is seaweed.
As anticipated, Welsh cuisine has a poor and peasant origin, and this dish was born from the need not to throw anything away, which in the past helped the population a lot. I
n this case, the seaweed is first cooked and then mixed with oats, until it reaches a mixture texture and to be served as a main course or on bread.
Wales is very careful about preserving its official language, so you will often find yourself reading the names of dishes in Welsh on the menus.
A classic example is Cawl, which is the Welsh word for soup, now recognized as a national dish.
Cawl is the classic Welsh soup.
It doesn't have standard ingredients, but is in fact prepared with seasonal vegetables, with what the land has to offer every year.
There are several variations: with vegetables or with meat, typically lamb.
It's a really much loved dish, which warms you up during rainy and windy days.
Another typical street food dish, which you can find at markets but also in restaurants and cafes, ideal as a packed lunch between one excursion and another: it is a true icon of food in Wales, we are talking about the Welsh Rarebit.
A dish as simple as it is tasty, Welsh Rarebit is nothing more than toasted bread with melted cheese, usually local cheese, on top.
Cheddar is mainly used and the bread is first grilled, then placed on top of the cheese and placed in the oven. Yum!
It is worth talking about Welsh cuisine's key ingredient: Cenhinen, or leek.
A little curiosity about the name: the Welsh term is used to indicate both the leek and the daffodil flower, and in fact they are both symbols of Wales.
Leek is the star of many recipes and it can be found in soups, stews and as an accompaniment to main courses.
Another great protagonist of Welsh cuisine is cheese.
Wales, and Great Britain in general, is an excellent producer of cheeses, among which Stilton and Cheddar certainly stand out.
But, among all, the one not to be missed in Wales is the Caerphilly Cheese, whose name derives from a city just north of Cardiff.
It is a hard white cheese made from cow's milk, first produced in the town of Caerphilly, but is now produced throughout South Wales.
When it comes to desserts, I particularly enjoyed the Welsh Cake.
They are the classic sweets that are served with the Afternoon Tea and can be classified as biscuits.
With a round shape, the taste that stands out most is that of butter, and their origin is typically popular, with the mentality of never wasting anything: in the past, in fact, they were garnished with dried fruit or raisins, both long-lasting ingredients, which therefore could remain for some time in the pantry without going bad.
I obviously recommend visiting Wales for many other reasons but, pardon me, I love food!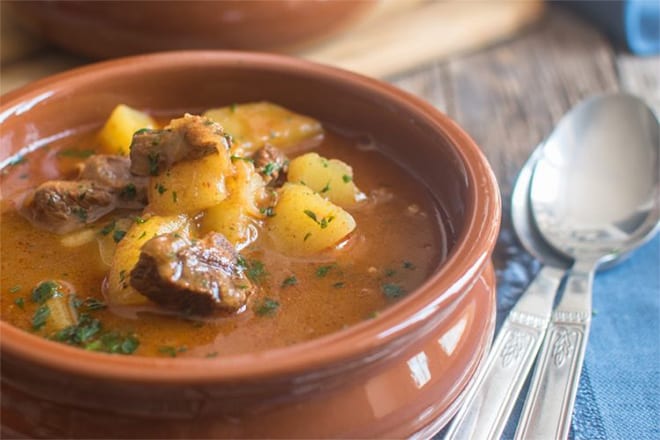 Cawl, my favourite discovery